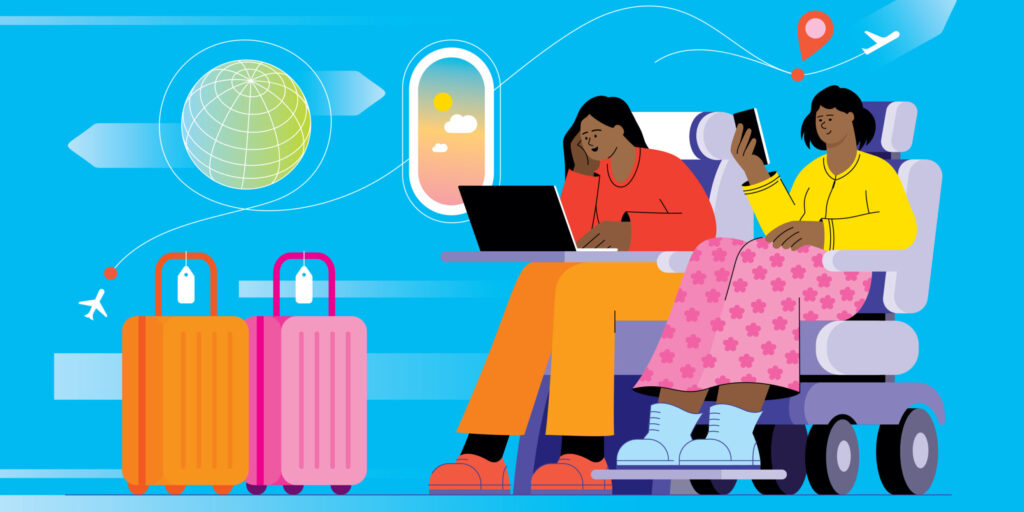 When Will Air Travel for Passengers in Wheelchairs Get Better?
By Shaila Wunderlich | Friday, November 18, 2022
In September 2022, American Airlines stranded passenger Xavi Santiago for more than five hours at the Orlando airport after misplacing their power wheelchair. One month earlier, Lufthansa stopped Rhode Island congressman Jim Langevin from boarding his flight to Italy, citing unwarranted safety concerns over his power wheelchair battery. 
News reports of the challenges of air travel with a disability are nothing new to travelers in wheelchairs. Since the Air Carrier Access Act of 1986 was passed, airlines have been prohibited from discriminating on the basis of disability, but they do require passengers to check their personal wheelchairs, board in manual "aisle chairs," and transfer to regular on-board seating. The result? Innumerable injuries, accidents, damages, and missed and delayed flights. 
"The things we hear about most often are wheelchairs being damaged, flight crew dropping or injuring people during seat transfers, and restroom inaccessibility," says Michael Lewis, MDA's director of disability policy. "It's common practice for people to dehydrate themselves in order to avoid using the restroom during flight." 
These personal anecdotes don't take into account the number of people in wheelchairs who avoid flying altogether, which a 2021 survey conducted by Paralyzed Veterans of America estimates at around 67%. 
Fortunately, the world is starting to become more aware of the problem, fueled by increased media coverage, hyper-focused advocacy groups, and a small group of determined legislators. "Since I've been here, this is the most we've talked about and worked on air travel," says Mark Fisher, director of advocacy engagement at MDA. "In the news and on social media, it's the most it's been picked up."
Signs of progress
A July 2022 report from the US Department of Transportation (DOT) cited a 108% increase in complaints from flyers with disabilities compared to May 2019. "There is more momentum around this issue now than we've seen in quite a while," says Heather Ansley, associate executive director of government relations for Paralyzed Veterans of America, a key advocate in the movement for accessible air travel. "I'm getting more stories sent to me about the experiences of wheelchair users, and it does seem the media is becoming more aware." 
Together, these forces have affected several major developments toward the cause of improving wheelchair travel accessibility. One such development, an October 2021 report published by the Transportation Research Board, studied the feasibility of a "wheelchair securement concept" that would allow passengers in wheelchairs to remain in their own devices during flight — similar to what city buses, Amtrak trains, and subway systems already do. The study ultimately found no significant, deal-breaking barriers to the concept. 
"The biggest takeaway is that a wheelchair spot on planes is technically feasible," says Michele Erwin, founder and president of All Wheels Up, a nonprofit organization dedicated to the right and ability of people in wheelchairs to independently maneuver themselves on and off airplanes in their own devices. "All the red tape has been cut, and we now have a clearer path to true accessible air travel." 
Another recent development includes the DOT's summer 2022 release of an Airline Passengers with Disabilities Bill of Rights. "This doesn't establish new rights, but it does translate existing law in a way for the average traveler to clearly understand what they're supposed to be getting from the airlines," says Heather, who recommends passengers with disabilities review the document before making flight arrangements.
Make your voice heard
Heather and her colleagues encourage the public to speak now to their federal lawmakers on the matter, as the government is crafting reforms in preparation for the Federal Aviation Administration's (FAA) November 2023 reauthorization. "Reauthorization has to happen every five years, or planes don't fly," Mark says. "In a bill like that, it's not uncommon that reforms are added." 
Because the proposed changes to flying with wheelchairs would entail redesigning commercial aircraft, deliverables on this issue promise to be slow. Ideally, the pending FAA reauthorization bill will act as the official green light to start the process. 
What can you do to speed the process? "Stay in contact with your members of congress, tell your airline travel story, and push for accessibility priorities to be included in this FAA reauthorization bill," Michael says.
"Results are never quick enough, especially in cases like this," Mark says. "But I do believe we're poised to see some reform very soon."
Shaila Wunderlich is a St. Louis-based writer with more than 20 years' experience in the publishing industry.
---
Holiday Travel Tips
The number of travelers flying for the winter holidays in 2022 is expected to exceed pre-pandemic levels. With major airlines cutting schedules, that's sure to lead to flight disruptions. Here are tips to help you arrive at your destination with your holiday cheer intact.
Call ahead. Ask for any accommodations or services you need when you book, and call the airline 24 to 48 hours before your flight to confirm.
Prepare for delays. Travel with extra medications and any equipment you might need if you are at the airport or your destination longer than planned.
Attach instructions. Until the rules change, you'll have to check your wheelchair. Write out key instructions for handling your wheelchair, like parts not to remove or fold, and laminate it and attach it to your chair.

 

Bring a wheelchair repair kit. Assemble a small kit of spare parts and tools for emergency repairs.

 

Know your rights. Review the Airline Passengers with Disabilities Bill of Rights.
---
Next Steps and Useful Resources
Learn more about what MDA's Advocacy team is doing to help improve air travel for individuals with disabilities, and how you can join the effort.
Disclaimer: No content on this site should ever be used as a substitute for direct medical advice from your doctor or other qualified clinician.