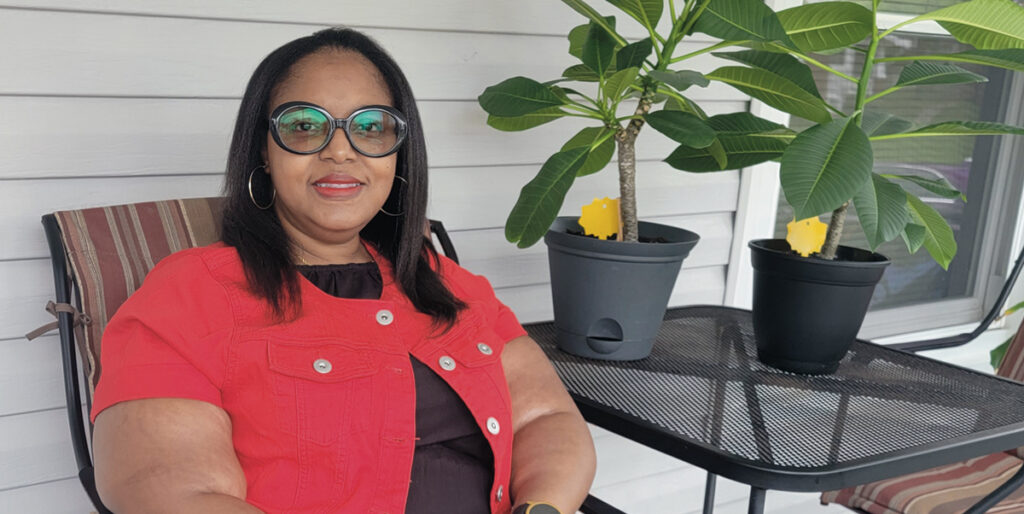 Finding Creative Ways to Manage Accessibility Challenges
By Tomeca Goodwin | Friday, November 18, 2022
I was once on the go all the time, but in recent years, I have found myself slowing down and trying to pace myself. I do not push the limits on my energy as I once did, such as meeting friends after work, attending events, visiting family, and traveling alone. I am not alone much, and although I love the company, it comes with the reality of my diminishing independence. 
I was genetically diagnosed with limb-girdle muscular dystrophy (LGMD) type 2E in 2021, but I have lived with it for the last 27 years. The onset of my symptoms was a scary time. I did not see this coming, and I did not understand what was to come. After several years feeling like I was merely existing, I made up in my mind that I was going to live, keep moving as much as I could, and pray daily to be an exception to the diagnosis that I have been given. 
I am constantly learning to adjust and find creative ways to do things while trying to remain ambulatory and as independent as my body will allow. Giving up is never an option.  
Getting creative
I have worked for a large healthcare network for 30 years. I am still able to drive and walk short distances. At work, I have a drafting chair and sit/stand desk in my office and a Super Pole in the restroom that serves as a great grab bar. 
In daily life, I clearly see and experience how accessibility is limited by the way normal, everyday things are designed and arranged. For example, accessible building entrances are sometimes down the street and around the corner, or there is not one at all. 
Public restrooms are my arch nemesis and the reason I either restrict my fluid intake or choose to stay home. There is normally one accessible stall that has a low toilet and one grab bar, and most times it is occupied by someone who just wants extra room. I do not know how many times I have waited for that one stall. I used to tote around a toilet riser, but now I have a foldable commode that goes over the seat that provides height and arm rests, and it folds nicely in my carry-on bag for travel. 
Dining out is an experience that most of us enjoy, but many restaurants have heavy doors that are hard for someone like me to open. Once inside, navigating to a seat between tightly packed tables can be even more challenging. If I cannot sit on a bar stool, I use Kaboost, a portable booster, or the Upeasy seat assist, so I can get in and out of my chair. I also have a folding counter height chair that stays in my car as another option. 
So many things have become more noticeable now that I use a foldable powered wheelchair for long outings. I did not realize the number of places that have stairs without ramps, or the uneven sidewalks and high curbs. And why trashcans are often placed directly under the elevator buttons is a mystery to me. 
It brings a huge sigh of relief when I am in a place designed with every person in mind: for example, adequate parking spaces with ramps, barrier-free entrances, motion sensor doors, touchless faucets, touchless toilets with grab bars, taller seating with arms, and things placed at heights for those standing and sitting. 
Keep fighting
My journey has had difficulties, and often I have felt as though I was on the losing end of life, but I continue to pray and push through because I know that I am here for a reason. I have a purpose to fulfill, even though I need assistance with getting dressed, getting in and out of a chair or car, walking, combing my hair, and tying my shoes. 
It takes more than most people will ever know for me to just show up, but I continue to give it my best. I am reminded daily that people cannot really understand what they have not experienced, and I advocate for accessibility even more now that there are more things I struggle to do.
I have been blessed with a support system of family and friends who fight alongside me. Their support has been everything, and that helps keep me going. They pray, advocate for me, and encourage me in ways you could not imagine. 
I encourage anyone reading this to advocate for yourself and others who need someone to speak up for them. Some people may count us out, but from where I sit, it takes strength beyond muscles to walk a day in our shoes. Keep pushing, keep going, keep praying, and know that you are not alone in this fight.
Tomeca Goodwin, 48, lives in Cincinnati, Ohio. She founded the Invisibly-Visible Foundation to support people with muscular dystrophy and multiple sclerosis with equipment and home modification grants, and she blogs at invisibly-visible.org. To connect with her, email her at InvisiblyVisible513@gmail.com. 
Disclaimer: No content on this site should ever be used as a substitute for direct medical advice from your doctor or other qualified clinician.