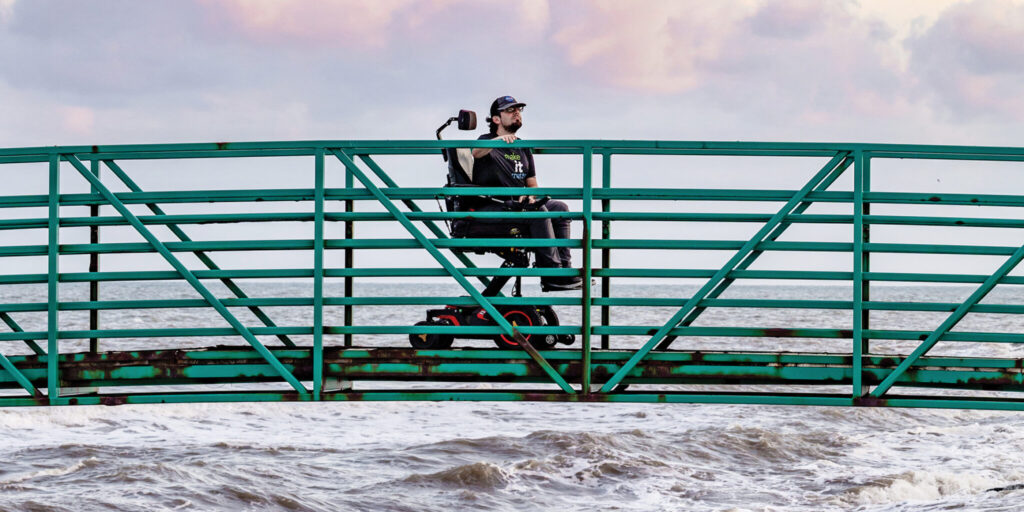 Top 4 Reader Photos of 2022
By MDA Staff | Friday, November 18, 2022
Thank you to everybody who entered the 2022 Quest Reader Photo Contest. We received so many great photos from all around the neuromuscular disease community and are excited to share this year's winner and three runners-up.
Best. Selfie. Ever.
Congratulations to 2022 Quest Reader Photo Contest winner Sean Wallace, 31, of La Grange, Texas.
The winning photo shows Sean, who lives with Becker muscular dystrophy (BMD), on a bridge that extends from the pier at Matagorda, Texas's Jetty Park. A professional photographer, Sean captured this photo using a tripod and the camera's timer. He set up the tripod on a pier facing the bridge and programmed the timer to snap a photo every five seconds until he manually turned it off. After two tries, he found his perfect placement on the bridge and was excited by the result. 
"I was likely the first person in a power chair to be on that bridge," says Sean, who adds that he tested the structure's sturdiness beforehand. "In this moment, I felt appreciative of the cool things I get to do while being in a wheelchair."
Sean loves the independence he feels during adventures like this one. 
"This photo is special to me because I love the sound of the ocean waves and the wind blowing," Sean says. "Being outdoors in all of God's creation gives me peace and joy.  Experiences like this make cool memories and stories."
---
Sweet Surprise
Congratulations to Susan Manning, of Worcester, Massachusetts, a runner-up in our photo contest.
Susan, who lives with Charcot-Marie-Tooth disease (CMT), loves this candid photo of her older son, Jameson, sneaking a kiss during a family photography session.
"As a disabled mother, I can't always do the physical stuff — the heavy lifting. Because of this, my 9- and 7-year-old sons are often left to do more around the house than other kids their age," she says. "They know how to put on and take off my ankle-foot orthoses (AFOs) and can set my wheelchair up for me. This photo shows me that, despite the extra tasks life throws at them, my boys love unconditionally."
---
Riding the Wave
Congratulations to Heidi MacCurtain, of Plymouth, Massachusetts, a runner-up in our photo contest.
Heidi submitted this photo of her daughter, Abby, 11, at her first Gnome Surf event in Little Compton, Rhode Island. Abby, who lives with Leigh syndrome, a mitochondrial myopathy, loved coasting along the water at this surfing therapy event.
"The staff supported her 100% since she cannot sit up on her own or walk and is nonverbal," Heidi says. "Abby's smile says it all. She is a surfer girl through and through."
---
Magic Moment
Congratulations to Sarah Thatcher, of St. Louis, Missouri, a runner-up in our photo contest.
This photo shows Sarah's daughter Olivia, 12, who lives with central core disease (CCD), meeting Big Bird at SeaWorld in Florida.
"Olivia is small but mighty and has the heart of a lion," Sarah says. "To see such joy in her face and for this to become a core memory for her — there is no better feeling in the world than to see that happiness."
Disclaimer: No content on this site should ever be used as a substitute for direct medical advice from your doctor or other qualified clinician.