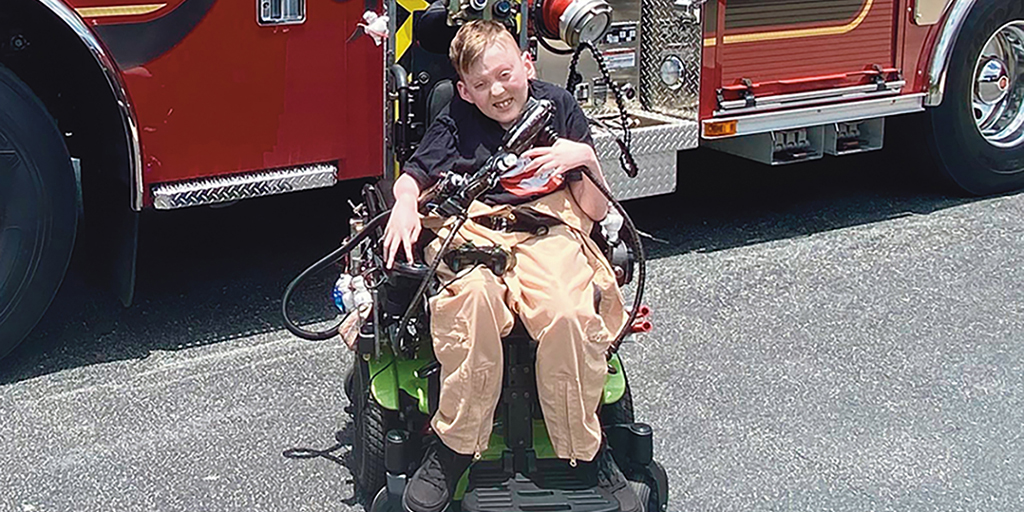 By MDA Staff | Tuesday, August 23, 2022
Carter Rhodes of North Fort Myers, Florida, had just about the best ninth birthday ever when he received a one-of-a-kind present — a Ghostbusters-themed costume fitted to a new wheelchair. In fall 2021, Carter's name was drawn as the winner of the Halloween Holiday Joy Instagram contest launched by MDA in collaboration with Magic Wheelchair, a nonprofit that creates fun costumes for kids and adults in wheelchairs.
The wheelchair reveal was in June at the North Fort Myers Fire Department and organized with the International Association of Fire Fighters (IAFF) Local 1826, a branch active in Fill the Boot events and fundraising for MDA research, care, and advocacy.
Carter's favorite Ghostbusters character is Phoebe from "Ghostbusters: Afterlife," and his new wheelchair resembles the Ecto-1 vehicle with Phoebe's gunner seat. It also features robotics that Carter can activate with an adaptive controller.
"He loves it," says Tara, Carter's mother. "He still has his wheelchair, and that's one of the brilliant things about how they designed it. It fits through regular doorways so he can be a Ghostbuster every single day, not just on special occasions."
The day was even more special because of Carter's family ties to IAFF and MDA. His great-grandfather on his mother's side was a fire captain and a liaison for fundraising with MDA before he retired. He helped organize events such as Fill the Boot.
"Our family has always been involved, even before I was born," Tara says.
Between getting the costume, new wheelchair, Ghostbusters birthday cake, a special message from Ghostbusters actor Carrie Coon, and autographed sneakers from actor McKenna Grace, what was Carter's favorite part?
"Pretty much all of it," he says.
Disclaimer: No content on this site should ever be used as a substitute for direct medical advice from your doctor or other qualified clinician.