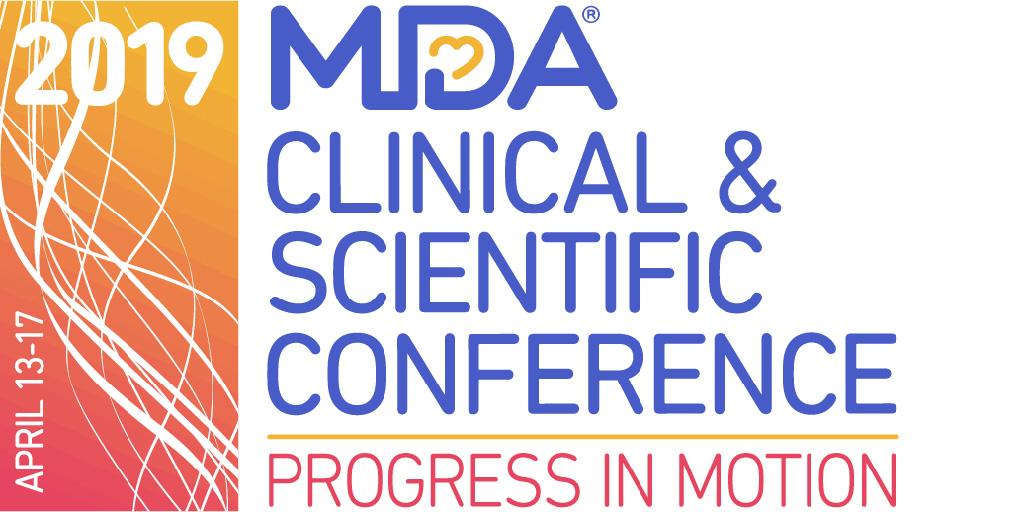 2019 Clinical & Scientific Conference Highlight: What's New in Neuromuscular Diseases?
By Jeanene Swanson | Wednesday, July 10, 2019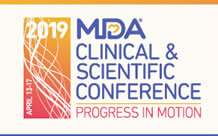 At the 2019 MDA Clinical & Scientific Conference, one scientific session of interest centered on what's new in neuromuscular diseases (NMDs). In this session, presenting scientists discussed progress in therapy development and clinical trials for a range of NMDs, including Becker muscular dystrophy (BMD), congenital muscular dystrophy (CMD), congenital myasthenic syndromes (CMS), myotonic dystrophy (DM), and X-linked myotubular myopathy (XLMTM).
New hope for XLMTM
Jim Dowling, MD, PhD, of The Hospital for Sick Children in Toronto, shared the promising story of the first therapy in clinical trials for XLMTM, a type of inherited myopathy that causes problems with the tone and contraction of skeletal muscles. While there are no approved therapies for this congenital myopathy, preclinical work from Jocelyn Laporte, PhD; Martin (Casey) Childers, DO, PhD; Alan Beggs, PhD; and Dr. Dowling's own lab, among others, have formed the basis for Audentes Therapeutics' gene therapy candidate, AT132, which is currently being tested in a phase 1/2 human clinical trial (ASPIRO).
XLMTM is caused by mutations in the myotubularin gene (MTM1), which leads to a lack or dysfunction of myotubularin, a protein needed for normal development, maturation, and function of muscle cells. AT132 is a gene-replacement therapy that uses an adeno-associated virus (AAV) to deliver a functional copy of the MTM1 gene to the muscles of individuals with XLMTM, thus targeting the root cause of the disease. Interim results presented at the World Muscle Society conference in October 2018 showed that all treated patients at the time showed meaningful improvements in neuromuscular and respiratory function.
Audentes presented new, positive data at the American Society of Gene and Cell Therapy Annual Meeting in May 2019. As of an April 8, 2019 data cut-off, at 48 weeks follow-up of seven patients enrolled in cohort 1 and at 24 weeks follow-up of four patients in cohort 2, the majority of patients achieved motor developmental milestones such as head control, sitting without assistance, crawling, standing with support, and initiating stepping movements. Four patients no longer required ventilation at 48 weeks, with all other treated patients showing reductions in ventilator use. AT132 has been generally well-tolerated and has shown a manageable safety profile across both dose groups.
AT132 has been granted Regenerative Medicine and Advanced Therapy (RMAT), Rare Pediatric Disease, Fast Track, and Orphan Drug designations by the U.S. Food and Drug Administration (FDA), and Priority Medicines (PRIME) and Orphan Drug designations by the European Medicines Agency (EMA). Audentes plans to move forward in its development program through 2019, including selecting optimal dosages and discussing license application submission pathways with the EMA and FDA.
"We have hope right now for a therapy for myotubular myopathy, and [it] could apply to other [neuromuscular diseases] once developed," Dr. Dowling says.
Dr. Dowling also summarized his lab's discovery that tamoxifen, a drug used to treat breast cancer, "surprisingly improves the myotubular myopathy mouse phenotype" via a mechanism yet to be determined. The next step is to advance tamoxifen as a treatment for myotubular myopathy to the clinic.
Targets in BMD, CMD, CMS, and DM
Paula Clemens, MD, of the University of Pittsburgh, shared possible drug intervention pathways that could help treat people living with BMD, which she believes is an underserved patient population. BMD patients show chronic inflammation, which can lead to degradation of muscle protein. Preclinical studies have found that miR146a, a type of microRNA, can inhibit dystrophin gene expression. This has led Dr. Clemens and others to hypothesize that inhibiting miR146a could increase dystrophin protein levels in BMD patients. (MicroRNAs are molecules that can reduce a gene's activity, leading to decreased protein levels.) Other clinical targets for BMD include therapies that increase levels of shortened dystrophin and those that stabilize the muscle plasma membrane, which is fragile in BMD patients.
Other speakers included Carsten Bonnemann, MD, of the National Institutes of Health (NIH), who discussed gene-silencing techniques as possible therapeutic approaches to treating congenital muscular dystrophies, especially the collagen 6 (COL6)-related forms.
"Mutation-specific precision therapy requires precision about the diagnosis down to individual mutation level," Dr. Bonnemann says. These collagen disorders may be treatable using RNA interference and antisense oligonucleotide (ASO) therapies.
Reghan Foley, MD, also of the NIH, presented ways to better classify and categorize MTM1-related myopathy gene mutation carriers utilizing deep phenotyping. Deep phenotyping is a precise and comprehensive analysis of changes in the normal phenotype — form, physiology, or behavior — of an organism. Deep phenotyping aims to better enable precision medicine, which emphasizes individualized care.
David Beeson, PhD, MA, of Oxford University, talked about CMS. These rare genetic disorders of the neuromuscular junction have significantly improved through treatment with ephedrine, a type of beta-2 receptor agonist.
Nicholas Johnson, MD, of Virginia Commonwealth University, spoke about consensus-based recommendations developed for adult myotonic dystrophy type 1 (DM1), pediatric DM1, and myotonic dystrophy type 2 (DM2). The field has invested time developing appropriate endpoints for clinical trials using natural history studies, among other data. Ongoing therapeutic development in the areas of gene editing, ASOs, and small molecules holds much promise.
Disclaimer: No content on this site should ever be used as a substitute for direct medical advice from your doctor or other qualified clinician.