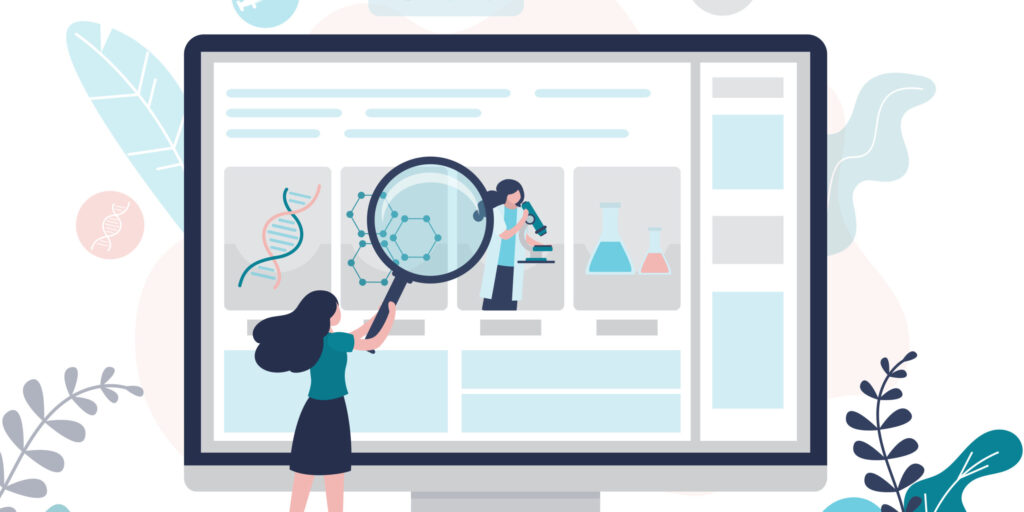 3 Steps to Find Reliable Information on Neuromuscular Disease Research
By Amy Bernstein | Friday, November 18, 2022
5 Second Summary
Being well-informed on neuromuscular diseases, treatments, and research starts with knowing how to search the internet for good information.
For individuals living with neuromuscular diseases and their families and caregivers, the internet is an incredible resource for finding information about diseases, treatments, and biomedical research, putting a seemingly unlimited amount of information at your fingertips. Social media brings the internet to you, allowing you to learn from likeminded individuals and organizations and engage with campaigns and causes.
And yet, despite this wealth of websites and digital tools, finding the exact information you want — such as the latest research on a treatment or a how to enroll in a clinical trial — can feel like an impossible task.
Part of the problem is that not all health information on the internet and social media is good information — plenty of people post health advice that is misleading or flat out wrong. In fact, in one study, nearly half the pages returned in a search about a specific life-threatening condition included treatment information without citing any scientific backing.
"Social media in particular is linked to misinformation spread by nonprofessionals and/or predatory companies who try to sell unproven therapies," says Angela Lek, PhD, MDA's vice president of research.
When it comes to your health, it's important to have information that empowers you to make good decisions.
3 steps to good information
Dr. Lek offers three guidelines for staying well-informed on neuromuscular diseases and research:
Evaluate health information you find through the internet or social media.
Establish a trusted network of institutes and organizations that you read information from.
When in doubt, ask an expert in the field, such as a doctor, scientist, or patient advocacy organization.
How to evaluate health information
Examine any health-related information you find on the internet or social media for trustworthiness by asking three simple questions:
Who?
Don't take what you read at face value; look for the original source of the information. Many reliable online resources cite their scientific sources at the bottom of the page or note if an expert has reviewed and approved the information. Any site that does not make it easy to learn who is responsible for the site and its information should be viewed with skepticism.
Why?
Think about the intent of the organization or individual providing the information. Are they presenting opinions as facts? Is their site or social media account trying to sell something? A commercial site generally is not as trustworthy as a public health institution or nonprofit organization dedicated to improving health.
When?
Find out when the health information or its sources were written, reviewed, or updated. Medical and scientific knowledge changes with each new discovery, so make sure you're reading the most up-to-date information.
Ask your healthcare team
Doctors, therapists, and other providers keep up with the latest research and case studies as part of their job. They can share up-to-date information with you and help you evaluate what you've read.
"It is important to discuss what you read with your primary care provider, neurologist, and other trusted specialists," Dr. Lek says. "They are at the forefront of the field and can tell you if what you have read is reliable and if you have correctly interpreted the information."
It's especially important to consult with an expert when you come across research studies or other health information written for the scientific community. These use scientific terms and principles without explaining them, which can lead to misinterpretation. Dr. Lek provides an example: "A reputable scientific journal can publish positive results on stem cell research, which may cause patients to misinterpret that the technology is close to being used in the clinic; whereas in reality, the article was targeted at other researchers in the field with the intention of sharing a small piece of the puzzle," she says.
Your healthcare providers should welcome you bringing them questions. This shows them that you want to be a partner in your care. (Read How to Speak Up for Your Healthcare Needs in Hospitals and Doctors' Offices  for tips on communicating with your healthcare providers.)
Build a trusted network
By evaluating the information you find and communicating with your healthcare team, you can build a network of trusted organizations and websites that provide the information you seek. Check them regularly to stay up to date on the latest neuromuscular disease research and news.
Get started with the resources below or download a printable version of the list here.
Amy Bernstein is a writer and editor for Quest.
---
Resources for reliable disease information, research news, and education
Download a printable version of this resource list here.
I want to learn more about neuromuscular disease.
MDA Disease Fact Sheets and Resources: Overviews of some the most common neuromuscular diseases and other educational resources
MDA Disease Webpages: Summaries of many of the diseases MDA covers
MDA Engage Disease Symposia: Recorded and upcoming educational events that each focus on one disease
Quest Diseases A-Z: Quest content, including personal stories and research updates, related to specific diseases
NIH Genetic and Rare Disease Information Center: Searchable database of rare and genetic diseases from the National Institutes of Health (NIH)
NORD Rare Disease Database: Overviews of thousands of rare diseases from the National Organization for Rare Disorders (NORD)
NORD Rare Disease Video Library: Educational videos about many rare diseases
I want to understand inheritance of genetic diseases.
MDA Education Materials: Scroll down to Disease Specific Resources and General Neuromuscular Disease Resources for fact sheets about genetics and inheritance patterns
Family Inheritance: Quest feature article on how genetic neuromuscular disease is passed from one generation to another
I want to learn about genetic testing.
MDA Education Materials: Scroll down to Disease Specific Resources and General Neuromuscular Disease Resources for fact sheets about genetics and genetic testing
The Importance of Genetic Testing: Quest feature article on the advantages of getting a genetic diagnosis and how to get started
I want to understand gene therapy.
Targeting Genes: Quest feature article on how gene-targeted therapies for neuromuscular diseases work
Express Delivery: Quest feature article on how viral vectors are used in gene-targeted therapies for neuromuscular diseases
ASGCT Gene Therapy 101: Explanations and videos from the American Society of Gene and Cell Therapy
I want to read about neuromuscular disease research.
Quest Blog: Covers breaking news on treatments, and research and clinical trial updates
MDA Grants at a Glance: Research projects funded through MDA's grants program
ALS News Today: Online health news service covering amyotrophic lateral sclerosis (ALS)
Friedreich's Ataxia News: Online health news service covering Freidreich's ataxia
Muscular Dystrophy News Today: Online health news service covering muscular dystrophies
Myasthenia Gravis News: Online health news service covering myasthenia gravis (MG)
SMA News Today: Online health news service covering spinal muscular atrophy (SMA)
A Layperson's Guide to Reading Medical Research: Strategies to help you understand research articles from the Answer Cancer Foundation (ANCAN)
I want to find clinical trials.
MDA Clinical Trials Finder: The Trial Finder tool helps sort through available neuromuscular disease clinical trials
MDA Clinical Trial Updates: List of open clinical trials for neuromuscular diseases
ClinicalTrials.gov: A database of clinical studies around the world from the US National Library of Medicine
Trials Today: A quick way to search the thousands of studies available on ClinicalTrials.gov
I want to find a disease registry.
MDA MOVR Data Hub: Collects data on multiple neuromuscular diseases to help researchers build clinical trials and understand treatment outcomes
National ALS Registry: Collects information from individuals with amyotrophic lateral sclerosis (ALS) to help researchers learn more about the disease and its risk factors
NIH List of Registries: List of disease registries available nationally
---
Next Steps and Useful Resources
Watch MDA Engage seminars and webinars covering a variety of topics — from research updates to nutrition and parenting tips — live or on-demand.
Contact the MDA Resource Center at 833-275-6321 or ResourceCenter@mdaUSA.org.
CATEGORY:
Health
,
Science + Research
TAGS:
Clinical Trials
,
Community Education
,
Featured Content
,
Gene Therapy
,
Genetic Testing
,
Grants
,
MDA Engage
,
MDA Resource Center
,
MOVR
,
Research
,
Resources
TYPE:
Featured Article
Disclaimer: No content on this site should ever be used as a substitute for direct medical advice from your doctor or other qualified clinician.