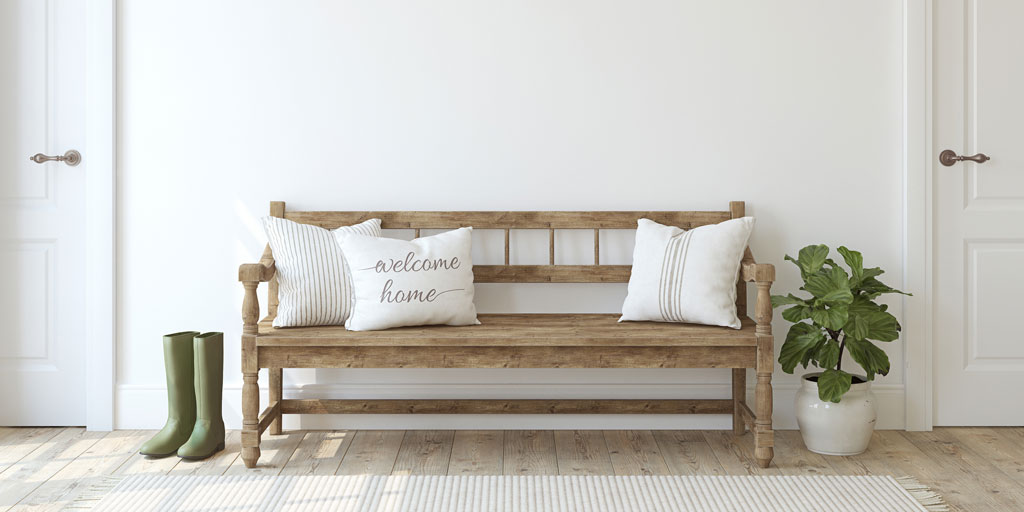 7 Ways to Make Life at Home Easier
By MDA Staff | Friday, May 15, 2020
Now, more than ever, we're spending a lot of time at home. While the continuing threat of the novel coronavirus makes this the safest place to be, home is also a place where frustrations can multiply when trying to accomplish everyday tasks.
We chatted with experts and people living with neuro­muscular diseases to get tips on how to ease some common struggles so you can truly feel the comforts of home.
1. Use your equipment.
When you're staying in, putting on equipment that supports posture or stability can seem like too much of a bother. How­ever, slumping in a chair instead of wearing a body jacket compromises your ability to breathe.
Neenah Williams, who lives with facioscapulohumeral muscular dystrophy (FSHD), recently started wearing her leg braces around the house daily, instead of only when she's going out. "Wearing braces, even though I can still walk without them, is the smartest thing I have done," she says. "They give me my mobility back, and I don't have to constantly be afraid of tripping or hurting myself."
2. Find kitchen helpers.
Christy Horner, an occupational ther­apist at the MDA/ALS Care Center at Vanderbilt University Medical Center, often tells her clients about common household items that can be repurposed to aid with food prep. "I advise patients to use pizza cutters instead of knives if they have the use of only one hand," she says. "And a hanger with pants clips can be used to keep a cookbook open; hang it on an upper cabinet handle for easy reading."
If gathering your ingredients is a challenge, Christy has solutions for that, too: "For a person who does not have a strong grip, tie a loop around the fridge handle to open the door with your forearm. In addition, tongs can be used as an inexpensive reacher. "
3. Hack your meds.
Medications aren't always dispensed in the dose you need, and cutting a pill with a knife can give uneven results. Even pill cutters don't always help. Leah Leilani, who lives with mitochondrial myopa­thy (MM), says, "I find that certain medica­tions either crumble easily, or I may need two-thirds of a tablet, and a pill cutter can't help in these cases." But she has a solution: "In these situations, a simple razor blade is best to use."
4. Care for your hair.
For people with facial muscle weakness, like Dani Liptak, who lives with FSHD, washing hair can be a pain — literally. Dani can't always close her eyelids enough to keep the shampoo out. She tried baby shampoo, but it didn't clean her hair well. So she came up with alternative ways of washing her hair.
"I started using a shampoo with tea tree oil, and I installed a shower chair that allows me more accessibility to my head, so I can prevent the shampoo from getting in my eyes," Dani says. "I also use my kitchen sink once a week, because it is easier to lean my head in and control the sink's hose and spout."
5. Stay active.
When you're staying home all day, it's easy to be inactive. But according to physical therapist Polly Swingle, owner of The Recovery Project in Michigan, protecting your strength helps you maintain use of your hands and arms. Polly advises people with neuromuscular diseases to do daily range-of-motion exercises with their arms, moving the shoulder, elbow, wrist, and hand for 10 to 20 repetitions. If you are unable to do that on your own, you can have someone help you. Along with stretching the arm muscles, this helps expand the chest for better breathing.
Physical activity has the added benefit of improving your heart health and increasing blood flow to your brain. Christy notes that chair exercises can provide these benefits with less strain than standing ones. A search for "seated exercise" on YouTube offers a range of chair exercise videos that you can follow along with on your own or with a partner.
Christy emphasizes that exercises should be fun. "It should feel good, definitely not painful," she says.
6. Do breathing exercises.
In her work with MDA Care Centers, Polly has seen that many people with neuromuscular diseases are particularly concerned with maintaining breathing muscles. To do that, it's import­ant to do breathing exercises. For example, once a day, take a moment to inhale through the nose and exhale slowly through the mouth, like blowing out a candle, for 10 to 20 repetitions.
Want to make a game of breathing exercises? Put cotton balls on a table and blow through a straw to move them around. Place an object on the table that serves as a goal and earn a point every time you get a cotton ball to your target.
7. Fall-proof your home.
Healing from a fall may cause some loss of strength that can't be recovered. Christy advises modifying your home with fall prevention in mind. Grab bars, bed rails, and easy-grip door­knobs are inexpensive and easy to install, and they can make your home a safer space.
Donna Albrecht is a freelance writer who lives near San Fran­cisco with her husband and border collie. She is the author of "Raising a Child Who Has a Physical Disability" (Wiley).
Delivery is the New Normal
To adapt with the times, many businesses have found ways to take their services online, or bring them right to your door. Here are some things you can do without leaving the house.
Manage your money. Nearly all transactions you used to conduct at the bank can now be done online, including depositing checks, paying bills, and applying for loans. Money apps like Venmo allow you to pay right from your smartphone. And budgeting apps like Mint can help you save more and spend less.
Run errands. The Taskrabbit app connects you with "taskers" who can run errands, do pickup and delivery, and even help out in the yard or around the house. Currently, they're focusing on contactless tasks to help maintain social distancing.
Shop for food. Type "grocery store delivery" into your search engine and you'll find a range of merchants, from local grocers to Target and Amazon, that deliver fresh food and pantry staples. If you're hankering for fruits and veggies, search for a community-supported agriculture (CSA) farm subscription service in your area. You'll not only get seasonal produce delivered, but you'll also support local farmers.
Travel. When the world's tourist destinations closed, many of them went digital. Choose a Monterey Bay Aquarium web cam to watch frolicking sea otters or drifting jellies, or take an online tour of the Louvre. Check out Google Arts & Culture for a collection of art and architecture from around the world.
Disclaimer: No content on this site should ever be used as a substitute for direct medical advice from your doctor or other qualified clinician.