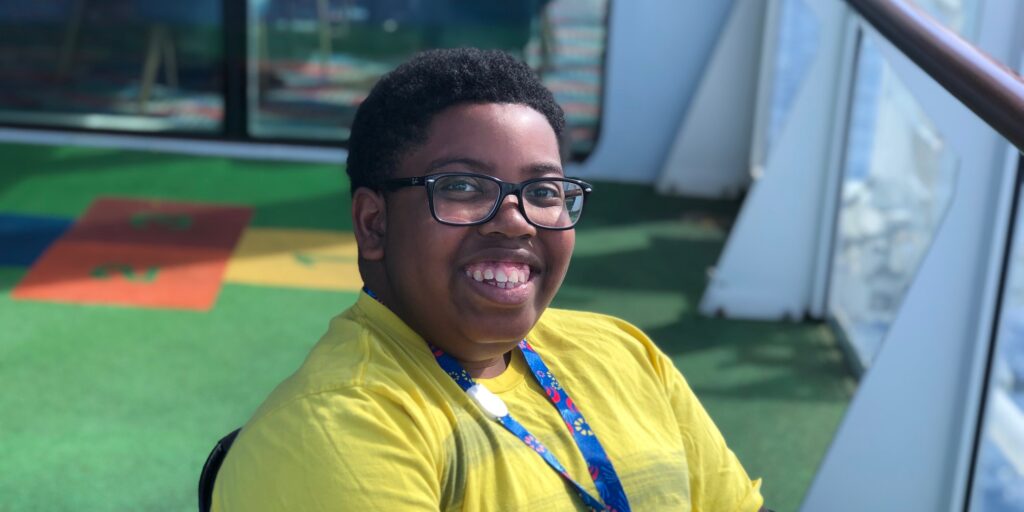 Access to Neuromuscular Disease Care for Black People and People of Color
By Myrna Traylor | Wednesday, February 1, 2023
Although it is not a new issue, more attention is being paid to equity in treatment and access to medical care for Black people and other people of color. Recent statistics showing a much higher maternal death rate among Black women, for example, served as a signpost for disparities in healthcare outcomes.
How are those disparities playing out in the neuromuscular disease community?
Some Black patients have experienced a delayed diagnosis. Quanetta Holt, 51, says that despite complaining of muscle weakness in her lower limbs since she was a teenager, her doctors didn't consider a neuromuscular issue.
"Doctors I saw wanted to send me to a nutritionist," she recalls. "I told them, 'No, it's not my weight — I have no muscle tone.' They weren't very well-versed in my condition." As a young adult, she fell twice in a week at her workplace and was sent to a worker's compensation doctor who noticed something important.
"When I went to get up out of the chair, the doctor said, 'You move like some of my muscular dystrophy patients.' And that was the first time I heard the term 'muscular dystrophy.' I was 25 years old," Quanetta says. "He took his medical book out for me to read, and I cried right there in his office because 95% of the article described things that I had been going through all my life. That was the very first time that I saw myself."
After this clue, Quanetta consulted with several doctors, did research herself, and took a genetic test. The process took years, but she finally received a definitive diagnosis of Bethlem myopathy, a rare form of congenital muscular dystrophy (CMD).
Jay Griffin experienced some of the same difficulties getting a diagnosis for his son Franklin, 13. When Franklin was a toddler, his walking was delayed, and he couldn't do some of the other large-motor tasks his preschool classmates could. When Jay described this to his son's pediatrician, he chalked it up to a slower developmental curve and encouraged Jay to work with his son to develop those skills.
"I went back to the pediatrician and said, 'I've been working with him. He's not developing the way that he should on all these characteristics.'," Jay says. "Then our second son, who is two years younger, started doing everything that Franklin by this age should have been able to do." That's what it took to get a referral to a neurologist.
Eventually, Franklin received his diagnosis of Duchenne muscular dystrophy (DMD) at age 6, and Jay and his wife did research before allowing Franklin to enroll in a clinical trial for vamorolone, a new steroid treatment that may become an alternative to prednisone or deflazacort.
Experimental treatments are a special concern for families of color because of the legacy of medical racism.
"My wife and I are going to ask questions and do what we feel is best for Franklin," Jay says. "But the trial investigators were absolutely phenomenal. They explained and answered all our questions. We validated all the stuff that they were saying and came up with more questions about this trial: Do they want to put Franklin in this clinical trial to be the very first guinea pig because we're Black? Or do they legitimately see an opportunity where he can take a drug that could have multiple benefits, and he happened to be the right age?" The Griffins were reassured by the answers they received and agreed to participate. Franklin is doing well on the trial drug, with weight gain being the only prominent side effect.
Quanetta and Jay both say they haven't experienced overt racial bias from healthcare providers, but they sometimes wonder if there are certain subtle kinds of resistance to their questions and concerns. Many of their challenges are also faced by the wider neuromuscular disease community, whose members sometimes struggle to get the care and support they need.
Opening doors for underrepresented researchers
The research field studying neuromuscular conditions doesn't reflect the diversity of the neuromuscular disease community. As the primary organization advocating for the needs of this community, MDA is committed to advancing representation among researchers. Edritz Javelosa, PhD, director of research portfolio at MDA, is working on the issue by analyzing data on researchers active in the field.
"Our analysis showed that we are lacking representation among researchers from diverse backgrounds," she says. "One of the things that we are doing this year is piloting a 10-week summer internship program focused on underrepresented groups."
This program is designed to give participants research experience in the neuromuscular disease field and exposure to the MDA community. The definition of underrepresented is based on the National Institutes of Health guidelines, which includes individuals from racial and ethnic groups that have not been represented in the sciences on a national basis, as well as individuals with disabilities.
MDA also is committed to promoting equitable access to clinical trials for more families like the Griffins. MDA recently awarded a grant to researcher Mathula Thangarajh, MD, PhD, that will offset travel expenses for some clinical trial participants, reducing one of the major economic barriers to participation.
Informing the community
Yet another point of access will be opening this year for individuals and families. MDA is offering families in the neuromuscular disease community free registration to virtually attend the 2023 Clinical and Scientific Conference. "Although the presentations are going to be very technical, I think this is another good way to inform the community about clinical trials, up-and-coming research, and other developments," Edritz says.
Disclaimer: No content on this site should ever be used as a substitute for direct medical advice from your doctor or other qualified clinician.