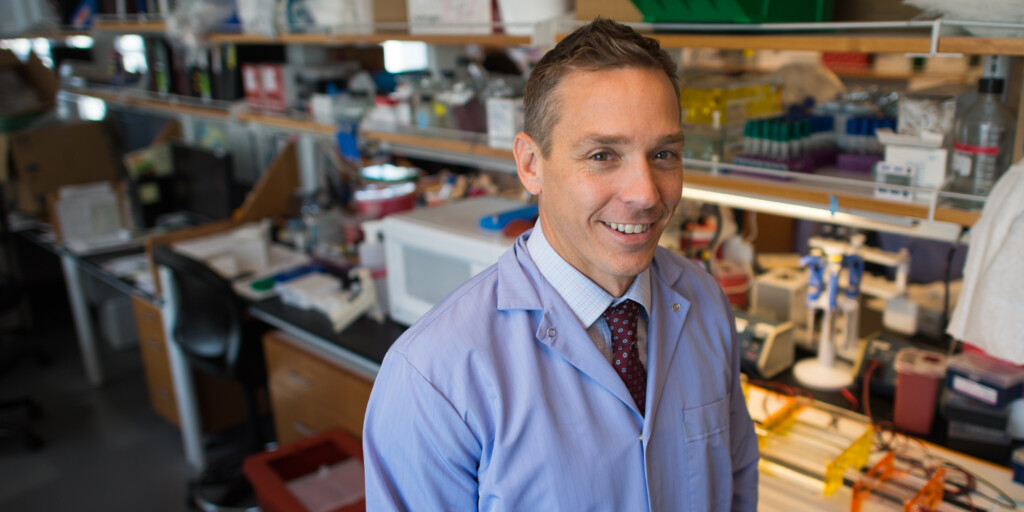 At a Cedars-Sinai Care Center, Dr. Robert Baloh Looks Under — and Ahead of — the Microscope for CMT and ALS
By Lindsey Baker | Tuesday, October 1, 2019
Even though the Martinez family lives in Burbank, Calif., within an hour's drive to Los Angeles' Cedars-Sinai Medical Center, their road to the hospital's specialized clinics — to Dr. Robert Baloh and his work there — was a long one.
Daniel and Gladis Martinez have two daughters: Genesis, 15, and Isabella, 14, born just 10 months and three weeks after her sister. Genesis said her first words at 6 months and began walking at 11, but Isabella was a late-bloomer, Gladis says. She didn't vocalize, or sit up or crawl. By the time Izzy was a year old, her pediatrician suggested physical, occupational, and speech therapy. Gladis and Daniel were told Izzy would never speak, and she had difficulty moving her fingers to perform sign language. She was diagnosed first with global apraxia, a type of overall motor uncoordination, then, at age 2, autism.
Izzy was 9 by the time her family was referred to a neurologist at Cedars-Sinai, who ordered genetic testing for Izzy, Gladis, and Daniel. And then, an answer: Isabella has Charcot-Marie-Tooth disease type 2A (CMT2A), a peripheral nerve disease that causes weakness in upper and lower extremities along with the loss of motor skills. Her parents are not carriers.
Gladis and Daniel had more questions. The neurologist had another answer: Dr. Robert Baloh.
A career and MDA Care Center in the making
In the mid-2000s, Dr. Baloh came out of his residency at the Brigham and Women's/Mass General Health Care Center in Boston knowing he wanted to pursue neuromuscular medicine. He entered into a fellowship at the Washington University School of Medicine in St. Louis, studying with mentors interested in Schwann cells and neve axons — both significantly affected in CMT — as well as neurodegeneration, the progressive nerve death hallmark to diseases like Parkinson's and amyotrophic lateral sclerosis (ALS).
At Wash U, Dr. Baloh also worked in an MDA Care Center, where he said the team would "see every patient with every type of neuromuscular disease in one day" — a good training ground to have exposure to many types of neuromuscular diseases. The team also regularly volunteered at MDA Summer Camp, which put a different kind of face on their studies.
"I certainly enjoyed hanging out with everybody at the clinic," Dr. Baloh says, "but it's different when you're at camp and really seeing how everyone is living their lives and having fun. I loved it."
When it came time for Dr. Baloh to choose an area of focus, he was influenced by his mentors, and that work with MDA. He applied for an early career-development grant through MDA and was awarded funding, which allowed him time in the lab to initiate a study of mitofusin 2, a protein that, when damaged, is the most common cause of CMT2. He later applied for and received another MDA grant, plus funding from the National Institutes of Health, to study the genes involved in ALS.
In 2011, he joined Cedars-Sinai as the director of Neuromuscular Medicine and "immediately started working on developing a division like the one I'd had the good fortune of being a part of."
"I'd been working for years to get an MDA-designated clinic," he says.
In 2017, he did. The Cedars-Sinai MDA Care Center coexists today alongside designated ALS and CMT clinics that help Dr. Baloh advance his areas of laboratory research but also keep him in close contact with those who can most benefit from that research — including the Martinezes.
"We met Dr. Baloh at the CMT clinic at Cedars-Sinai at Isabella's second visit," Gladis says. "He was great. He described in detail this disease and what we can expect, which is unknown. Everyone is different, but we are blessed to be able to take Isabella to Dr. Baloh. [He] has been able to offer us a glimpse of hope. His continued research has kept us interested in learning more and more about this ugly disease."
Dr. Baloh says he tells the patients he sees about his lab work so they know that, even if there aren't any treatments available to them, doctors do know why their diseases are occurring, and they're actively trying to find ways to change or eradicate disease courses.
"I think a lot of times people go to doctors and they come away thinking we don't know a lot about CMT, but that's not true," Dr. Baloh says. "MDA and a lot of researchers and the NIH and others are meaningfully working on these problems. I think that's reassuring for patients. They're not forgotten, they are a priority, and even if we're not at the state where we know what drug is going to fix the problem, that's where we're going."
From the lab to the community
In studying mitofusin 2, Dr. Baloh and his lab team learned the protein works in conjunction with mitochondria, energy powerhouses that allow cells to function. Damaged mitofusin 2 in a person with CMT2 diminishes mitochondria's ability to move along the full length of the body's long axons, or nerve cell pathways, which then causes the axons to degenerate. But Dr. Baloh and his team have discovered upregulating another protein — mitofusin 1 — can make up for damaged mitofusin 2. After successful animal studies, the team is looking to develop a gene-targeted therapy for human trials.
In ALS, Dr. Baloh is studying the C9ORF72 gene, the most common gene involved in both familial (or inherited) and sporadic (or non-inherited) ALS. He's focusing specifically on how C9ORF72 mutations affect the immune system, and how that may actually be taking part in the disease.
Both CMT and ALS involve motor neurons, nerve cells that carry impulses from the brain to muscles, and both diseases result in progressive muscular atrophy, or muscle shrinking. But they spread in different ways, Dr. Baloh says, and affect different areas of the body.
"CMT is about genes and molecules that maintain the very longest axons," he says, "and how you keep them functioning properly over the lifetime of a person. In ALS, we don't yet know what it is about that [motor neuron] cell, as long or as short as it may be, that makes it so susceptible."
Dr. Baloh spends the majority of his time at Cedars-Sinai in the lab, but he does meet with patients one day a week in the Care Center. And on Oct. 5, he'll meet with many in MDA's community as a Medical Honoree at the MDA Muscle Walk of Los Angeles.
"Cedars-Sinai is such an amazing Care Center," says Lola Davidson, Development director for MDA Los Angeles. "Dr. Baloh has been a volunteer for MDA Summer Camp and has been a supporter of ours right out of his career's gate. We want to highlight that and thank him. He is well worthy of it."
Dr. Baloh says it's been easy to champion MDA.
"I've had the good fortune of having support from MDA and have always been a big fan of the organization," he says. "You only have to see the patients or go to camp once to see how much they care."
And Dr. Baloh wants to keep caring for the community, too.
"CMT patients many times may have decided to stop going to the clinic because they feel like they're not really getting anything out of it and things are not changing too much, and that's OK," he says. "But I like that they feel a connection with a clinic, so if they do have questions or if we develop some new treatments that we're going to be trying — and I think that we will — they know where to go.
"We're here."
Find out more about this weekend's LA Muscle Walk, and if you're not in the area, donate to help MDA continue to fund life-changing research and care.
Disclaimer: No content on this site should ever be used as a substitute for direct medical advice from your doctor or other qualified clinician.