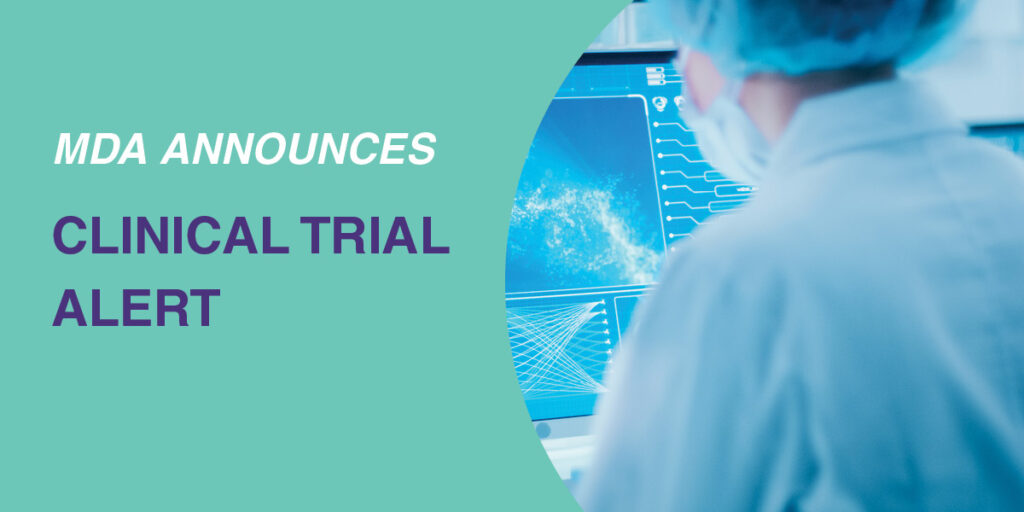 Clinical Trial Alert: Phase 2 Study of Ravulizumab (Ultomiris) in Adults Living with Dermatomyositis
By MDA Staff | Tuesday, April 5, 2022
Researchers at Alexion Pharmaceuticals are seeking adults living with dermatomyositis to participate in a phase 2 clinical trial to evaluate the safety, effectiveness, and pharmacological properties of the investigational drug ravulizumab (Ultomiris). Ravulizumab is designed to target a component of the immune system (known as complement), which underlies many autoimmune disorders including dermatomyositis. Treatment with ravulizumab has the potential to improve the muscle weakness and skin manifestations associated with dermatomyositis.
This is a phase 2/3 double-blind, randomized, placebo-controlled, multicenter study, which means that participants at different study sites will be randomly assigned to receive the drug or an inactive placebo control. The phase 2 portion of the trial (part A) is actively enrolling. Participants enrolled in part A will not be able to enroll in the phase 3 portion of the trial (part B). In part A, participants will be required to attend six clinic visits over the course of the study. The trial duration will include a 4-week screening period, followed by a 26-week treatment period.
The drug will be administered intravenously (injection in the vein). Participants will be evaluated using a combination of health- and function-related questionnaires, physical assessments, and laboratory testing.
To be eligible, individuals must meet the following inclusion criteria:
Diagnosis of dermatomyositis
At least 18 years of age
Inadequate response and/or intolerant to two or more dermatomyositis treatments
No cancer-associated myositis
May be eligible if on a stable dose of steroids or immunosuppressive treatments or willing to complete a washout period
Individuals may not be eligible to participate if they are affected by another illness or receiving another treatment that might interfere with the ability to undergo safe testing.
Please visit this link NCT04999020 for the full listing of inclusion and exclusion criteria.
Travel support may be available for study participants and families.
To learn more about the study or inquire about participation, please visit the trial website at this link or email clinicaltrials@alexion.com
Disclaimer: No content on this site should ever be used as a substitute for direct medical advice from your doctor or other qualified clinician.