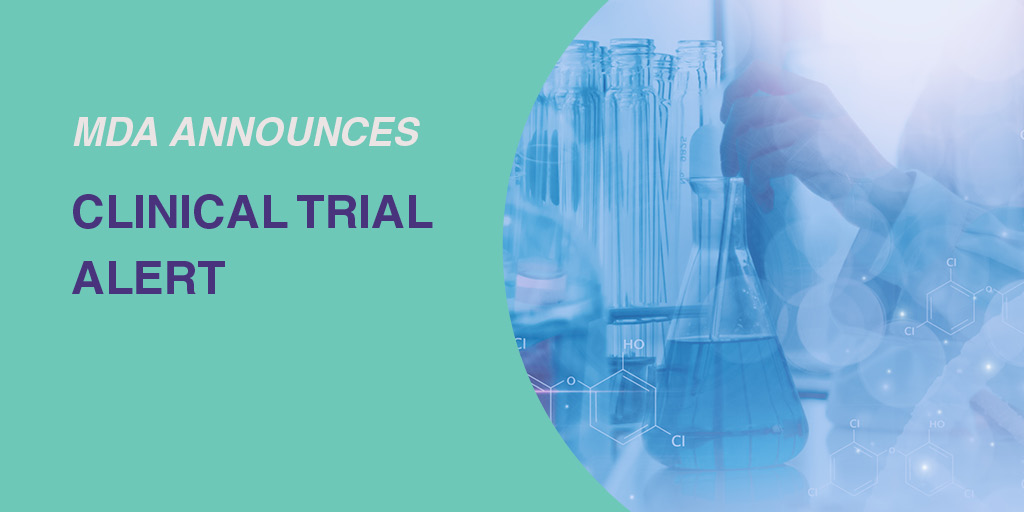 Clinical Trial Alert: Phase 2 Study of ALXN2050 in Adults Living with gMG
By MDA Staff | Wednesday, April 6, 2022
Researchers at Alexion Pharmaceuticals are seeking adults living with generalized myasthenia gravis (gMG) to participate in a phase 2 clinical trial to evaluate the safety, effectiveness, and pharmacological properties of the investigational drug ALXN2050. ALXN2050 is designed to target a component of the immune system (known as complement), which underlies many autoimmune disorders including gMG. People living with gMG often experience generalized weakness; treatment with ALXN2050 has the potential to decrease disease symptoms and increase strength in people with gMG.
This is a phase 2 double-blind, randomized, placebo-controlled, multicenter study, which means that participants at different study sites will be randomly assigned to receive the drug or an inactive placebo control. Participation will require 14 clinic visits over the course of the study. The total duration for participants will include an initial screening period, an 8-week primary evaluation period, and a 26-week extended treatment period.
The drug will be administered orally (by mouth). Participants will be evaluated using a combination of health- and function-related questionnaires, physical assessments, and laboratory testing.
To be eligible, individuals must meet the following inclusion criteria:
Diagnosed with MG at least 3 months prior to the Screening Visit
Myasthenia Gravis Foundation of America Clinical Classification Class II to IV at the Screening Visit
MG-ADL total score ≥ 5 (with at least 50% of the score attributed to non-ocular elements)
Participants receiving immunosuppressive therapies, corticosteroids, or acetylcholinesterase inhibitors must be on a stable dose with no changes to the regimen expected
Individuals may not be eligible to participate in the following cases:
History of thymectomy, thymomectomy, or other thymic surgery within 12 months prior to the Screening Visit
Untreated thymic malignancy, carcinoma, or thymoma
Participants with history of treated thymic malignancy or carcinoma may be eligible if they meet prespecified conditions
Clinical features consistent with Clinical Deterioration
Please visit this link NCT05218096 for the full listing of inclusion and exclusion criteria.
Travel support may be available for study participants and families.
To learn more about the study or inquire about participation, contact the study coordinator Christine Rowe at email: Christine.Rowe@alexion.com.
Disclaimer: No content on this site should ever be used as a substitute for direct medical advice from your doctor or other qualified clinician.