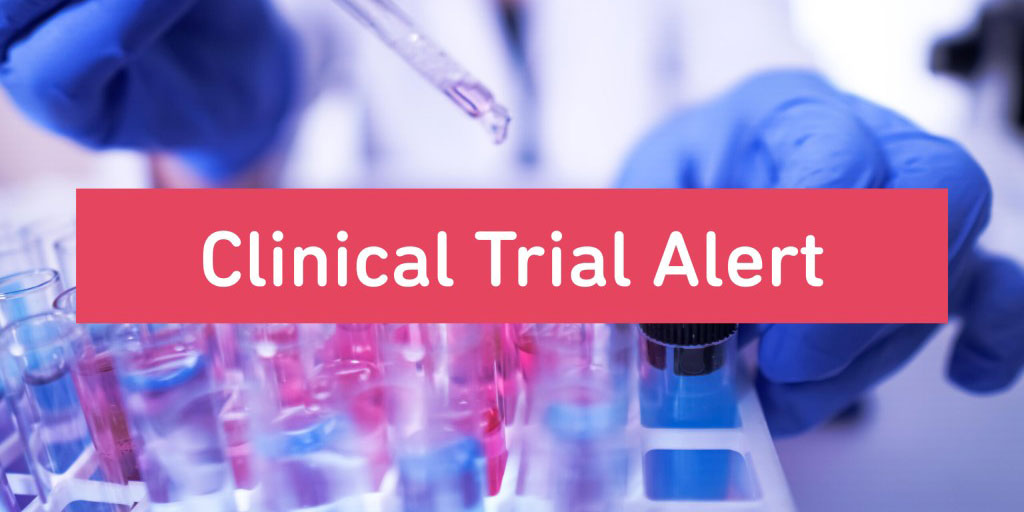 Clinical Trial Alert: Phase 3 Study of Rozanolixizumab in Adults with Generalized Myasthenia Gravis
By MDA Staff | Monday, June 21, 2021
Researchers at The Neurological Institute, PA, located in Charlotte, North Carolina, are seeking adults living with generalized myasthenia gravis (gMG) to participate in a phase 3 clinical trial to evaluate efficacy and safety of the investigational drug rozanolixizumab. Rozanolixizumab is designed to alter the immune response and reduce antibody production, potentially improving strength, fatigue, swallowing, and some visual disturbances in people living with gMG.
This study is a randomized, double-blind, placebo-controlled study, meaning that study participants will be randomly assigned to either receive rozanolixizumab or an inactive placebo control during the study period. The total trial duration for each patient will be about 18 weeks, consisting of a screening period (between one and four weeks), a treatment period (six weeks), and an observation period (eight weeks).  The drug/placebo will be administered in 12 doses through subcutaneous (under-the-skin) injections given at weekly visits over the study period. Participants will be evaluated for various outcome measures, including severity of symptoms, ability to perform activities of daily living, and quality of life. At the end of the study, participants may be given the option of enrolling in a long-term, open-label extension study.
To be eligible, individuals must meet the following inclusion criteria:
At least 18 years of age at the time of signing the informed consent
Documented diagnosis of gMG at visit 1
Confirmed positive record of autoantibodies against acetylcholine receptor (AChR) or muscle-specific kinase (MuSK) at visit 1
Myasthenia Gravis Foundation of America (MGFA) Class II to IVa at visit 1
Myasthenia Gravis-Activities of Daily Living (MG-ADL) score of at least 3 (with ≥3 points from non-ocular symptom) AND a quantitative myasthenia gravis (QMG) score of at least 11 at visit 1 and at baseline (visit 2)
Study participant is considered for additional treatment such as intravenous immunoglobulin g (IVIg) or plasma exchange (PEX) by the investigator
Individuals may not be eligible to participate if they are affected by another illness or receiving another treatment that might interfere with the ability to undergo safe testing.  
Please visit https://clinicaltrials.gov/ct2/show/NCT03052751 for the full listing of exclusion criteria.
Travel support may be available. To inquire about travel support, please contact: mycaringstudytravel@jmacp.com
To learn more about study or inquire about participation, please contact the study coordinator, Katelyn Eudy, BS, CRC, at phone: 704-449-6064 ext. 110 or e-mail: keudy@neuro-institute.com
Disclaimer: No content on this site should ever be used as a substitute for direct medical advice from your doctor or other qualified clinician.