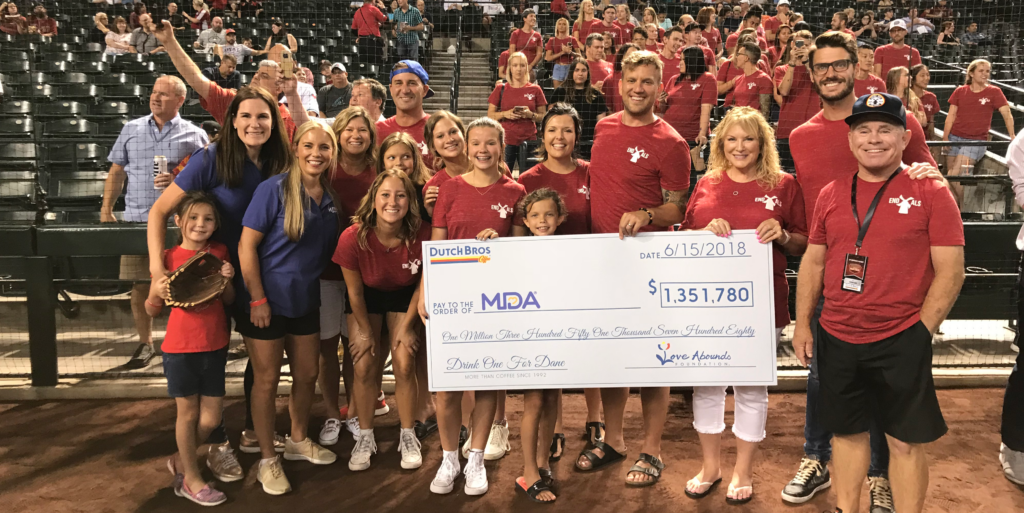 Do You Know ALS? Meet Brant.
By Lindsey Baker | Monday, May 6, 2019
For Dane Boersma, the best things in life were simple: a good cup of coffee, and some good people to drink it with.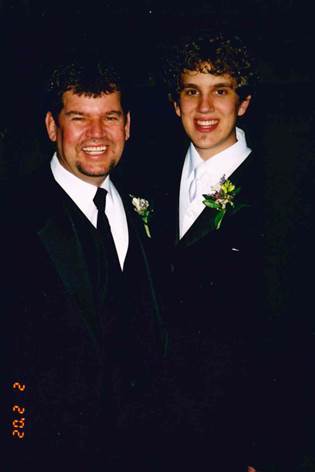 That was the idea behind the formation of Dutch Bros Coffee in 1992, when Dane and his brother Travis, both dairy farmers, left the dairy business with 100 pounds of coffee beans, a double-head espresso machine, and a new dream.
Dane's son, Brant, started working at the original Dutch Bros coffee stand in Grands Pass, Ore., when he was 12. Now 37, he serves as Dutch Bros' Chief Culture Officer, charged with hosting all of the company's major events and ensuring each is infused with the Dutch Bros aim to help people achieve their dreams.
One of those dreams, for the company and especially for Brant, is finding a cure for amyotrophic lateral sclerosis (ALS), which Dane was diagnosed with in 2005. He passed away in 2009.
"My dad didn't get diagnosed until he went into respiratory failure," Brant says. "Before that nobody knew what it was. Nobody had any kind of understanding of what [ALS] did, how it acted, the consequences that time has with that disease. It was a really hard thing, for us as a family, and as a company, too. My dad was such a hands-on guy. Everyone loved him. He didn't play favorites, he didn't have a hidden agenda. He was just an honest, genuine, loving human being.
"To watch that happen to someone who was a hero in my world … it's the most brutal thing I've gone through."
Dutch Bros offered a way for the family to raise awareness of ALS while celebrating Dane — and those cups of coffee and conversations he loved most. Held for the last 13 years each May, Drink One for Dane Day is a partnership between Dutch Bros and MDA to raise funds for ALS research. During the annual event — scheduled this year on May 10 — Dutch Bros proceeds are donated to MDA's ALS research efforts and family support services.
"It isn't about making money or anything else," Brant says. "It's about living in the moment and enjoying where you're at and the people you're around. We'll have people come to our locations that day who are going through the disease. We have people who don't even drink coffee that'll come through just to donate. I love those kinds of things where multiple people from multiple backgrounds and multiple beliefs can come together with one mission in mind.
"For ALS," Brant says, "we want to find a cure, we want to find a cause, but more importantly, we want to be able to help with the quality of life for those that are actually going through this horrific disease."
Last year, more than 300 participating Dutch Bros coffee stands throughout Arizona, California, Colorado, Idaho, Nevada, Oregon and Washington raised $1.3 million on Drink One for Dane Day; in all, the company has raised more than $4.8 million for MDA.
On May 10, they'll do it all again — and Brant will be right there at that original Grands Pass stand, raising a toast to his dad, dubbed the Wiseman because, as Brant says, he always had such wisdom on the tip of his tongue.
"I go through a lot of waves of emotion that day," Brant says, "It's really hard, but at the same time it's easy because we don't focus on the hurt of it. We focus on the hope."
Disclaimer: No content on this site should ever be used as a substitute for direct medical advice from your doctor or other qualified clinician.