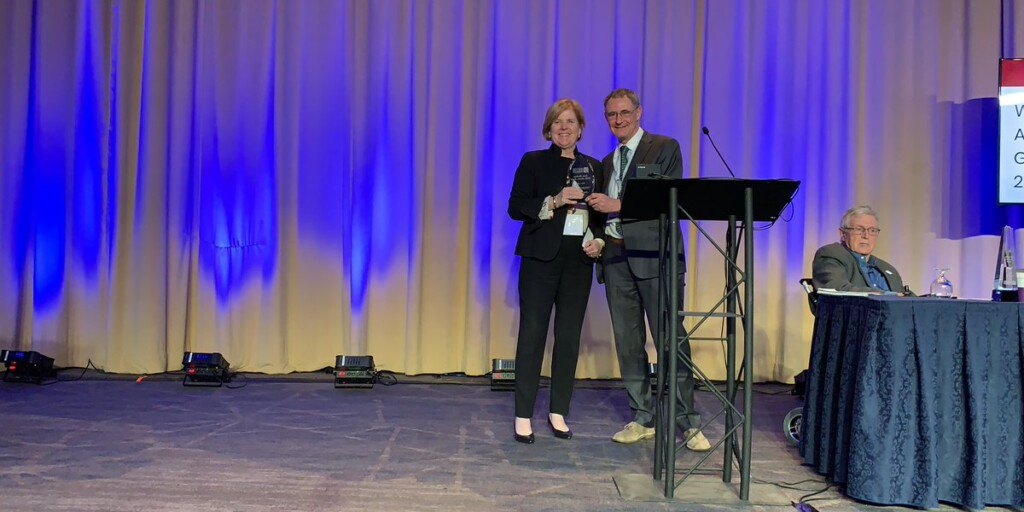 MDA Wins 2019 Sonia Skarlatos Public Service Award
By MDA Staff | Wednesday, May 8, 2019
We are pleased to announce that on May 1, 2019, the American Society for Gene and Cell Therapy awarded MDA the Sonia Skarlatos Public Service Award for 2019. Named for its inaugural co-recipient and tireless gene therapy advocate, the ASGCT's Sonia Skarlatos Public Service Award recognizes a person or group that has consistently fostered and enhanced the field of gene and cell therapy through governmental agencies, public policy groups, public education, or non-governmental charitable organizations. Lynn O'Connor Vos, president and CEO, accepted the award for MDA.
MDA has long appreciated that by targeting the root cause of disease, gene therapy has tremendous therapeutic promise in a wide array of neuromuscular diseases. For decades, MDA-supported researchers have worked to discover gene-causing mutations for neuromuscular disorders, developed and refined gene delivery tools and methods, and established protocols for safe and effective gene therapy. Indeed, that several experimental gene therapies are in advanced clinical trials in our diseases is the result of decades of effort from a large community of our partners, including families, donors, researchers, and clinicians.
MDA will continue to work together with all these partners to keep the momentum going toward more treatments and cures.
Disclaimer: No content on this site should ever be used as a substitute for direct medical advice from your doctor or other qualified clinician.