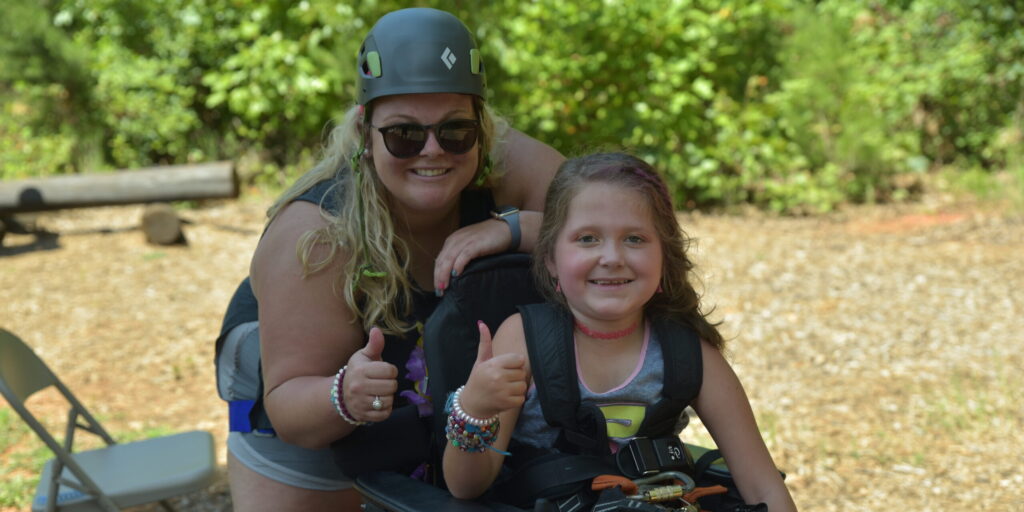 Faith Goes Camping: Our National Ambassador Attends Her First MDA Summer Camp
By Reagan Imhoff | Friday, August 16, 2019
Reagan Imhoff, 14, is a former MDA National Ambassador (2014-2015) and a current camper at MDA Summer Camp in Wisconsin. Reagan, who lives with spinal muscular atrophy (SMA), thoroughly enjoys MDA Summer Camp, and she was excited to connect with current MDA National Ambassador Faith and share perspectives on what it's like to stay at MDA Summer Camp for the very first time.
At the beginning of August, MDA National Ambassador Faith Fortenberry celebrated her 8th birthday and very first time at MDA Summer Camp! Most kids with muscular dystrophy agree it really is the best week of the year. What makes it the best week of the year? MDA Summer Camp is a week full of fun, laughs, and acceptance. It's a place where all kids with neuromuscular diseases ages 8 to 17 can go to a camp specifically created with their needs in mind. They never hear "you can't do that" and are able to hang out with their fellow campers who really understand what it is like to live with a muscle disease while letting someone other than their mom or dad take care of them. 
I had a chance to chat with Faith via FaceTime after she got home from camp, and it was fun to see the camp excitement still in her face. She was overjoyed, and couldn't have been more excited to share about her camp experience.
To say that 8-year-old Faith, who lives with SMA, had an amazing first time at MDA Summer Camp would be an understatement. Faith's favorite activity was ziplining, which as a camper myself at a camp that doesn't have ziplining, made me jealous. Faith says she was one of about 18 or 19 girls and 70 boys at her camp.
"Each camper had their own counselor," Faith says. "My counselor's name was Kaitlin, but she goes by Kate. She is really, really nice!"
Faith told me that she and Kate did each other's makeup and nails every day, and that Kate just knew what to do and took very good care of Faith.
"On the first day I felt pretty weird with someone different taking care of me, but then by the second day it got better," Faith says. She adds that the night before she went to camp she was actually "really, really scared, like 'Oh no, what's going to happen?'" Those feelings quickly changed once she settled in, made new friends, had some birthday cupcakes, went ziplining, and filled her days with endless activities. She topped it all off at a '70s-themed dance where she wore a tie-dye shirt with pink shorts and danced "a lot" with her new friends. 
When Friday morning rolled around and it was time to go home, Faith says she was "pretty sad because I was gonna miss all of my friends." I asked Faith if MDA Summer Camp met her expectations and she says, "It was different than I expected and I thought that it would be tiny and just one cabin with only a few things to do, but it was really fun and I really liked it! I got butterflies in my tummy the first day, but then I felt like I lived there!"
Being a camper at MDA Summer Camp and having everything accessible and not hearing the word "no" made Faith feel more confident in herself and like she could do anything she wanted. It was a great way for Faith to celebrate her 8th birthday — at the greatest place on Earth.                 
Find out more about MDA Summer Camp at our online portal, and make a donation today to keep camp a no-cost experience for kids like Reagan, Faith, and their families.
Disclaimer: No content on this site should ever be used as a substitute for direct medical advice from your doctor or other qualified clinician.