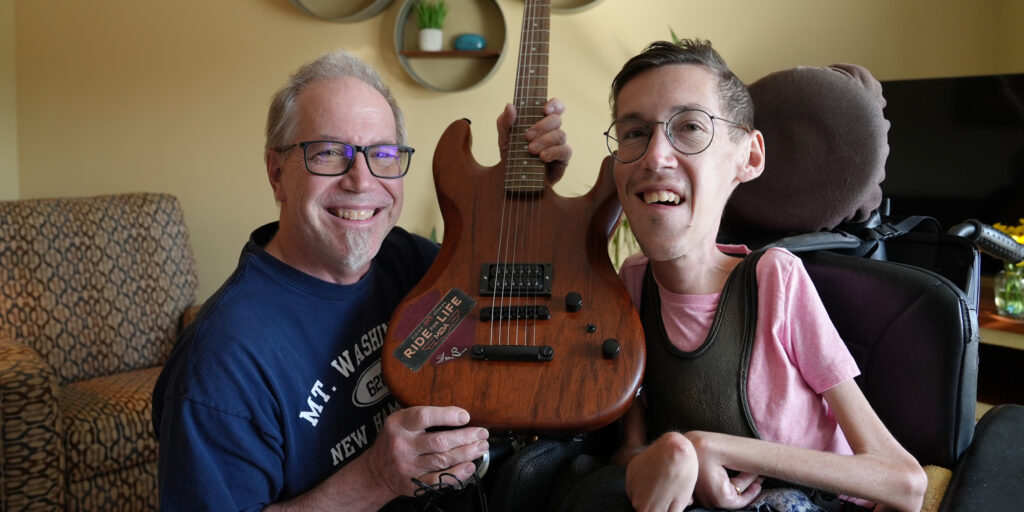 Father-Son Contribution to the 35th Annual Ride for Life
By Mindy Henderson | Monday, April 25, 2022
The relationships we at MDA form with our community is one of the most rewarding parts of our mission. One such relationship is our friendship with Jon Burcaw and his son Shane. As a long-time supporter of Schaeffer's Harley-Davidson – a member of the Eastern Harley-Davidson Dealership Association (EHDDA) – Jon became a supporter of MDA through the annual Ride for Life event. His son, Shane, lives with Spinal muscular atrophy, and is an MDA summer-camp-kid-turned-influencer.
The EHDDA is made up of authorized Harley-Davidson Dealerships throughout the Mid-Atlantic region, many of whom are second and third generation owners. They are committed to providing the best riding experiences and their philanthropic nature has made them a generous supporter of the MDA for years.
The 35th Annual Ride for Life event will be hosted by the Eastern & Western Pennsylvania Harley-Davidson April 29-May 1. This event features field events, auctions, motorcycle rides throughout the area and a parade to celebrate the decades long partnership to bring awareness and funds and independence to MDA families living with neuromuscular diseases.
Jon's son, Shane Burcaw is the author of the memoir Laughing at my Nightmare, runs a successful nonprofit organization by the same name, has a wildly popular YouTube channel called Squirmy and Grubs and that's just the tip of the iceberg!
At this year's event, there will be an auction featuring a guitar hand-made by Jon and autographed by Shane.
With the 2022 Ride for Life event coming up, we had a chance to catch up with Jon to ask him some questions, and we couldn't resist the opportunity to ask Shane a few burning questions at the same time:
Q&A with Jon:
You and your son clearly have a strong bond – what would you like everyone to know about Shane?  
The world knows more about Shane than his parents do! My wife Sue and I are very proud of both of our sons. They are both kind, loving, and hard-working. They married to kind, loving, and hard-working spouses as well. We love it when everyone is together, in the same place.
I understand you have personally raised over $250,000 for MDA through Harley-Davidson's Ride for Life events. I think you deserve a gold medal in volunteerism! Why do you dedicate your time to this fundraising event? 
It makes me happy. We got involved in Ride For Life, thanks to an invitation from the awesome folks at Schaeffer's Harley-Davidson back in the late '90's. When I saw what they were doing together with the members of the Deer Lake Harley Owners Group, I wanted in. I saw it as a fun way of doing something, anything to work towards a cure for my son's disease. It was a no-brainer for me to get involved. Soon I was hosting my own events.
You've also participated in other events for MDA with the Eastern Harley-Davidson Dealers Association, like summer camp. Tell us about your experiences with the kids at camp.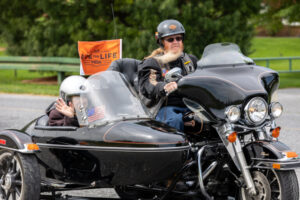 The Schaeffers knew I liked to ride motorcycles, so they made sure that happened. Many years ago, they invited me to ride with them to a summer camp on a Harley-Davidson sidecar… a very special sidecar. It became an annual event, and the sidecar came home to my house and has been here ever since. The summer camp experience was so cool, I wrote a book about it. It's called The Sidecar Kings, about an MDA camper's first sidecar ride. It was published in 2011 and a review of the book appeared in MDA Quest back then. The book intimately describes camp. It is also a loving "thank you" to the Schaeffers for all they have done for the MDA and for us MDA families. They are amazing.
You created a beautiful hand-made, fully functional guitar that is being auctioned at Ride for Life this year – how long did it take you to create it? 
The guitar came to life during the first couple of months of 2020, just as Covid turned us all upside down. Electric guitar building is a hobby. I could probably build them faster, but the joy for me is the build, the journey! The act of the build helped me get through all of that insanity. It kept me busy, thinking positively.
Q&A with Shane:
You run a nonprofit organization called Laughing at My Nightmare that helps provide adaptive technology for individuals with mobility related disabilities. I understand your organization is celebrating its 10th anniversary, congratulations! Why did you decide to start a nonprofit organization with the specific focus?
Thank you! Yes, it's hard to believe but our nonprofit recently turned ten years old. Living with SMA, I've come to understand how ridiculously difficult it can be to access the adaptive technology that drastically enhances my function. I'm extremely fortunate to have great health insurance and a support system that steps up to help whenever I'm struggling, but many are not so privileged. Having access to life-enhancing technology should not be a privilege, though. We created LAMN to fill that access gap, to provide equipment to people who need it. I'm proud to say we've provided over $500,000 in assistance in recent years!
You're a very accomplished person. In addition to your nonprofit, you've written three books, have consulted as a writer on television shows and have a very successful YouTube channel called Squirmy and Grubs. What would you like to do that you haven't had a chance to tackle yet?
All of my endeavors keep me pretty busy, but if things ever slow down I'd love to try my hand at stand-up comedy. Making people laugh is my deepest passion and I'm grateful that my various positions allow me to do so on a daily basis!
I also heard that you will be receiving the Haupert Humanitarian Award at Moravian University for your work with your nonprofit, Laughing at my Nightmare, Inc. over the last 10 years. What does receiving this award mean to you?
We are so honored to be receiving the Haupert Humanitarian Award! For us, it's a reminder that our work is important and valued. We started this nonprofit with almost no understanding of how to run a business, so to be receiving an award for all of our hard work over the past ten years feels extra rewarding.
What would you say has been your proudest moment and/or your biggest accomplishment to date?
This isn't an "accomplishment," but my happiest moment was the day I married my wife and best friend, Hannah.
Lots of hard work has gone into all you've accomplished. I suspect there were times when it was hard enough to want to quit. Is that true? If it is, what kept you going?
There have certainly been moments where quitting would've been easier than continuing forward. I've always been driven by a need to make an impact on the world, to reach people and make them laugh.
What advice would you give to other individuals out there who are living with a neuromuscular disease about reaching for their goals and their dreams?
When I was young, I didn't have much hope for my future, and that was because I didn't have any older role models with disability, so I didn't know what was possible. Now that I'm a bit older, I've met hundreds if not thousands of incredible people living with disabilities. One thing has become clear: anything and everything is possible. My advice would be to believe in yourself, know that you are worthy of your biggest ambitions, and don't limit yourself early on just because the road ahead feels uncertain. Also, follow lots of disabled leaders on social media and learn from their experiences!
Get Involved:
To register for this year's Ride for Life, or to donate, click here
For more details on the event, go to www.mdarideforlife.org
April is also National Volunteer Month and MDA welcomes volunteers to apply to support this event with a time commitment of at least four hours. Individuals, groups, families are welcome to register to volunteer their time to support a great cause in their community by signing up here.
Disclaimer: No content on this site should ever be used as a substitute for direct medical advice from your doctor or other qualified clinician.