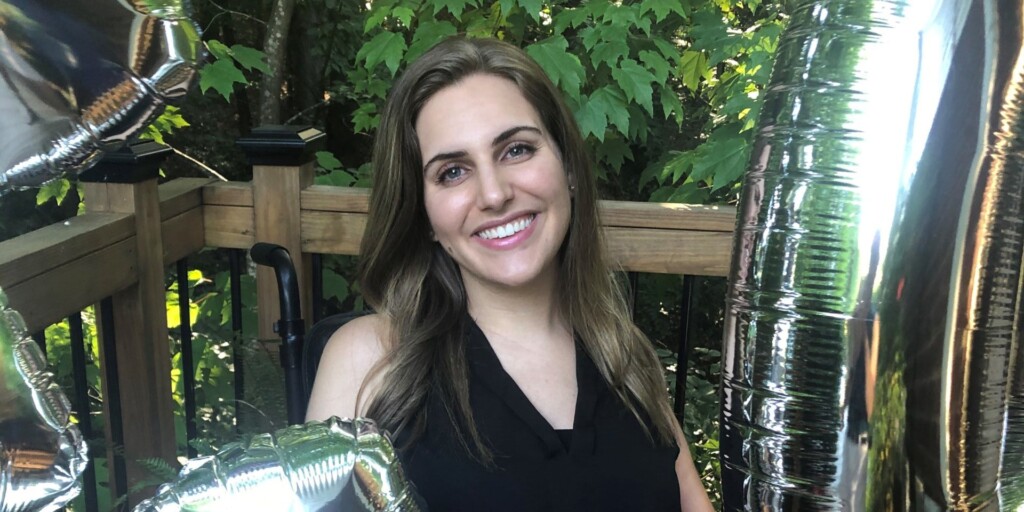 Hacking COVID: Voices from the Community, Part 1
By MDA Staff | Tuesday, June 2, 2020
In April, MDA fielded a survey to ask its community how COVID-19 was impacting their lives. We heard your responses — anxiety, questions, hope — and wanted to know more. In this six-part blog series, Hacking COVID, people from MDA's community, all living with neuromuscular diseases, shared how they've altered their day-to-day lives, how they've "hacked" situations like getting groceries and receiving assistance, how they've maintained contact and safety in an uncertain time.
MDA encourages all families to follow the guidelines put forth by the U.S. Centers for Disease Control and Prevention. Access our latest news and resources on our COVID-19 resource page.
Here's what some have been doing.
Allison Moder, 30, lives with spinal muscular atrophy (SMA) type 2. Allison resides with her parents, Chris and Stephanie, in Atlanta.
How has the threat of COVID-19 changed your day-to-day routine?
I am now working from home for the foreseeable future. When I started working from home a few days a week in January of this year, I had no idea it would soon become my permanent reality. But gladly, we had everything set up for when the time came. Instead of getting up at 6:30 a.m. and driving 45 minutes-plus in traffic, I now wake up and have only a five-minute commute to my home office desk.
I have not gone into a public establishment in more than two months. I have never been away from Target this long and I am starting to have withdrawal.
Not seeing people (besides my family) was a huge change. Normally I was constantly around various circles of friends, coworkers, personal care assistants, neighbors, etc. Now it's just two: Mom and Dad (and the occasional delivery person).
How have you adapted to these changes? What tricks have you discovered to make things work?
We have had to limit the people who come in to help me. For a few months, we decided to only have my parents help with my daily care. That way we know what precautions had been taken. It was difficult, when a lot of different people were coming in, to standardize what everyone was doing. Before that step, we had people check their temperatures before each shift, wash their hands when they arrived, and wear gloves when they were handling food or objects other people touched.
What has been the hardest change?
It has been a strain for my parents to have to continue their full-time jobs and now help me full-time. Sometimes we all have business calls back-to-back of each other, so we have to be sure to constantly communicate schedules and when I will need help.
How have you been coping?
It's important to have fun things to look forward to — it helps break up the monotony of this quarantine schedule. One night my friend texted me, "Want to come to our Netflix party?" We all just hopped on this extension of the streaming service and were chatting back and forth just like we were watching it all together at someone's house. It was funny to me because it really felt like someone had just decided to have an impromptu movie night at their house [and] I just stopped by. Using the House Party app was fun because you get to see people while playing games just like at a real game night. I have found I can be just as busy without leaving my house as I was when I had a normal schedule.
A big coping method I have is the power of information. I glean what is important to know and make sure I am well informed … then I turn it off. I don't inundate myself with constant news cycles or Facebook posts. I think it's critical that not to dwell on what is outside of my control while still educating myself to be able to act responsibly.
What new routines might you keep in place beyond the COVID era?
I actually go outside during my lunch break — before I would have just stayed at my desk. I forgot what a difference just stepping away from work for that hour can do. No matter what I do during that time, just getting up and taking a short break is critical to tackling the rest of the workday.
There are a few friend circles with people out of state I have gotten back in touch with because of these circumstances. We did a Zoom [virtual meeting] one evening and we all said, "Why have we not done this before?" It's hard to believe it took a pandemic to get us to realize we could reconnect that way, and I hope we keep it up when everything returns to normal.
Beth Baird is mom to Taylor Gurly, 24; David Baird, 16; and Bobby Baird, 13, who lives with Duchenne muscular dystrophy (DMD). They reside in Marietta, Ga.
How has the threat of COVID-19 changed your day-to-day routine?
Our day-to-day routine has greatly changed. We came home from Disney World [in Orlando, Fla.] on March 12 and I fell ill on March 15. Thankfully, my daughter moved back home after college and she stepped up to take over Bobby's care. I had to isolate in my room for 14 days as the test I was finally able to find came back inconclusive.
The stress of returning home to Bobby and not knowing if I was positive was almost unbearable, even though we had all most likely been exposed on our trip. Fortunately, by isolating and wearing a mask at home, no one else came down with symptoms. It did make establishing a new routine difficult, as I missed those first two weeks of distance learning and sheltering in place.
We do not leave the house except to be in our own yard or to go to Bobby's weekly drug trial infusion. We do not go shopping in person or go to restaurants to even pick up food except for a drive-through on the way to infusion. With everyone being home, it has meant more planning for meals as well as trying to figure out all the technology and coordinate the Zoom meetings and digital work for both my sons. Without school, the social avenues for Bobby are much more limited. Thankfully, we have always been a go-with-the-flow-type family, and that is helping in these trying times.
How have you adapted to these changes? What tricks have you discovered to make things work?
Bobby's teachers have been great at helping him adjust, especially in those first two weeks when I couldn't help him. Bobby and his brother have established a new routine of getting up and getting their schoolwork done. They help keep track of their Zoom meeting times and have started to help around the house more. Screen time has increased, as has time on the phone, but both keep them connected to friends. Bobby has also gone back to drawing and building [with] LEGO, as he often tires of just screen time. Having the boys come up with a few tasks they need to do and each having a to-do list has helped immensely.
We have also started some porch visits and meals [with social distance] at home. Bobby's MDA Summer Camp counselors have visited one at a time and sat on the porch with the door open as we sat inside about 20 feet away. We've shared meals and chats this way as well with us on the porch and others on the patio. We were able to have a fun celebration for my birthday utilizing canopies and our garage, thus maintaining safe social distancing. I've ordered some fun masks to wear when we go to infusion and for the time when my daughter returns to work and my older son returns to school. We may practice wearing them with my older son as the rest of us are used to wearing them for Bobby's infusion.
We have also learned to order everything we can online and have it delivered. I haven't been to the grocery store or gas station since March 14.
What has been the hardest change?
One of our family mantras since bringing Bobby home in 2013 is "life is all about experiences." We were traveling to see concerts, meet people, and had more events planned. We often visit Disney World and love to cruise. We typically had a trip or event planned so we had something to look forward to other than the travel for medical [appointments]. We met friends for a weekly dinner at our favorite Mexican restaurant where the staff knew us so well, they became family. The prospect of those things not happening for a long time has been the hardest change. We continue to support our restaurant by ordering delivery, but it isn't the same as being able to see [the staff] and hug them.
How have you been coping?
We cope one day at a time. Our other family mantra is "keep moving forward." Some days are better than others. The darkness creeps in and is often hard to shake for me and, occasionally, for Bobby. Bobby has been doing Zoom meetings with his teachers and classmates for school and often plays games online as he FaceTimes with his friend from another city. Those activities really lift his mood. My daughter and I also have been doing Zoom meetings with the crew we used to meet for dinner.
I continue to listen to music both on my playlist as well as a lot of livestreams, as I firmly believe that music heals. I have started walking our driveway now that my strength is coming back. Those help to lift my mood and chase the darkness that threatens to creep in. Bobby pulls up his favorite songs throughout the day and listens and sings along and uses his creative outlets to help keep his mind busy. He and I have had a few tough conversations as he deals with this social isolation and frustration.
Bobby also uses humor to help us all get through these tough times. He loves to make people laugh and that has been his strength and go-to method to help us all cope with the isolation. Laughter definitely is some good medicine.
Bobby most enjoys the porch visits and dinners [with social distance]. Knowing we have this option, because the people who make up our village care enough to keep Bobby safe, makes facing the real possibility of long-term quarantining a bit easier to think about. In the next month or so we will be moving into a house better suited for Bobby's needs that also has a pool, so that will keep us all busy for the summer and will be a nice change of pace and scenery.
What new routines might you keep in place beyond the COVID era?
We have really enjoyed the Zoom meetings and hope to continue those with our friends on a weekly basis. We will also continue the to-do lists, as they have really helped keep some structure and add some accountability. Porch visits and meals will also continue, albeit hopefully without having to distance. We will also continue to show more gratitude for those who have kept the grocery stores and restaurants open, those who shop for us, as well as all the delivery drivers. 
The biggest thing to remember is that there is always good in the bad. Always look for that positive in the negative. Through this COVID 19 era, I am learning that there are many good people left in our weary world. Bobby's DREAM Team (our village) has more members than we knew, and it continues to grow. They have all stepped forward with offers of help, gifts sent in the mail, shopping done for us, meals provided, supplies dropped off, special treats, a Harley-Davidson ride for us ending at our driveway, and just love and support sent. I've always had a hard time asking for help and my village knows that, so they didn't wait to be asked but just showed up. They are teaching me that it is OK to ask for and accept help, and that during a time like this, Bobby's DREAM Team has our back. We truly are stronger together!
Disclaimer: No content on this site should ever be used as a substitute for direct medical advice from your doctor or other qualified clinician.