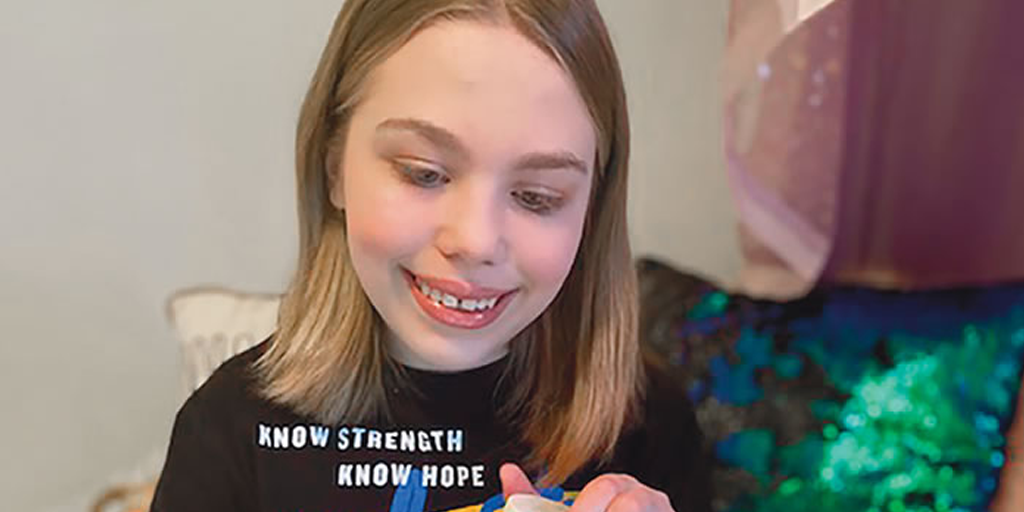 By MDA Staff | Tuesday, March 16, 2021
For Lily Ruta, 12, the 2020 virtual MDA Summer Camp offered one of her favorite activities — arts and crafts — plus an added bonus: connecting with kids like her all over the country.
"After the first day of camp, Lily was so excited to talk to me about another child she met with CMT [Charcot-Marie-Tooth disease] type 1A who has a mom with CMT, too — same as us — and who wears braces, too. She also found a friend who loves the same book series," says Lily's mom, Melissa, who also lives with CMT.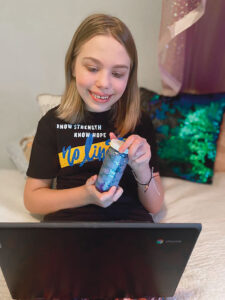 Lily, who attended in-person Summer Camp in Wisconsin four years in a row, signed up for one of the six weeks of last summer's camp, which was revamped and prepared as an entirely virtual experience using the Microsoft Teams platform. "During the pandemic, we knew we wanted camp to bring the community together, to continue to provide fun and creativity at a time of social isolation," says Alicia Dobosz, MDA's director of Recreation & Camp Programs. "There is no replacement for being together in person, but there was no question that we would work to build something new that could still provide some of the most important elements of camp."
Campers participated in a variety of daily activities, which included things like trying out a virtual escape room, playing round-robin games like hangman, participating in STEM projects, engaging in rounds of trivia, and following recipes to make their own camp snacks. Kids were able to interact in chat rooms and by posting pictures of themselves and their creations in the chat, all moderated by Summer Camp volunteers.
"The counselors really created great opportunities for the kids to do arts and crafts, and Lily was able to spend all day doing it," Melissa says, adding that the virtual version reinforced all the best aspects of Summer Camp.
"Summer Camp has given Lily confidence, the ability to be accepting of others, accepting of herself, have empathy, and self-advocate," Melissa says. "She's definitely come home from camp feeling empowered. She even did a presentation to educate her classmates about CMT."
Thanks to the invaluable lessons she's learned there, Lily plans to be a Summer Camp counselor when she's old enough.
"I love Summer Camp," Lily says. "I want to be able to help and interact with campers with muscle disease."
2021 Summer Camp
It's right around the corner. Sign up or learn more at mda.org/virtual-camp.
Disclaimer: No content on this site should ever be used as a substitute for direct medical advice from your doctor or other qualified clinician.