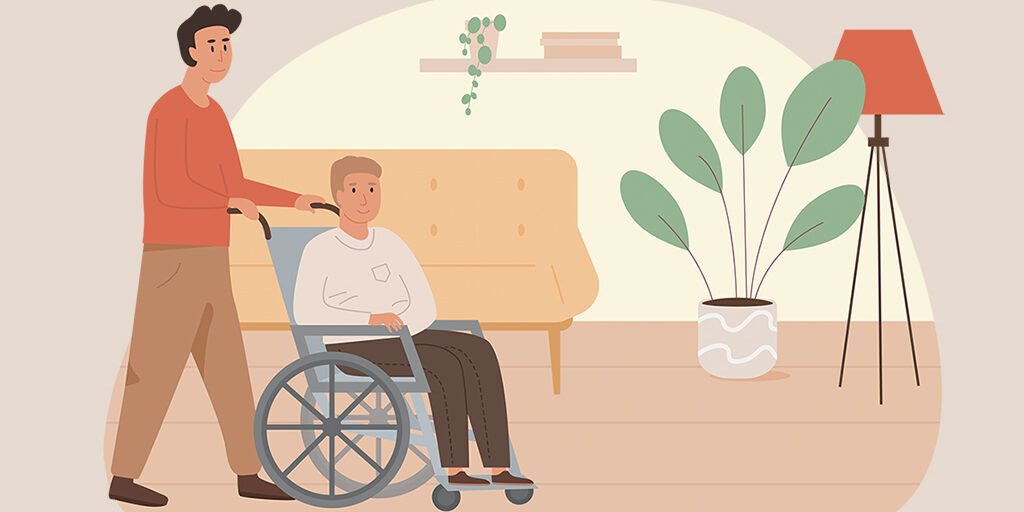 How Palliative Care Can Support Your Health Journey
By Emily Blume | Tuesday, August 8, 2023
When you're preparing for a journey, you want to equip yourself with gear that will make your trip comfortable and help you make the most of your time. The same is true of a neuromuscular disease journey. Palliative care can be incredibly beneficial, but it is often overlooked on this type of journey.
What is palliative care?
Palliative care focuses on relieving and preventing symptoms, reducing stress, and helping people have the highest quality of life possible. The effort to relieve symptoms can range from treating pain and depression to addressing breathing difficulty or trouble sleeping. Palliative care can be, and often is, provided alongside disease-directed or curative treatments for managing a neuromuscular disease.
Palliative care and hospice care
While the two types of care have much in common, they're not the same. Palliative care is the overarching umbrella under which hospice falls. Hospice care is a type of palliative care that focuses on quality of life in the final stages of life. However, palliative care is appropriate at any age and stage of a serious illness.
"We say that, in palliative care, the emphasis is on helping someone live as well as possible for as long as possible," explains Lauren Treat, MD, a child neurologist and hospice and palliative medicine doctor.
Hospice can come into play when patients want to prioritize comfort-focused above life-prolonging therapies. Sometimes this shift in philosophy occurs because of how the disease progresses or because the side effects of disease-directed treatments become too much.
Don't delay care
You may start palliative care immediately following a neuromuscular disease diagnosis, or if there is a significant shift in disease progression or symptoms. Studies show patients with appropriate pain and symptom management tend to live longer and enjoy a better quality of life than those without. In addition, palliative care can help normalize the involvement and support families will provide as they face a daunting road ahead.
Dr. Treat compares using palliative care to wearing a seat belt — it doesn't make you more or less likely to reach your destination, but it does make you feel more secure on the road and more capable of handling bumps and turns along the way.
Usually, referrals for palliative care don't come soon enough, and families miss out on months, or even years, of support from a palliative medicine team.
Experts suggest asking your neuromuscular disease specialist — or any doctor you see regularly — if you might benefit from palliative care. Doctors may hesitate to bring it up because of misconceptions about palliative care.
"Patients get very worried that someone is 'giving up on them,' and that's not the case," explains Dr. Treat. Palliative care can coincide with pursuing disease-directed therapies for a neuromuscular disease. It is intended to augment treatment and help an individual's care team understand what's most important to them and their family. It's not indicative that people are giving up or think the family is making a wrong decision. If an individual or family member worries about this, Dr. Treat encourages them to speak with their care team about palliative care and how it fits into their treatment plan.
Turning to hospice
Because neuromuscular diseases are progressive, they could involve a long period of palliative care before transitioning to hospice care when the disease reaches an advanced stage. This time usually comes when disease-directed therapies or procedures no longer fit an individual's goals and values for quality of life. "Then, we invoke a conversation about what would it be like to focus purely on comfort and help that person get as many good days as possible for as long as possible," Dr. Treat says.
The timetable for hospice care can vary, but for insurance coverage, it begins in what is expected to be the last six months of life.
Family benefits
Palliative care emphasizes caring for the family unit, including everyone affected by the illness.
Ambereen Mehta, MD, MPH, Associate Professor of Palliative Medicine at the Johns Hopkins School of Medicine, works closely with patients with amyotrophic lateral sclerosis (ALS), so she knows that palliative care can be as crucial for the family as it is for the patient.
Palliative care providers can help families prepare for the changes the disease will bring, particularly for those who take on caregiving responsibilities. This help could include breaks for the caregiver or ensuring family members get quality time with their loved one. Finally, providers can help family members understand their loved one's wishes and care goals, even those that might be difficult, such as a choice to not prolong life by artificial means.
Dr. Treat says the families receiving palliative care are often its greatest champions. "So many families come to my clinic and say, 'I should have been doing this earlier,' or, 'It's been so meaningful to have the support for some challenging times in my life.'"
While palliative care and hospice care differ in where they enter the neuromuscular disease journey, they share the goal of giving individuals as much time as possible while living as well as possible — and with dignity. "I always hope we will preserve people's joy and happiness, balancing safety and comfort," Dr. Mehta says.
Emily Blume is a journalist living with myotonic dystrophy (DM) in Washington State.
---
Palliative versus hospice care
| | | |
| --- | --- | --- |
| | Palliative | Hospice |
| Time frame | Any time after diagnosis | Final stages of life |
| Treatment | Symptom management and quality of life in conjunction with disease-directed treatment of illness | Complex system management and quality of life (no disease-directed treatment) |
| Location | In healthcare facilities or at home | In healthcare facilities or at home |
| Care Team | Doctors, nurses, pharmacists, therapists, social workers, dietitians, and chaplains | Doctors, nurses, therapists, social workers, dietitians, chaplains, and volunteers |
| Insurance | Medicare, Medicaid, and many private insurers cover some services. | Medicare covers. Medicaid coverage varies by state. Many private insurers provide some coverage. |
---
Next Steps and Useful Resources
Disclaimer: No content on this site should ever be used as a substitute for direct medical advice from your doctor or other qualified clinician.