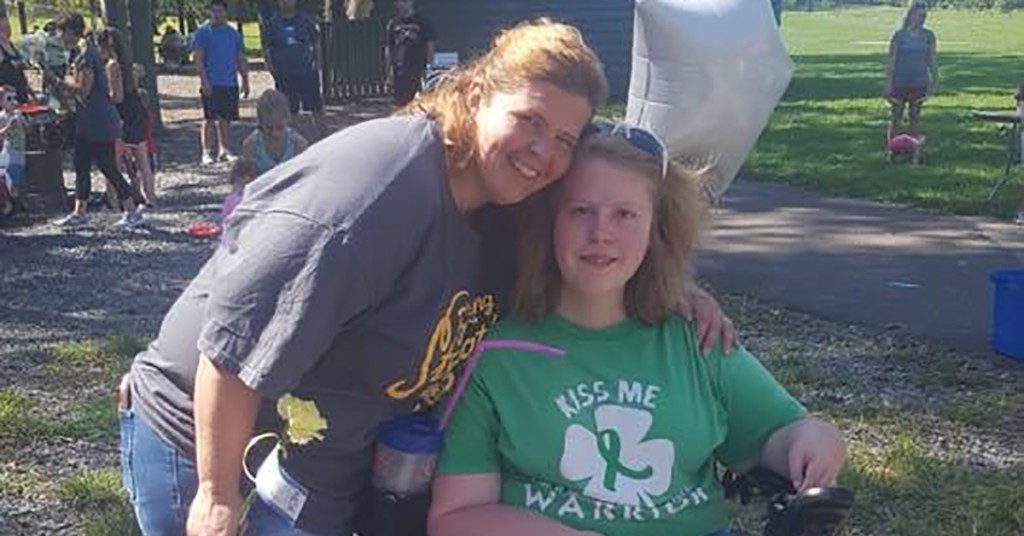 How Parents Can Help Kids Prepare for Adult Life
By Elizabeth Millard | Monday, November 15, 2021
For 18 years, Linda VanVliet spent most of her non-working time taking care of her daughter, Shelby, who was diagnosed with congenital muscular dystrophy at 3 years old. (That diagnosis was later changed to titin myopathy.) Linda's work as a school nurse also allowed her to step in quickly when Shelby needed care. 
"For a long time, doctors didn't give us a lot of hope about her future," Linda recalls.  Shelby has used a wheelchair since she was 2, and her condition causes progressive weakness. Shelby's respiratory muscles are involved now, and her doctors think her heart may become impaired in the future.
"That led me to believe she'd always be here, and even when she talked about college, deep down I never really thought she'd move out," Linda says.
But she did.
Shelby chose to attend the University of Pittsburgh, about four and a half hours from her home in Pennsylvania. Both mother and daughter had to draw on the preparation they'd done for years to help Shelby be more independent.
"I'm so proud of her for wanting to go to a school that far away and be on her own, but of course it was scary for both of us, and we each went through some anxiety at the beginning," Linda says. "Fortunately, we'd put some strategies in place before that to help with the transition."
If you're helping a child, teen, or young adult develop more independence, here are some approaches to consider.
Start early
Although the day Shelby left for college was particularly difficult, it certainly wasn't the first time Linda had worked on letting her go. Shelby has been going to MDA Summer Camp since she was 6 years old.
"Going to camp every year emphasized that she could do things on her own and still be supported. She grew up with that message," Linda says.
The sooner you help your child be more independent, the easier it will be on you as a parent as well, according to Laurie Miller, CSW, a social worker at the Neurological Institute at Children's Hospital Los Angeles.
"For parents, it can be really hard to let go because you're that foundation," she says. "You have to anticipate your role will change, and the earlier you can anticipate that, the better it tends to be."
For example, she speaks with some children without their parents present as early as 12 years old, so they can become comfortable talking about their feelings on their own.
Emphasize autonomy
Having kids talk on their own with social workers, occupational or physical therapists, and other professionals involved in their care helps them build confidence, Laurie says. As they become teenagers, they can begin having more autonomy over their care.
For instance, Linda put a list of medications on Shelby's phone when she was 16 as a way to have it handy — but also so Shelby would understand what she needed. At school, she encouraged Shelby to pursue any activities she was interested in, such as debate competitions.
"Being able to pursue her interests definitely made her feel more involved and confident," she says.
Emotional support from family and friends is crucial to helping a child feel comfortable exercising their autonomy. Shelby's stepfather, Ryan Hartnett, and brother, Devan, were instrumental in helping her gain confidence through encouragement, she says.
"I really believe that as a family unit, we worked together with Shelby to make sure she always feels supported in everything she does," Linda says.
Draw on resources
Pennsylvania has a waiver program that pays for Shelby's nursing care while she's at college, which allows her to live more independently. Linda found out about that option through MDA, and she also talked to other parents in the state who were in similar situations.
Understanding your teen or young adult's needs and creating a wish list — like home healthcare or mobility options — can be helpful when researching resources, she suggests.
The MDA Resource Center can help by providing information on programs and resources available in your area. Contact the Resource Center at 833-ASK-MDA1 or resourcecenter@mdausa.org.
Talk about your feelings
This can be a tough transition for everyone, Laurie says. She advises starting conversations with your child by asking open-ended questions, such as "How are you feeling about this?"
Getting support for yourself is crucial as well. "This was a big adjustment for me as well as for Shelby," Linda says. "I started taking care of myself more, taking walks, connecting with friends. The transition to adulthood doesn't only affect the person growing up, it's something a parent needs to anticipate for themselves as well."
With all the support and preparation her family provided, Shelby is doing great in college. She'll graduate in May 2022 with a bachelor's degree in computational neuroscience and French, and she's already looking at graduate school programs to keep her education going strong.
Disclaimer: No content on this site should ever be used as a substitute for direct medical advice from your doctor or other qualified clinician.