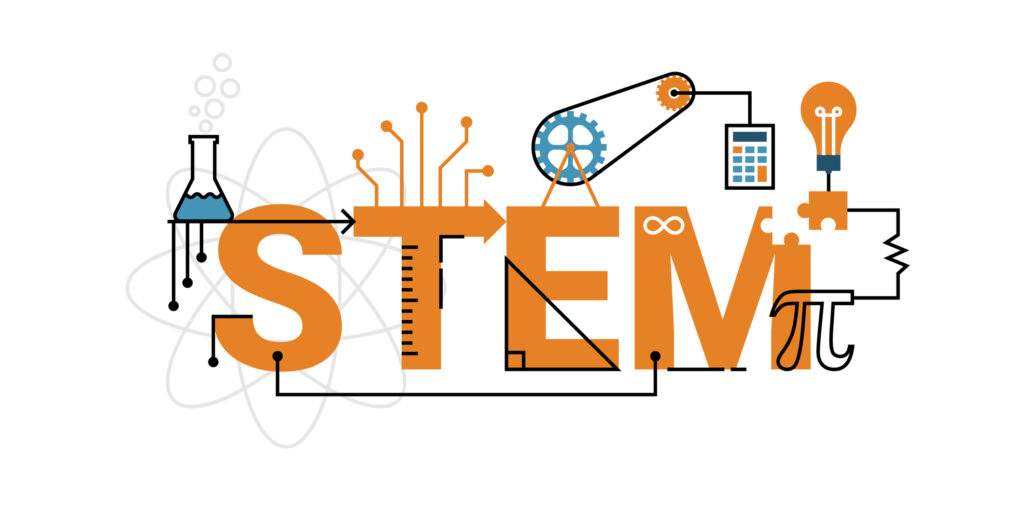 How to Make STEM Education Accessible for All: Students Weigh In
By Rebecca Hume | Tuesday, November 22, 2022
As the need for increased diversity in STEM education and careers gains more attention, the Smithsonian Science Education Center (SSEC) is leading the way in making meaningful change in our school systems. The SSEC's Zero Barriers in STEM Education: Accessibility and Inclusion Program, sponsored by General Motors, focuses on developing opportunities for all students to participate and access STEM activities. The program goal is to provide leadership development and resources to support educators in creating accessible STEM platforms for all learners, with a focus on classroom and school culture inclusion for students with disabilities. Holding multiple forums throughout the year, the SSEC team works with educators across the country to create inclusive curriculum and innovative strategies to overcome barriers.
Recognizing that their forums were missing one, key group of experts, the SSEC teamed up with MDA to host a panel of primary stakeholders: students living with disabilities. Program partners at SSEC and MDA's Director of Community Education, Marissa Lozano, planned and facilitated a panel discussion to provide an opportunity for students living with neuromuscular disease to share their personal experiences accessing STEM. The panel of students met virtually with teachers active in the Zero Barrier's program to share their insights into making STEM education accessible to all.
MDA's commitment to STEM
STEM is an acronym for science, technology, engineering, and math. Educational classes and careers in each of these fields are strongly correlated with innovation, critical thinking, and problem-solving. The fast-growing industry historically lacks diversity, creating a current need to increase inclusion and accessibility for underrepresented populations, specifically those living with disabilities.
MDA has a long history of running programs for youth and children, implementing STEM activities into many events and at MDA Summer Camp. Building on that commitment, MDA launched a STEM program also with support from General Motors last year. The MDA STEM Connections program creates an opportunity for young adults to participate in STEM activities and connect with mentors. The team of mentors is comprised of professional individuals who have established careers in STEM fields, including computer programmers, engineers, medical students, and doctors. Mentors work with students participating in the program by offering guidance to navigate pursuing higher education and careers in STEM fields.
With hopes to gain firsthand insight from a panel of young adults living with neuromuscular disease on strategies to make STEM education more accessible, the Smithsonian Science Education Center and MDA enlisted the help of high school students active in the MDA STEM program.
"I hope this panel can accomplish two things: first, that it boosts the confidence of our youth who are participating.  The STEM program – at the surface – is about science, tech, etc., but underneath all of that, this program is about empowering our youth to share their voice and talents, pursue their interests, and develop skills for college and employment.  Speaking up as a panelist will help strengthen their self-advocacy skills. Through this panel discussion, I hope they will feel heard and valued." Marissa shared prior to the panel event. "The second thing I hope this panel does is create small waves of change, starting first with the educators who will be listening to the panel.  I hope the educators will take our youth's insights and experiences to heart and make changes in their classrooms, their schools, and their districts to make STEM education more accessible and inclusive for students of all abilities.  The change may be small, but my hope is that it will have a ripple effect that eventually leads to a groundswell of students with disabilities feeling confident to pursue STEM education and careers."
Stakeholders speak up: Students share what works for them
Twenty-five high school students living with neuromuscular disease joined MDA, the Smithsonian's Zero Barriers team, and thirteen teachers to share their experiences accessing STEM. The panel created an opportunity for youth to share their perspective, a voice that is often missing when strategic planning occurs, on how teachers can make STEM more accessible. By placing an emphasis on decision making with young adults instead of for them, educators were able to gain a better understanding of what works well and what matters to our student populations. Providing a platform for students to be heard also supports the endeavor of youth taking action to improve their own learning experiences.
Sherrell Williams, Program Manager of the SSEC's Zero Barriers program, and Alex Grace, Program Assistant, shared program goals and led opening activities. Students and teachers posted the various ways in which we use STEM in our day-to-day activities, from grocery shopping to baking at home. The activity led into the panel discussion.
As members of the panel shared their classroom and extracurricular STEM experiences, teachers were able to ask questions, gain insight, and receive tangible examples of how to increase inclusivity. Students shared accommodation needs, actions taken by teachers and mentors to make them feel included, how teachers can make their classroom and activities more accessible, and advice on working with students to best understand their individual needs.
Advice, experience, and access
From the larger group, five students volunteered to actively participate on the panel, answering questions about their personal experiences with STEM. When asked how people in their schools and community have shaped their experiences with STEM, Caeden Parisi, a 16-year-old living with Duchenne muscular dystrophy (DMD), shared that he first became interested in STEM after joining a robotics team in middle school. Caeden now attends a vocational school and has chosen engineering as his focus. He shared that his shop teachers are very adaptive and supportive of his goal to become an engineer. His teachers assist him with certain tasks that require hands-on assist, have organized their shops in a way that is easy for Caeden to navigate, and they let Caeden direct them as to what kind of assistance he needs.
Allyson Pack-Adair, a 17-year-old with mitochondrial myopathy, shared the positive impact that her 7th grade science teacher and science Olympiad coach had on her STEM experience. Her teacher made accommodations to ensure that Ally could complete science experiments in the classroom and ensured accessibility during travel and competitions for Olympiad. Examples of accommodations that her teacher/coach advocated for included an indoor waiting area to substitute waiting outside in the heat before events, maps of the schools where competitions were held so that Ally could know the distance she would need to walk prior to arriving at the event, and the provision of magnifying glasses during competitions in order to accommodate her visual limitations.
As educators listened intently, the students shared various ways in which their educators made the classroom more accessible for them. Ben Anco, a 17-year-old living with spinal muscular atrophy (SMA) who first became interested in STEM when working on wheelchair upgrades like snow tires and lights with his family, shared that technology in the classroom is a great resource to increase accessibility. His school provides an iPad, which he finds especially helpful with long homework assignments. He uses an app that allows him to take a photo of the assignment and then complete all work on the screen.  The other students on the panel readily agreed that technology and access to iPads and Chromebooks have helped them immensely.
When asked what teachers can do to better support their STEM and education goals, the students provided valuable advice and insight. Matthew Cech, a 17-year-old living with mitochondrial myopathy, advised teachers not to get stuck on the idea of having a set standard for every student. He recommended that teachers provide different options and materials to ensure accessibility, adding that the knowledge and intentional planning to think of those different options can go a long way.  Caeden suggested that teachers ensure that their classrooms, labs, and workshops are set up in a way that provide enough room for everyone to get around and access everything that they need.
"Listen to your students and take us seriously, don't treat us like children. If we say we need something don't shut it down," Ally advised. A sentiment that was quickly echoed by the other members of the panel, sharing a key take-away for educators to let their students inform them regarding what works best for each individual and his or her needs. Charlie Chesnes, a 17-year-old living with SMA, reminded teachers to make the time for private conversations to ask what their students need and then continue to check in.
How students can advocate for themselves
The panel also shared personal advice on how students living with disabilities can advocate for themselves at school. Matthew shared that he sends a quick email to each of his teachers at the start of the school year to discuss his needs, accommodations, and relevant medical information. Ally creates info graphics in Canva and shares the cards with her teachers to educate them about her disability, accommodation needs, and what works for her. Ben created a presentation about his disability and needs that he shared with a few classmates, opening the door for a conversation and the opportunity to encourage questions.
Each student shared the importance of creating those valuable opportunities to have open, meaningful conversation with their peers, teachers, and administration about individual accommodation needs.  Advising teachers to navigate those conversations with the intention of gaining a better understanding of each student as an individual, the students shared that communication is the key to increasing accessibility.
How teachers can make meaningful change
Following the panel discussion, students and teachers were assigned smaller break-away chat rooms where they held candid discussions on the ways in which teachers can make meaningful changes in their classrooms. Students chatted with teachers to provide tangible ideas and advice, discuss how to remove barriers in the classroom and in STEM, and resources that have helped them in the past.
A reiteration of the valuable points made in the larger panel, students were able to share individual experiences and classroom accommodations. While accommodations and needs vary from student to student, one key piece of advice was universally shared across the breakout rooms. That key advice for teachers: listen to your students.
As a group of educators willing, open, and eager to learn and make changes listened raptly, students advised them to approach accessibility individually, not to assume that a student cannot do something but instead focus on accommodating needs so that they can do anything, and to listen to students about their own needs, abilities, and goals. As the panel wrapped up, the students expressed appreciation for the opportunity to use their voices and offer powerful advice for educators to follow as they lead in their school and districts to implement change and inclusion.
Disclaimer: No content on this site should ever be used as a substitute for direct medical advice from your doctor or other qualified clinician.