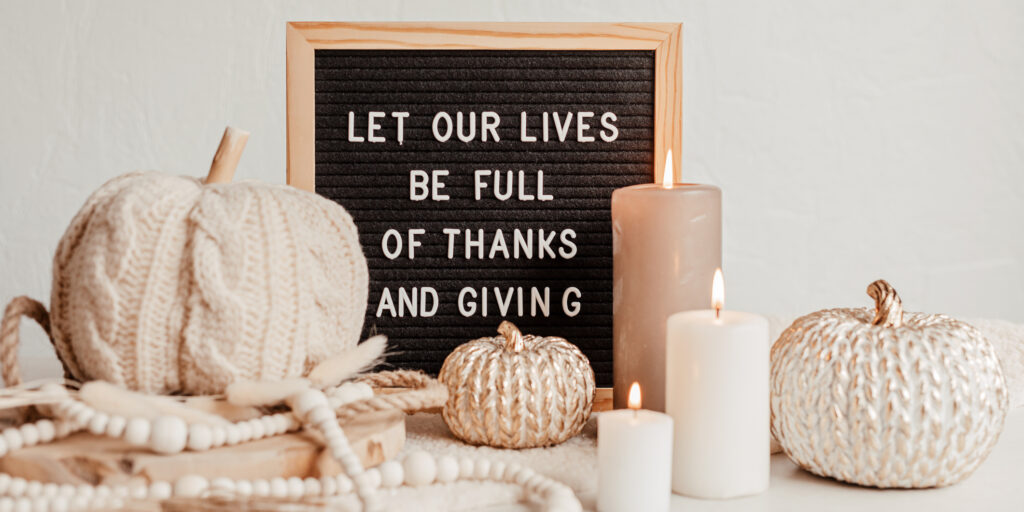 What I am Grateful for This Thanksgiving
By Chris Anselmo | Monday, November 21, 2022
Thanksgiving has always been a time of reflection for me. It is a time to come up for air and take stock of life after a hectic start to the fall.
This year, I feel a sense of optimism that was missing the last two Thanksgivings due to the pandemic, which threw everything into chaos. It is a welcome feeling to look ahead with joy, rather than unease.
Thinking back to 2020, I barely remember the holidays. My mom was in and out of the hospital that November. Although she made it home in time for Thanksgiving, she was not feeling 100% and was readmitted a few days later. Making matters worse, the next few weeks saw both my parents, two sets of aunts and uncles, and several cousins all get COVID. (None of us had seen each other and got it independently.) Thankfully, everyone pulled through, but as I know you can relate, when someone you love gets sick, life stops. Everything else in life becomes secondary. My Christmas gift that year was having my mom home from the hospital, though my parents didn't even have the chance to put up the Christmas tree.
Last year, although it was better than the year before (a low bar to clear), COVID was still wreaking havoc in the world, and it wasn't clear when this pandemic would ever end. As someone who likes certainty, the endless "what ifs?" were anxiety-inducing.
This is the first year that things feel "normal" again. I put that word in quotes because I don't know exactly what normal is anymore. There is still a lot to process in the world. But when it comes to the holidays, it feels more like it used to feel. And this year, that is a win in my book.
I have no formal Thanksgiving reflection practice, but I do try to take a few moments, in between naps and watching football, to write down all I am grateful for. I started this exercise a few years ago, as I often found myself during my down time thinking about life and all that wasn't going right.
I am not a naturally optimistic person, even under non-pandemic circumstances. Part of the problem is I haven't been able to fully relax since the symptoms of my adult-onset muscle disease (limb-girdle muscular dystrophy type 2B) began in 2008. The progression of the disease had me focused for so long on all the abilities I was losing, which made it that much harder to focus on the positives in life.
But prolonged negativity is no way to live. Over time, after much trial and error, I was able to break free from being a curmudgeon, partly by learning how to be grateful for what I still had. By focusing on the negatives for so long, I missed the positives that existed in plain sight. As COVID laid bare, nothing in life should be taken for granted.
This year, I am thankful that I have my family. My friends. My health. My faith. A good job. Pens that are easy to write with. I may not be an effortless optimist, but at least I've struck a healthier balance.
What I am also grateful for this year, and what I believe has helped to contribute to a returning sense of normalcy, is being able to see people in person again. Because of COVID, I hadn't traveled out of state since early 2020, which meant no trips to Boston, my home for twelve years, where most of my friends from school and work still live.
Last month, I had the chance to attend the MDA Tribute Tour event in Boston and jumped at the opportunity to go. I was able to see friends and coworkers I hadn't seen in three years or whom I had never met in person. I also had the chance to meet several MDA supporters who have given so much to the organization. The next day, I saw a few of my best friends from college and from a previous job. It was an amazing weekend.
I forgot how much I enjoyed seeing people in person, and how important that kind of connection is. I had gotten so used to being home, communicating over screens. It's hard to believe that three years ago, I used to travel to conferences all over the country for work and I admit, I had taken it for granted. Never again.
I wish you all a healthy and safe Thanksgiving and holiday season. If you are able at some point, take a moment to reflect on all that you have, in a world that tries to remind us of what we're missing. Be grateful for those people that give your life meaning. Don't be afraid to laugh, to have heart-to-heart discussions, and get into petty (non-political) arguments over small matters – topics such as 'what is the most overrated Thanksgiving food?' (The answer is easy: stuffing.)
Disclaimer: No content on this site should ever be used as a substitute for direct medical advice from your doctor or other qualified clinician.