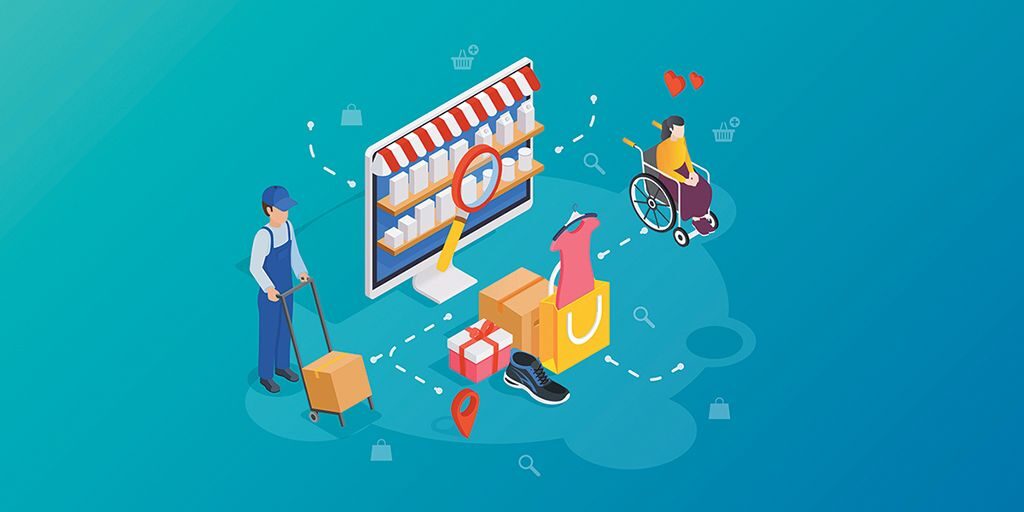 Inclusive Companies: 3 Trailblazers That Prioritize Accessible Products
By Maggie Callahan | Friday, November 17, 2023
Companies are getting wise to the fact that 1 in 4 US adults lives with a disability. They are finally realizing that increasing inclusivity makes sense from ethical and business standpoints. Many are answering the call for products and features that more people can use and enjoy.
To celebrate this progress, we are spotlighting three companies leading the way in disability accessibility and inclusion.
QVC: Creating more accessible products
Over the last few years, the video commerce retailer QVC has made great strides in promoting inclusivity and accessibility. Actor and activist Selma Blair, who lives with multiple sclerosis, joined QVC as their brand ambassador for accessibility earlier this year, and the company developed a dedicated accessible and adaptive product line and launched the monthly on-air show "Accessible Living."
Now people living with disabilities; aging in place or in assisted living; recovering from a surgery, illness or injury; or supporting others as a caregiver can find everything from adaptive clothing to housewares to mobility aids.
Inclusivity has long been part of QVC's philosophy. For the last 30+ years, the company has been a leader in size-inclusivity, offering all apparel options at price parity. About five years ago, the QVC team started discussing ways to make their offerings even more universal.
"We started talking about how we have the perfect medium and platform to serve the disability community in a different way," says Rachel Ungaro, Vice President and General Merchandise Manager at QVC. "With our live broadcast and ability to tell stories—100% live and unscripted—we felt like it was something we wanted to venture into. We wanted to change the narrative for a broader community."
The company created a cross-functional task force of individuals from different parts of the organization. They started doing research and talking to experts in the community, like consultant Maura Horton, who began designing adaptive clothing when her husband experienced the symptoms of Parkinson's disease.
They also consulted with the vendor community and the brands that make these products. "They know all the ins and outs," Rachel says. "Listening to them, we began to understand the best products to put in front of our customers based on needs." Then, they began offering some of the pieces online.
"We started seeing interest and felt like the best way for us to continue this journey was to offer adaptive, accessible, and universal items from our own brands to the customer," Rachel says. So, they developed and recently launched Denim & Co. Adaptive, the first accessible collection from a QVC private-label fashion brand. Rachel says shoppers can expect to see new items released monthly.
Apparel options include pants with loops or larger leg openings for easy dressing. Those with dexterity issues can find clothing with magnets, Velcro, or zippers with pull rings. "It's much easier to grab a loop than it is to grab the actual zipper edge, and we offer it in metal or other kinds of fabrication so it looks like a fashion detail versus a utilitarian detail," Ungaro says. "We are trying many different things, and we love feedback."
Outside of apparel, QVC sells the EV Rider mobility scooter, hearing aids, home safety items, canes, kitchen tools and gadgets, and compression socks and vests.
Lessons from the journey
Rachel says becoming inclusive involves a big learning curve. "You can't solve everything for everyone, so you have to pick the path where you can make the most impact," she says.
To achieve success, she says businesses must take their time, do the research, and be committed. "We continue to learn and better understand the community along the way," she says. "Listening to the customer is the most important thing."
She says the early feedback has been positive. "We might find out the first version of a product didn't have something the customer was looking for, and then we can add it in the future," Rachel says.
Authenticity is also in QVC's DNA, and Rachel says it has guided them throughout the process. "The QVC model is rooted in authenticity," she says. "A brand owner, inventor, or designer is selling their product to the customer live on any number of our platforms from on-air, to digital, or streaming. They're authentically telling their story. Authenticity runs through our veins because of the type of business that we do."
Venturing into the world of adaptable and accessible goods was the next logical step. "It's the most important thing I've done in my career," she says. "It just feels right."
Slick Chicks: Offering a fully adaptive clothing line
Adaptive clothing company Slick Chicks was created to empower the disability community with fashionable and functional apparel.
Founder Helya Mohammadian got the idea for Slick Chicks when her sister was recovering from a C-section. Seeing the struggle involved in daily tasks like putting on underwear, Helya, who studied product development at the Fashion Institute of Technology, wanted to find a solution. So, she launched a Kickstarter campaign to develop adaptable panties. With all of the interest she got from the disability community, she immediately saw that there was a much bigger need.
Even with her background and the apparent need, starting her own company was daunting.
"It was really hard for me to put myself out there knowing that I didn't have a disability," she says. "There were feelings of impostor syndrome, and I questioned, 'Am I the right person for this?' But I realized that my background is design, and I love solving a need for anything in life."
The Slick Chicks team has grown to five employees who wear many hats and are passionate about what they do. The success of the panties has led to an expanded product line, including sweatshirts, hoodies, lounge pants, shorts, and bras. The team is also hard at work on a men's line. Slick Chicks products are available on SlickChicksOnline.com and at  Target, QVC, JC Penney, Aerie, Lane Bryant, Zappos, CVS, Third Love, and Kohl's.
Clothes for everyone
Rather than trying to cater to one type of disability, Slick Chicks aims to make their products as universally accessible as possible, from the right design details to affordable price points.
For example, they aim to make tagless garments, depending on the fabric. As for fasteners, it's a tougher mission to meet as many needs as possible, but one they are dedicated to. "When we used a hook, not everybody had the dexterity to use it, so we started working with Velcro," Helya says. "Some people experienced sensory issues and skin allergies with Velcro, so we placed the Velcro where it wouldn't be touching the skin. Then we changed to magnets, but some people were uncomfortable with the idea of magnets touching their skin. So then we switched to zippers. Now we're working on a self-fastening fabric."
Helya loves getting community feedback to inspire these tweaks. "I'm very open to suggestions and feedback from our community. We don't always hit the mark, but we definitely try to evolve," she says.
Slick Chick's inclusive approach extends to its production process. They found a manufacturing partner in Sri Lanka that has similar values and employs about 380 people with disabilities. "Making the garments was a learning experience for both of us," Helya says. "They employ so many people with disabilities, but they had never made products for people with disabilities. Now, they are involved in the process, from sourcing the fabric to the finished garment. It was a moment that brought us both full circle."
Fueling momentum
As mainstream retailers are starting to introduce accessible and adaptive products, Helya believes brands like hers can educate them. "It's a big responsibility because they're not going to know the space and the disability community the way we do," she says. "We have to make sure the products are showcased in a way that is thoughtful and respectful to the community and that people can actually find them. Anything that we learn, we share with our retailers because it's a win-win."
She adds that educating the retailers will make them more eager to increase their adaptive and inclusive product offerings.
"Once their teams feel more knowledgeable, they can bring on other brands," she says. "For us, it's the more the merrier."
Google: Developing products for everyone
When it comes to inclusive software development, technology powerhouse Google is leading the way, guided by its mission "to organize the world's information and make it universally accessible and useful."
"It's very much in the spirit of everything we do," says Lisie Lillianfeld, Product Manager, Products for All, Google .
The company has been busy creating accessible features, apps, and products. Of the company's extensive innovations, here are some exciting examples:
Accessibility icon on Google Maps 
Google has released a Google Maps feature that identifies places that are wheelchair accessible — and those that aren't.
When a business has a wheelchair icon next to it that indicates it has a wheelchair-accessible entrance. If a business doesn't have one, the icon will have a slash through it. You can also check out the "About" tab for information on accessible seating, parking or restrooms, and a place to add missing data. The information is gathered through crowdsourcing from local guides and businesses who contribute their information. "We know that planning outings can be a challenge and we hope this will make it easier," Lisie says.
People with nonstandard speech can train this app to understand them by recording 500 phrases. Once the app has processed these phrases, the user chooses between three modes:
Listen transcribes what they say in real time
Repeat restates what they said in a clear, synthesized voice
Assistant connects to Google Assistant to respond to their query or request
"This is a big step toward making speech recognition that works for more people," Lisie says.
This communication app is designed for people who cannot speak or use a phone with their hands. With Project Activate, users assign specific gestures — such as smiling, raising eyebrows, opening their mouth, or looking left, right, or up — to specific actions — such as sending a text message , speaking a phrase, or playing an audio file. The app uses the phone's camera to detect the gesture to trigger the action and can be downloaded from the Google Play Store.
"We worked with people with ALS and others with profound paralysis for over a year to develop this app," Lisie says.
Success for all
For companies beginning their journey to inclusivity, the key to creating a useful product is to know your users. Lisie recommends speaking to many different people to get a more representative sample.
"We ask, 'What's working?' and 'What's not working?' to understand their challenges," she says. "Then we look at the technology and see if there is an opportunity to make an impact." Google implements many phases of user research to gain these insights:
Foundational research helps identify and understand problems.
Prototype research helps gather feedback. "We go to the user again and observe whether any of our prototypes help solve their problems," Lisie says.
Product testing ensures the person can use the product or feature that's already built. "This is an important step, but doing the earlier steps makes it much more likely you'll build something that fits right in the person's life," she says.
For example, when developing Project Relate, the team met with people living with muscular dystrophy and ALS. "We wanted to know, 'What are the frustrations and the challenges?' We heard that communication was a huge challenge. Machine learning was just getting to the point that it could start understanding a wider variety of speech. It was that beautiful match of the user need and the technological innovation that made us feel like we could move the needle."
Lisie adds that prioritizing accessibility often drives innovation more broadly. "Many times, after we solve an accessibility challenge, we realize, 'Oh, this was a problem that everybody was encountering, but we didn't notice it before,' – like new ways to use technology hands-free may be helpful to people while driving," she says. "Companies that aren't thinking about accessibility are missing out on all those potential innovations."
She also feels that as more people begin designing and creating with disability inclusion in mind, it will become the norm, with designers routinely considering visual, auditory, physical, and cognitive accessibility.
For companies concerned about the financial cost of making accessible products, Lisie says to consider the financial cost of not doing it. According to Organizations like the National Organization on Disability, Americans with disabilities represent more than $200 billion in discretionary spending. "How many potential customers will you lose because they can't use your product, and then their family members won't use it either?" says Lisie. "They want to use something that works for everybody."
"We believe that it's important for everybody to have access to technology. We believe this is an equitable thing to do and the right thing to do."
---
Next Steps and Useful Resources
Disclaimer: No content on this site should ever be used as a substitute for direct medical advice from your doctor or other qualified clinician.