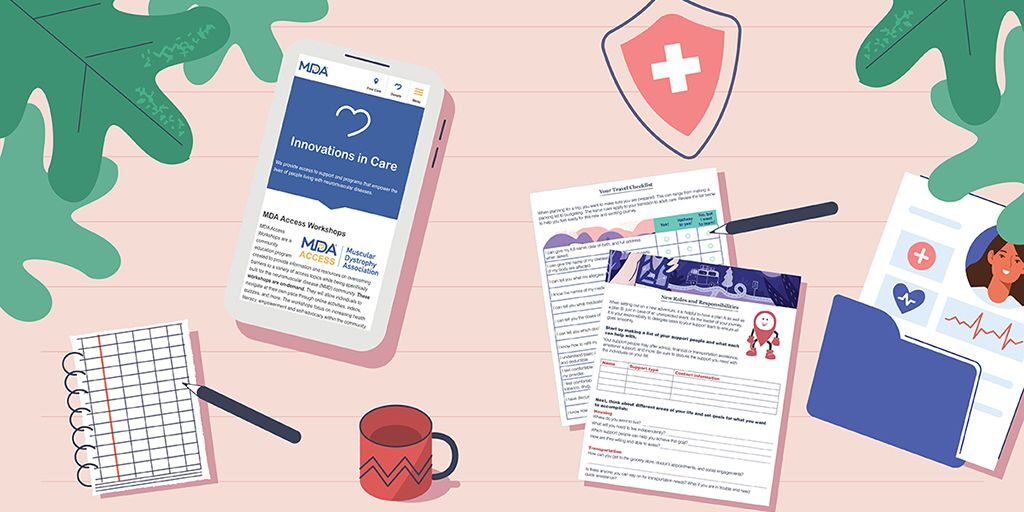 Make a Smooth Transition From Pediatric to Adult Healthcare
By Karen Doss Bowman | Friday, November 17, 2023
5 Second Summary
Use these resources and real experiences to prepare for and guide your way through the move to adult healthcare for kids and young adults living with neuromuscular diseases.
When Madison Parotta's healthcare team at Nemours Children's Hospital in Wilmington, Delaware, initiated conversations about transitioning her to the adult setting around the age of 18, she was ready. Diagnosed with spinal muscular atrophy (SMA) at around 10 months old, Madison had practiced advocating for herself from a young age — from asking questions at medical appointments to speaking up during her IEP meetings at school.
"My parents were always encouraging me to do things for myself," says Madison, 28, who now receives care at Penn Medicine in Philadelphia. "That definitely helped prepare me to advocate for my healthcare needs."
Madison recalls that her providers at Nemours Children's gave her a checklist of services that she would probably need to pursue moving forward — such as personal care assistance and Medicaid. One of the biggest challenges she faced in aging out of pediatric care was the loss of funding for services such as physical therapy and assistive technology.
Even so, Madison enjoys the autonomy she feels attending an adult clinic.
"In a way, I feel more comfortable with my adult neurologist than I did with my childhood doctors, so that's a big plus for me," Madison says. "People with neuromuscular conditions have to grow up fast, but in their late teens, they still deal with constraints from parents and caregivers. So now, my adult doctor has given me full autonomy. She gives me her recommendations, but she emphasizes that I know my body best. If I disagree with her, I feel free to do what is right for me."
What age to transition?
Achieving independence is a rite of passage for launching teens into adulthood. Like Madison, many children with neuromuscular diseases share the same longing for independence as their peers without disabilities.
Making the transition from the world of pediatric healthcare to the adult setting is a critical part of the journey. This can be a time of anxiety for young adults as they learn to navigate a new healthcare environment, manage changes to health insurance, and balance expanded responsibilities — often while adjusting to major life changes such as starting college, holding down a job, or moving out of their parents' home.
When does a patient age out of pediatric care and make the move to adult care? There is no magic age of transformation, experts say.
"The transition away from pediatric healthcare is a process," says adult neurologist Hani A. Kushlaf, MD, director of the MDA Care Center at the University of Cincinnati (UC). "It's not a one-point-in-time decision."
Ideally, the transition from pediatric to adult care happens gradually, starting around a child's 13th birthday. Over time, their pediatric care team helps them build skills by asking them questions and giving them a voice in medical decisions.
Anne Connolly, MD, Chief of the Division of Neurology at Nationwide Children's Hospital in Columbus, Ohio, believes the groundwork for this transition can be laid at an early age. She begins asking patients health-related questions when they are around 5 years old — depending on their maturity and developmental abilities.
"Children obviously are not transitioning at 5 or 6 years old, but they're able to answer very simple questions for themselves, such as, 'Does anything hurt?' or 'What kind of stretches do you do each day?'" says Dr. Connolly, who also is a professor of pediatrics at The Ohio State University College of Medicine. "It's around age 13 to 15 that I suggest a brief period where the parents step out of the room for a few minutes so the child can feel free to talk to me about anything. That is how we begin developing a doctor-patient relationship that isn't completely absorbed by the parents."
Planning for change
During childhood, parents manage all aspects of their children's healthcare: making appointments, refilling prescriptions, managing health insurance, and more. Transitioning to an adult care model can be overwhelming as young adults get used to new clinicians, new routines, and new expectations. Additionally, adults have different social and medical needs and life goals. And because they are no longer growing, there are no new motor milestones to track.
How can families know if their child is ready for the transition to adult healthcare?
Just as there is no magic age for switching from pediatric to adult care, there are a variety of care models that may be used depending on the patient's needs and a medical institution's practices.
For example, some individuals with Duchenne muscular dystrophy (DMD) may continue with their pediatric providers into adulthood because of specialized nutritional or other needs. Other young adults may not have the intellectual ability to manage their own healthcare. Each patient's medical team can help assess the person's ability and willingness to make the transition.
Andre Prochoroff, MD, a pediatric neurologist at MetroHealth in Cleveland, Ohio, oversees multidisciplinary neuromuscular care throughout childhood. He compares his role in promoting the transition to adult care to being "the director in an orchestra."
"We are fortunate at MetroHealth to be a larger system that offers all the components here to make a good orchestra," says Dr. Prochoroff, who also is a faculty member at Case Western Reserve University School of Medicine.
"As a neurologist, I'm directing the care of children with neuromuscular diseases and helping them connect with adult specialists — including neurologists, cardiologists, and pulmonologists — to orchestrate all the pieces of this big puzzle."
Hybrid transition model
Dr. Kushlaf, an associate professor of neurology and pathology at UC, participates in a hybrid transition model in partnership with Cincinnati Children's Hospital.
Though he is an adult practitioner, he begins seeing patients 15 years old and up at Cincinnati Children's. This makes the transition process easier for teens and their families. When they become young adults and move to the adult care setting, they've already established a rapport.
"The advantage of patients seeing me at Cincinnati Children's first is that they get to know me," Dr. Kushlaf says. "So, when I tell them I want to start seeing them across the street at the adult clinic, they know it's only the location that has changed. That takes away a lot of their anxiety."
Getting started
Lynne Wood, MD, a pediatric neurologist at Billings Clinic in Montana, encourages individuals and their families to use Got Transition, an online toolkit that helps teens and their parents prepare for the transition from pediatric to adult healthcare. MDA's downloadable Transition Guide is another good resource (find it under K-12 Education Resources).
"Start the conversations with your child's doctor early," Dr. Wood says. "Don't be afraid to be the squeaky wheel. Don't be afraid to advocate for your child if you feel like something is missing in their care. We do a lot of handholding at the pediatric stage, but adult providers generally rely on patients to bring more to the table. It's okay to ask for what you need."
Karen Doss Bowman is a freelance writer and editor living with a slow-progressing type of amyotrophic lateral sclerosis (ALS) in Bridgewater, Virginia.
---
Next Steps and Useful Resources
Disclaimer: No content on this site should ever be used as a substitute for direct medical advice from your doctor or other qualified clinician.