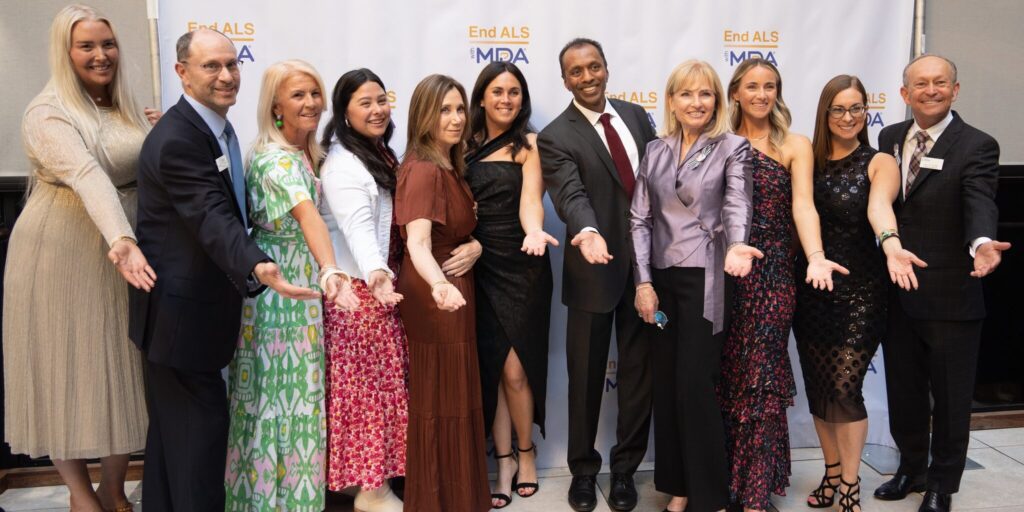 Wings over Wall Street Celebrates 24 Years
By Mindy Henderson | Thursday, November 16, 2023
For over 70 years, the Muscular Dystrophy Association has led the way in accelerating research for ALS, also known as Lou Gehrig's disease. Over that time, MDA has dedicated over $174 million to ALS research, and countless hours to advocating for the ALS community across the country.
Wings over Wall Street is one of MDA's most iconic fundraisers dedicated to ALS research. Soon to mark its 24th year, Wings Over Wall Street has raised over $13 million to fund critical research for ALS. Each year, the Wings committee enlists the help of corporate sponsors and individual donors to assist in the undertaking of raising awareness of ALS and to fund various ALS research initiatives.
We recently had the opportunity to speak with Warren J. Schiffer, Co-Founder of MDA's Wings Over Wall Street, to learn more about the history behind the event, and the impact he has seen. We also spoke with Brooke Eby, this year's Wings over Wall Street Spirit Award honoree. Brooke was diagnosed with ALS in March 2022 at the age of 33, after four years of confusing symptoms in her leg. She is a prominent social media influencer and has been featured on the Today Show. She is working hard to spread awareness of ALS to as many people as possible and shows them how to laugh along the way.
Warren J. Schiffer
How did the MDA's Wings over Wall Street begin? Why did it start?
My late wife Toni had been experiencing symptoms that at first seemed like orthopedic issues. We visited an orthopedist, then a neurologist, and then additional specialists trying to figure this out. We ended up getting a referral to an MS specialist, who then referred us to an ALS specialist who confirmed that, in his clinical opinion, Toni had ALS. He recommended we get a second opinion, even though we discovered that he was one of the preeminent ALS clinicians in the world. It was during the visit to another world class clinician and researcher that we were advised to focus on life and living for as long as Toni had left. In that moment, she decided not to be a victim of ALS, but a champion for its eradication.
"What is needed to help find a cure?" we asked. The answer was simply more money for research. We returned home and began thinking of how we could help. Most of you have no idea how devastating it is to get a confirmation of an ALS diagnosis. It takes a very special person to think beyond their mortality and to ask how she can help. We ended up finding a partner in the MDA. With the unwavering support of the MDA, the idea of Wings over Wall Street germinated. In 2001, we formed our event committee beginning our labor of love; preparing for our first annual MDA Wings Over Wall Street in 2002. Giving us a big boost, was PALS Michael Beier, who heard about our efforts to fund research for a cure and jumped in with his Wall Street connections and brought us to the next level.
How has MDA's Wings over Wall Street event evolved over the years?
We've had to evolve in a way that other charitable events may not have to; overcoming the harsh reality that most of our PALS die. We lost Michael Beier in 2023 and Toni Diamond in 2004. They were the inspiration and driving forces. Many of our committee members were linked to Toni and Michael or their families, so losing them was devastating on every level. As we moved forward, we offered PALS and their families an opportunity to join us in the fight for a cure, and, thankfully, we have had many do just that. We are constantly looking for ways to grow our committee and explore other streams of revenue from smaller events like our Trivia Night, Bar Night, etc. I would be remiss if I didn't recognize how our evolution has been linked to the passionate, committed, and selfless committee members who have been with Wings for decades, one of whom is my brother Larry. Each of them is vital and so deeply appreciated for their sacrifice of time and energy.
Tell us about the Spirit Award and previous recipients and why you choose to honor Brooke at the 2024 event? 
The Spirit Award is given to a person or persons who have demonstrated extraordinary commitment and dedication to the eradication of ALS by raising awareness, advocating for funding, and promoting research for a cure. We have been honored to present the award to so many amazing people, including the Cofounder of Wings, Toni Diamond – The Wind Beneath Wings, Michael Beier – Founder of Ride For Life, Chris Pendergast – Cofounder of the Ice Bucket Challenge, Pat Quinn – Founder of Team Gleason, Steve Gleason, and the list goes on.
I've cherry picked founders and cofounders, however, we've honored PALS and sometimes their families or spouses, who inspired us with their stories of hope and courage – each of them, touching our hearts and motivating others to support this fight for life.
Picking Brooke was easy. I came across her on Twitter (X) and was captured by her authenticity, charm, sense of humor, and her willingness to teach and talk about both the deadly serious and the mundane things she has faced as a result of ALS. Brooke has a unique and powerful presence online, and she has made an extraordinary commitment to share her story of ALS with the world. Brooke has sacrificed her privacy so that others may benefit and be motivated to help. She raises awareness and educates on a whole other level. Brooke is courageous, gracious, inspiring, relatable and incredibly likeable. We are  extremely honored that she agreed to accept the well-deserved 2024 Spirit Award.
What progress have you seen from the over $13M raised by Wings? What keeps you motivated to never give up?
I'd like to start with what keeps me motivated and to never give up. Toni and her memory continue to fill me with hope. She inspires me to this day. I made a commitment to her that I would never give up until a cure was found. Even though she knew a cure would not come in time for her, she stayed hopeful that, eventually, ALS would be defeated. I continue to listen to the voice of her heart, as it still cries out to not stand idly by while the wretched disease called ALS exists. Fueling me even more, is the memory of my late aunt Terrie, who died from ALS and my brother-in-law Chris' current battle against ALS. Finally, my wife Nina, the Wings committee, the PALS that I meet, my family, friends, and other ALS Warriors who support my efforts, recharge my batteries, and give me the strength to continue.
Since we started funding research, we have seen growth in treatment medications, improved understanding of the disease itself, a hopefulness in the research community that is building, and the satisfaction that we are doing our small part to ensure that the silenced voices of the PALS who've died or lost their ability to speak are still heard.
Brooke Eby
What was your reaction to being honored by the MDA's Wings Over Wall Street with the Spirit Award?
I'm honored to receive the Spirit Award. Thank you. Anyone fighting to end ALS is award-worthy in my book.
MDA has remained steadfastly committed to funding research and 48-ALS designated MDA Care Centers nationwide (connecting people to clinical trials faster than ever before through the MOVR data hub).What do you want people to know about ALS and the work MDA has done to build the field of ALS research and care and why this fundraiser is critical to continue to make progress?
ALS can affect anyone at any time. I started having symptoms at the age of 29 with no family history. We don't understand why people get it, why people progress at different rates- there is so much unknown, and the disease is so devastating and fast moving that we don't have time to move slowly.
Why do we need to have fundraisers like this one?
ALS is extremely devastating, and yet wildly underfunded. The more money we can raise for ALS, the better chance we have at ending it.
How do you keep such a positive attitude in the face of ALS and what has the support of your family, friends, and employers at Salesforce meant to you since your diagnosis?
Humor has always been my best defense. I've always chosen to laugh through tough situations, so I'm choosing to laugh in the face of ALS.
Having the support of my family, friends, and Salesforce, has given me a solid foundation and a lot of bravery for facing this battle. I know I have a huge safety net of support that is fighting along with me.
The 2024 MDA Wings Over Wall Street gala will be held on June 6, 2024 at The Edison Ballroom. To purchase tickets, or to donate, please click here.
---
Next Steps and Useful Resources
Be A Light of Hope and Donate at MDA.org/HOLIDAY
The 2024 MDA Wings Over Wall Street gala will be held on June 6, 2024 at The Edison Ballroom. To purchase tickets, or to donate, please click here.
Learn more about Amyotrophic Lateral Sclerosis (ALS) here.
Read more here on MDA's impact on ALS
MDA's Resource Center provides support, guidance, and resources for patients and families, including information about ALS, open clinical trials, and other services. Contact the MDA Resource Center at 1-833-ASK-MDA1 or ResourceCenter@mdausa.org
Stay up to date on all of Quest's content by subscribing to Quest Magazine and Newsletter: https://www.mda.org/quest/subscribe.
CATEGORY:
Advocacy
,
Get Involved
,
Health
,
Inclusion
,
Independence
,
Lifestyle
,
Personal Stories
,
Science + Research
TAGS:
Caregiving
,
Education
,
Healthcare
,
Innovation
,
Relationships
,
Research
,
Research Advances
,
Resources
TYPE:
Blog Post
Disclaimer: No content on this site should ever be used as a substitute for direct medical advice from your doctor or other qualified clinician.