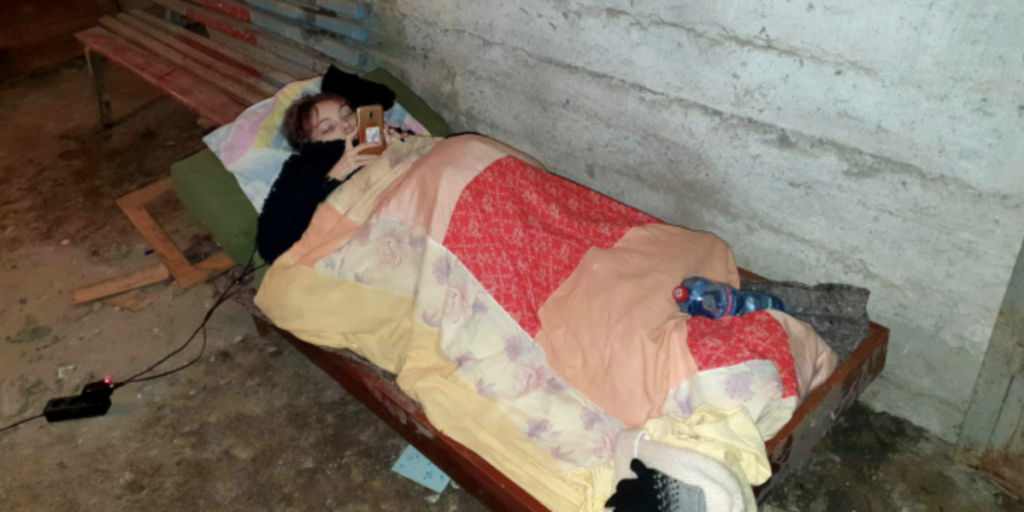 Living Through War in Ukraine with a Neuromuscular Disease
By Larry Luxner | Tuesday, March 22, 2022
When Yuliya Matyushenko was 12 years old, the Paris-based rare disease organization Eurordis featured her on a poster promoting Rare Disease Day 2015.
In late February, the young woman with spinal muscular atrophy (SMA) was hiding in a bare concrete basement in Kharkiv as Ukraine's second-largest city, located only 35 kilometers from the Russian border, endured yet another missile attack.
"Our entire building is vibrating from the explosions," her father, Vitaliy Matyushenko, said by text from Kharkiv, scene of some of the fiercest fighting since Russian forces invaded Ukraine on Feb. 24, launching Europe's most devastating land war in generations.
But Yuliya was among the lucky ones; she and her family have since managed to flee to Katowice, Poland.
She and other SMA patients on risdiplam (Evrysdi) — a liquid taken once a day by mouth or feeding tube — may continue their treatment in Polish hospitals, said Vitaliy, a physicist who established the nonprofit CSMA Foundation in 2004 along with his mathematician wife, Svitlana, after their daughter's diagnosis.
The same is true of those being treated with nusinersen (Spinraza). Before the war, many of Ukraine's 300-400 SMA patients were on Spinraza, but the hospitals in Kyiv that offered the infusions have since shut down, and transportation between cities is nearly impossible.
Meanwhile, some 2 million Ukrainians with rare diseases remain trapped by bitter street battles across this country, which was already Europe's poorest before this war broke out.
"A tragedy is unfolding before our eyes, a tragedy that disproportionately affects people living with rare diseases," said Kacper Rucinski, co-founder of the Polish patient advocacy group Fundacja SMA. "It's not only personal safety that's in jeopardy. People can no longer rely on electricity, heating, water, and access to therapies. Bomb shelters in Ukraine are not wheelchair-accessible, nor are backup generators installed there."
In Lviv, near the Polish border in western Ukraine, Karina Pietoian and Yuriy Galyulko watch carefully over their 7-year-old son, Eldar, who has Duchenne muscular dystrophy (DMD). Along with their 2-year-old daughter Margarita, they live on the third floor of a 19th-century brick building in the center of this medieval provincial capital.
"Parents are fleeing abroad. Some are forced to leave their homes, and others courageously remain. Men help to transport their women and children across the border, and to return and fight," Karina said in a text. "Eldar is ready to go with his father to defend our Ukraine, but for now he's at home with his sister, helping me collect things for refugees from the east."
As of 2018, Duchenne Ukraine had 444 patients in its registry, though the actual number of Ukrainians with DMD is believed to exceed 500. Lviv alone is home to 91 boys with DMD, including Eldar, who is still able to walk on his own.
One of those Ukrainians is 13-year-old Misha Mykhaylenko, who lives with his parents in the town of Kamyanske, about 25 miles from the city of Dnipro. Misha has not walked in four years.
"When the air-raid sirens sounded for the first time, we started dressing him. But getting ready quickly is a problem. By the time we were outside, people were already returning from the shelter," said his mother, Svitlana. "I can't even imagine my son being in a bomb shelter or basement, where it is very cold and humid."
Another is 8-year-old Bohdan Nesen, who lives in the town of Severodonetsk, in the separatist region of Luhansk. When the war started, Bohdan saw everything as an adventure. But as the days passed, the boom of Grad missiles and mortar shells got closer, and his mother, Iryna, decided to move the family to a safer district of the town, in a house with a basement.
But Bohdan is terrified of the shelling; only his mom and his favorite hobby, geography, can comfort him.
Kacper, of Fundacja SMA, has been in contact with dozens of families whose children have SMA. "These wheelchair-dependent children are spending days and nights in cellars, in winter cold, with no access to daylight, among the sound of explosions," he said. "I can't imagine the toll the war will have on them — physically, emotionally and psychologically."
At the same time, he said, "we also see examples of utmost bravery and dedication. A father of a child with SMA, who lives in Kharkiv, by night drives other SMA families in his minibus hundreds of kilometers to safety. SMA parents help each other with everything just to survive."
On Feb. 24, Eurordis issued a statement of solidarity with the Ukrainian people, noting that "the wartime destruction of vital infrastructure, such as hospitals and care centres, threatens the lives of this vulnerable population."
Terkel Andersen, president of the Eurordis board, said in a public statement, "Today, Ukraine is under siege, and it is our shared responsibility to ensure that no person living with a rare disease, whose conditions are often debilitating or need frequent and complex medical attention, is left behind. We need to be pragmatic in our response to this humanitarian emergency situation while already preparing medium and long-term actions."
Before the war, Nataliya Radysh shared a ninth-floor apartment in Lviv with her 13-year-old daughter, Sofijka, and 11-year-old son, Lukyan. Both children have SMA and use power wheelchairs and ventilators.
When the fighting started, Nataliya immediately stocked up on diesel fuel for the generator in case the power went out.
"I sealed the whole window so that if the windows were damaged, the fragments would not injure the children," she said. "Air-raid sirens sounded in Lviv every day, and people went down into the basements and bomb shelters. I couldn't do that with the children, so we stayed in our apartment, which is located less than a mile from a tank factory, which is a strategic military facility."
Finally, eight days into the war, Nataliya made the decision to flee, joining a convoy of vehicles heading for Poland. Her children rode by ambulance, and Nataliya drove her car five hours to the border. Eventually, they were resettled in the Polish town of Gliny, 360 miles west.
"For children, this is so stressful, especially for Sofijka. She cries a lot and wants to go home," said Nataliya. "I have a peaceful sky over my head now, but my heart aches for Ukraine, and for all those who are suffering and dying."
Meanwhile, Margarita Yashchenko and her husband Serhyi are still at home in the central Ukrainian city of Kropyvnytskyi along with their son Danya, 14, who was diagnosed with DMD at age 6.
"Many families with disabled children are moving to the central part of the country as well as the west. But there are so many families with kids who can't leave and have stayed in their houses. Every hour the situation is changing, and we are all in danger," Margarita said.
"Children with Duchenne are at a big risk because they're in wheelchairs and are unable to move quickly downstairs to safe places," she said, adding: "We don't know where it's safe to hide from Russian missiles — but we are going to protect Ukraine, because it is our country."
What Is Being Done?
It's difficult to sit by and watch the crisis unfolding in Ukraine. Visit these websites to learn more about programs in place to assist families with rare diseases in Ukraine:
Duchenne Data Foundation: Duchenne emergency program activated for Ukrainian Duchenne and Becker MD families
Eurordis: Ukraine Rare Disease Resource Centre
Fundacja SMA: Help for SMA families
International Federation of Red Cross and Red Crescent Societies: Ukraine and impacted countries crisis
Disclaimer: No content on this site should ever be used as a substitute for direct medical advice from your doctor or other qualified clinician.