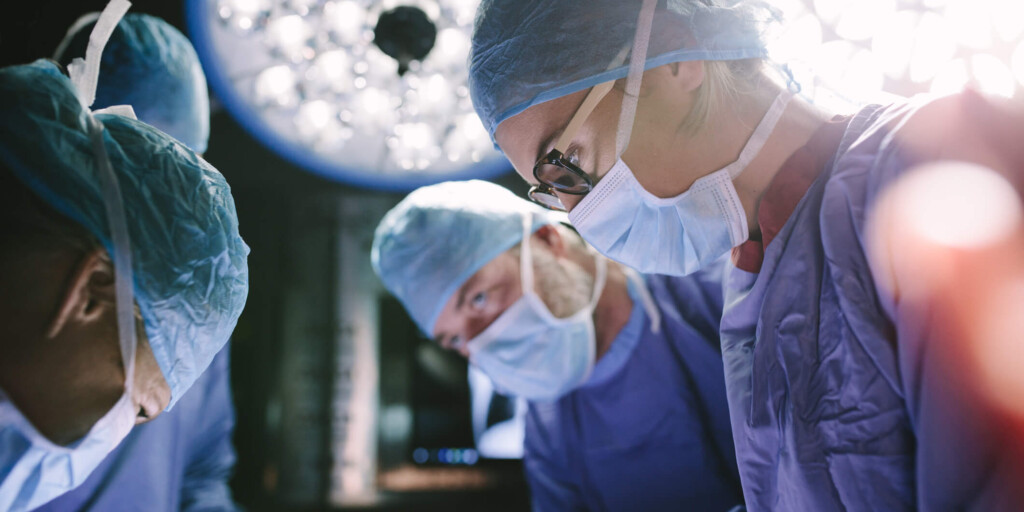 Long-Term Results of Extension Study Validate Surgery as a Treatment for Myasthenia Gravis
By Jeanene Swanson | Tuesday, February 12, 2019
Results of an extension study following an MDA-supported clinical trial showed that surgical removal of the thymus in patients with myasthenia gravis (MG) offered benefits for as long as five years after surgery. The original clinical trial, which was extended for two years, showed patients who had the thymus removed had reduced muscle weakness and lowered need for drugs that suppress the immune system. The study, led by the University at Buffalo's Gil Wolfe, MD, was published on Jan. 25 in The Lancet Neurology.
Of the 68 patients who continued in the extension study and were followed for up to five years, 33 received prednisone only and 35 had a thymectomy and received prednisone. In the combined prednisone-plus-thymectomy group, patients continued to see the lasting benefits of improved muscle strength, the need for lower doses of and fewer immunosuppressive drugs, and fewer hospitalizations compared to the prednisone-only group.
Overall, these results show that thymectomy combined with prednisone treatment can have long-lasting benefits and reduce health care costs — an important and surprising finding for the study's lead authors.
MGTX clinical trial
The paper details results of an extension study of a subset of MG patients who were involved in MGTX, an international trial partly funded by MDA that looked to see if thymectomy combined with prednisone therapy is more beneficial than prednisone therapy alone. In the original MGTX trial, which was conducted in 67 centers across 18 countries, 126 participants between the ages of 18 and 65 were treated either with surgery and prednisone (an immunosuppressant steroid) or with prednisone alone. Of the 126 participants, 57 had a thymectomy.
On average, trial investigators found that the combination of surgery and prednisone treatment reduced overall muscle weakness more than the prednisone-only treatment. After 36 months of prednisone treatment, both groups of patients had better Quantitative MG (QMG) scores, a measure of muscle strength. The researchers also found that, when compared to participants who were treated only with prednisone, participants who had surgery:
required lower daily doses of prednisone to control the disease;
had less need for additional immunosuppressant drugs; and
experienced fewer adverse events (such as hospitalization).
About myasthenia gravis
Myasthenia gravis (MG) is an autoimmune disease that attacks a person's own muscles, leading to double vision, ptosis (drooping of the eyelids), and difficulty swallowing, talking, breathing and using the arms and legs. In most cases of MG, the immune system targets the acetylcholine receptor (ACh) — a protein on muscle cells that's required for muscle contraction. About 85 percent of people with MG have antibodies against the ACh receptor in their blood. About 15 percent of people with MG are seronegative for antibodies to the ACh receptor, meaning the antibodies aren't detectable in their blood. Recently, it's been discovered that a large fraction of these people have antibodies to muscle-specific kinase (MuSK), a protein that helps organize ACh receptors on the muscle cell surface.
A large percentage of people with MG have a thymic tumor, called a thymoma, or have overactive thymic cells, a condition called thymic hyperplasia. When the thymus doesn't work properly, the T cells might lose some of their ability to distinguish self from non-self, making them more likely to attack the body's own cells.
Disclaimer: No content on this site should ever be used as a substitute for direct medical advice from your doctor or other qualified clinician.