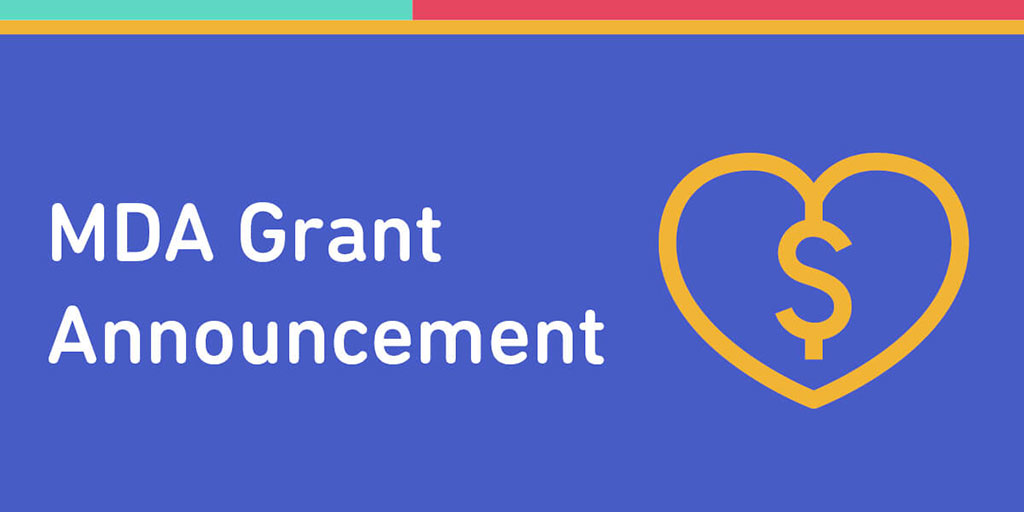 MDA Grants Charles Thornton More Than $1 Million in New Funding to Continue Supporting the Myotonic Dystrophy Clinical Research Network
By Jeanene Swanson | Friday, October 25, 2019
Charles Thornton, MD, professor of Neurology at the University of Rochester, was awarded an MDA clinical research network grant (CRNG) totaling $1,118,673 over three years to continue to lead the development of the Myotonic Dystrophy Clinical Research Network, which comprises six medical centers specializing in research and clinical care of myotonic dystrophy (DM) types 1 and 2. Dr. Thornton was previously awarded two other CRNGs totaling $918,000 each over the course of a combined six years.
Established in 2013 and supported by funding from MDA and other patient advocacy groups, the National Institutes of Health (NIH), and pharmaceutical company Biogen, the network's aim is to gain a more detailed understanding of DM's disease process and collect necessary clinical trial data to help determine the most appropriate outcome measures, biomarkers, and endpoints.
Since the network was formed, the six participating sites have developed standardized equipment and procedures for obtaining and analyzing needle muscle biopsies, quantifying measures of myotonia, and taking measurements of muscle strength and motor function. A group of coordinators and evaluators has been trained in all procedures, and strong relationships have been formed with patients and family members. The network completed initial studies of biomarkers and natural history, and it now aims to expand to larger cohorts, complete biomarker characterization, and gain a better understanding of the biological determinants of DM's disease severity.
"The Myotonic Dystrophy Clinical Research Network is a natural extension of 30-plus years' effort to understand the fundamental problems in myotonic dystrophy and then develop treatments to overcome the problems," Dr. Thornton says. "MDA has supported a lot of the critical basic research that brought the field to this point where people can conceive and develop new treatments."
Centers connect experts in DM research and clinical care
The network comprises six medical centers, each having significant expertise in DM research and clinical care. Centers include:
California: Stanford University School of Medicine
Florida: University of Florida McKnight Brain Institute
Kansas: University of Kansas Medical Center Research Institute
New York: University of Rochester
Ohio: Ohio State University Medical Center
Washington, DC: NIH
MDA funds helped establish the network's original five university sites, and the new grant continues to fund these programs.
Paving the way for testing new treatments
The network is led by Dr. Thornton, who serves as its overall director. The network was begun to pave the way for testing new treatments in people.
"The focus of the network is more practical and applied," Dr. Thornton says. "Our goal is to expedite the testing of new treatments in patients and to make the testing as reliable and efficient as possible.
"At this particular moment, the overall circumstances suggest a big opportunity to develop effective treatments for myotonic dystrophy," he says. "'Effective' in this case could mean treatments that keep things from getting worse or treatments that make things get better. We want to take full advantage of the recent advances in basic research and drug delivery technology to bring about major impact for patients and families."
One of the main goals of the network is to lay the groundwork for conducting clinical trials of new treatments. It's doing so by obtaining detailed information about the variability of symptoms seen in patients and how these symptoms affect individuals differently and change over time. This is especially important for DM because it "affects people in so many different ways," Dr. Thornton says.
Another objective is to develop a set of biomarkers that could provide early indication of whether treatments are reaching the intended targets in the body and having the desired effects.
"The support from MDA is allowing us to carry out a very large study of more than 500 patients with myotonic dystrophy to determine how their condition changes over time and how it relates to the myotonic dystrophy gene," Dr. Thornton says. "We are trying to understand more about why myotonic dystrophy can be so different from one person to the next and how these differences relate to the biomarkers in muscle tissue. And, we want to find the best, most reliable ways to measure whether the condition is getting better or worse."
The network's recent accomplishments include the folllowing:
Currently, the network is recruiting for a variety of studies. Visit its website to learn more.
Read more about the network's past accomplishments.
MDA is committed to DM research
MDA has funded more than $50 million in DM research since its inception, with $7.5 million invested in grants in the last five years. In 2018, there were 15 active DM grants.
Disclaimer: No content on this site should ever be used as a substitute for direct medical advice from your doctor or other qualified clinician.