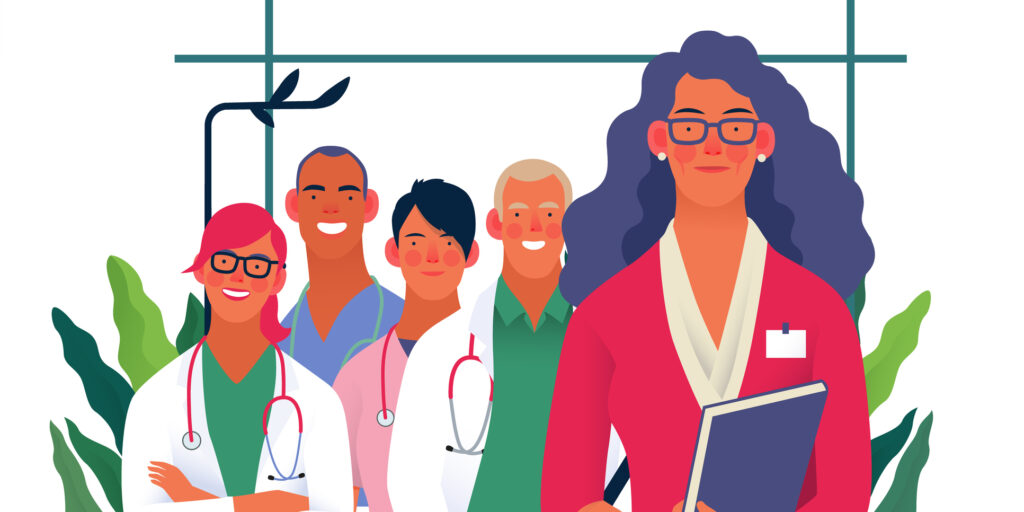 MDA's Re-integration Back into Care Centers: Three Support Specialists' Perspectives
By MDA Specialist, Family & Community Support | Thursday, July 27, 2023
As the world emerges from the clutches of the pandemic, a positive change is underway here at the MDA: our re-integration into Care Centers. Throughout the challenging times of the pandemic, virtual interactions have proven to be extremely valuable. However, there are undeniable benefits to face-to-face communication and the opportunity for deeper, more meaningful connections between our neuromuscular community and our Support Specialists.
The power of in-person connections
Support Specialist Sarah Geissler shares her insights on why in-person connections are vital to forming valuable and supportive relationships with families and patients at MDA Care Centers.
"The power of in-person connections cannot be understated, as these play a crucial role in providing a personalized approach to the support and reassurance that individuals seeking care and their families truly need. Understandably, individuals & families are often more inclined to partake in a thorough and deep conversation regarding challenges they may be facing and the ways in which our team can offer support," Sarah says.
"As a Support Specialist who recently joined the MDA, and who has personal experience navigating a neuromuscular diagnosis, I wholeheartedly recognize the invaluable benefits that stem from a combination of in-person and virtual support. Having faced the challenges of dealing with a neuromuscular condition, I understand how daunting it can be to confront a disease filled with uncertainties on one's own. I am grateful for the opportunity to offer support to those who feel overwhelmed, as well as for the connections that stem from these visits – connections that I hope will continue to grow and strengthen with time."
She adds, "Attending clinic in-person allows me the opportunity to foster a powerful network of compassion, knowledge sharing, and encouragement with the individuals and families that MDA serves. As we re-enter Care Centers, adopting a blended approach that combines in-person and virtual support represents a new chapter in the MDA's evolution of care.  Opportunities for engaging and building relationships with our neuromuscular community remain essential to the mission of our organization."
Real-time, personalized resource provision
Support Specialist Chelsey Wheeler shares that connecting with the MDA Community through in-person MDA Care Center Visits allows for a unique opportunity to connect with individuals on a more personalized level. And that being present in real time has allowed for a greater understanding of immediate resource needs and has created a space to make meaningful connections.
"Specialists can make recommendations on current MDA program offerings, as well as take feedback back to the team for future program development ideas." Chelsey says.  "For example, some individuals and families in the pediatric setting, have expressed interest in MDA Summer Camp. In person, the specialist can assist them with the online application process and answer any questions they may have."
"To be present with an individual during an in-person Care Center Visit is a unique and highly valuable experience.  It has also given MDA Specialists a chance to connect with our Care Centers and their clinic teams to learn how we can contribute to the support of their patients," she continues. "While we understand being physically present is a valuable experience, it may not always be possible for some individuals and families. Those seeking to connect with a Support Specialist in a virtual setting can utilize our MDA Connect Program. MDA Connect is a program that allows individuals to schedule meetings with MDA Support Specialists via a virtual, video platform. To schedule an appointment, please visit our MDA Connect scheduling page."
A national approach to care
As a Support Specialist who is coming up on her 15-year anniversary with the MDA, Therese Gabriel can reflect on and appreciate how the MDA has grown and changed over the years as we continue to better meet the needs of the neuromuscular community.
"When I began at MDA, I attended the Care Center at Washington University in the state where I reside. I would often see individuals and families from many different states that surrounded Missouri. Because our focus at that time was primarily local, I wasn't familiar with all of the resources provided in other states," Therese says.  "Now, with our national approach, I am able to visit multiple Care Centers in a variety of states and can connect individuals immediately to others in their area and provide the necessary resources that they need. I'm also able to share current information about the local events and educational programming happening in their areas."
She continues, "We are continually striving to make things better for the families we serve – because they are at the heart of everything that we do."
---
Next Steps and Useful Resources
Disclaimer: No content on this site should ever be used as a substitute for direct medical advice from your doctor or other qualified clinician.