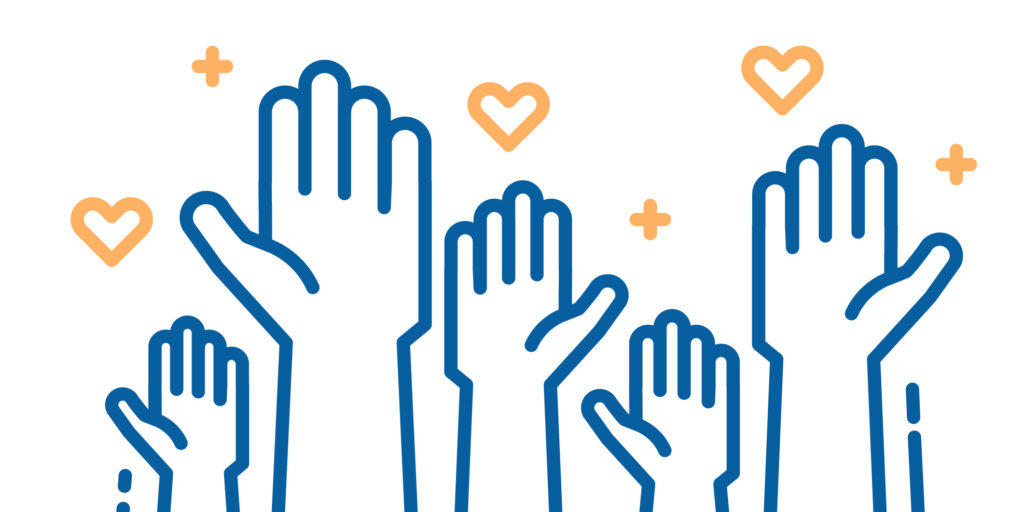 Not JUST a Volunteer: The Powerful Impact of MDA Volunteers
By Rebecca Hume | Monday, July 31, 2023
While many volunteers undoubtedly recognize the multitude of valuable benefits gained by volunteering, they often minimize the incredible value that they bring.
MDA's Senior Director of Volunteer Programs, Wendi Dressen, has too often overheard the phrase, "I am JUST a volunteer," in reference to the value or importance of a volunteer's role. In actuality, without the time and service of our volunteers, the incredible progress in MDA supported research, the direct impact on those we serve, and the general pursuit of our mission would not be possible.
Every act of service, every hour of volunteered time and effort, every single dollar raised at an event supported by our volunteers creates a ripple effect that significantly furthers progress and increases empowerment. The ability to fund cutting-edge research that has led to life-changing, innovative treatments of neuromuscular diseases would not be possible without our volunteers. The many programs and services that MDA offers to our families would not exist without the support of our volunteers. And the powerful personal impact on the lives of children who attend MDA summer camp – an impact that often changes the trajectory of our campers' lives – would undoubtedly be nonexistent without the dedication of our volunteers.
Vital research and new treatments funded through volunteer efforts
MDA supported research is creating a tangible path to progress in finding and developing new treatments for a variety of neuromuscular diseases. MDA's research program awards grants to the world's best scientists, who are investigating potential and promising therapies, including a multitude of studies that have resulted in the development of new FDA-approved drugs for neuromuscular disease. MDA has directly supported the development of new treatments for ALS, Pompe disease, periodic paralysis, SMA, DMD, and more. Funding for these grants and the ground-breaking research for these life-changing therapies wouldn't be feasible without the money generated from volunteer supported fundraising events across the country.
When an individual spends a few hours volunteering at an MDA event, he or she contributes to fundraising efforts by ensuring that the event and its fundraising programs (like auctions, raffles, etc.) are successful. Those funds are then dispersed to cutting-edge research for neuromuscular disease. That research potentially leads to the development of a new treatment, like the recently approved, first ever gene-therapy treatment for boys living with DMD. These treatment may allow a four-year-old boy taking the medication to walk, play, run, jump, or even live longer.
Programs and services made possible by volunteers
Money raised by volunteers also contributes to the many programs and services that MDA is able to provide to the community. Volunteers positively impact the provision of:
Because of volunteers, individuals and families living with neuromuscular disease are able to access programs and resources crucial to their health, education, and independent living.
Changing lives at MDA Summer Camp
Fundraising efforts also directly impact the MDA Summer Camp program, allowing children living with neuromuscular diseases to attend a week-long, in-person, fully accessible summer camp for free. And of course, that program would not be possible without the many volunteers who attend camp to provide care and facilitate camp activities and programming.
MDA Summer Camps across the country offer children an opportunity to gain independence, increase socialization, learn new life skills, and have experiences that they may have never thought possible. Whether it is swimming, zip-lining, fishing, or dancing for the first time – camp activities empower campers to recognize that their disabilities do not prevent them from achieving their goals.
For many campers, the lessons and new experiences gained at MDA Summer Camp spark the realization that they are capable of doing anything that they set their minds to – including pursuing higher education and career goals. Volunteers play a critical role in empowering campers to try new things and chase their dreams.
In fact, many individuals interviewed for Quest for Success, a Quest series that details the different paths that individuals with neuromuscular disease have taken on their journeys to independence and accomplishments, have noted the incredible influence that attending MDA Summer Camp had on their belief that they are capable of anything – and everything. The experience that volunteers provide to campers often has a direct and powerful impact on campers' future goals and success.
So much more than JUST a volunteer
The time, talent, and energy that our volunteers provide are undeniable and vital mechanisms of MDA's ability to serve the neuromuscular community and change lives. The value of volunteerism is immeasurable. Volunteers make a tangible and incredible impact on MDA as a non-profit organization, on the greater neuromuscular disease population, and on the individual lives of those we serve.
---
Next Steps and Useful Resources
Disclaimer: No content on this site should ever be used as a substitute for direct medical advice from your doctor or other qualified clinician.