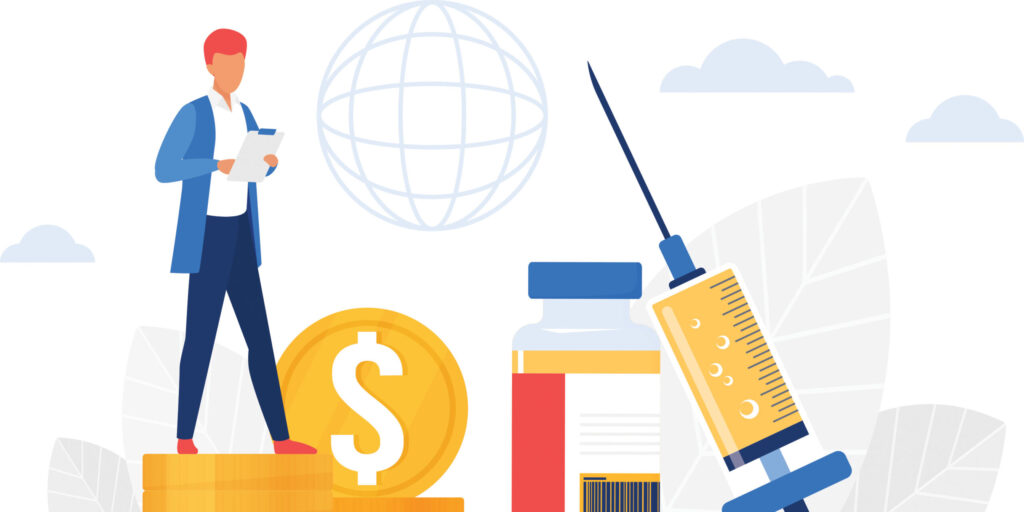 How MDA Invests in Research Success
By Maggie Callahan | Thursday, May 18, 2023
Following our mission to transform the lives of those living with neuromuscular disease, MDA has made investing in the most promising and innovative research a priority.
Before a new neuromuscular disease treatment makes it to market, it must undergo a rigorous research and development (R&D) process — a process made possible by funding research at different stages of drug development. As the largest source of funding for neuromuscular disease research outside of the federal government, MDA has committed more than $1 billion in grants and funding since its inception to accelerate the necessary research and development processes.
"MDA finds various ways to de-risk drug development by seeding funds to different stages of the R&D pipeline to relieve bottlenecks in the process," says Sharon Hesterlee, PhD, Executive Vice President and Chief Research Officer for MDA. By de-risking, she means reducing potential time delays and costs to motivate more companies to develop neuromuscular disease therapies.
The process of developing a new therapy or drug involves four main stages:
Stage 1: Basic research
Stage 2: Identifying and testing drug targets
Stage 3: Translational research
Stage 4: Clinical trials
"MDA uses funds to de-risk each stage of drug development for all the diseases we cover, and we have different granting mechanisms to address each of the stages," says Angela Lek, PhD, MDA's Vice President of Research.
Research that MDA has supported through our grants and programs is directly linked to life-changing therapies across multiple neuromuscular diseases. Read on to learn more about the drug development cycle and the pivotal role MDA funding has played.
MDA's Impact on the Drug Development Cycle
Stage 1: Basic research
During this stage, researchers work to understand the root cause of a disease, such as identifying a disease-causing gene, characterizing how a DNA mutation can affect the function of a gene, or determining which molecular pathways are disrupted.
Funding at this phase can set the stage for developing a treatment strategy in the future. MDA supports academic research labs at this stage with Research Grants, Development Grants, and Idea Awards, and by organizing scientific conferences for sharing ideas.
Research Grant Success Story
MDA provided Robert Brown, MD, DPhil, a three-year research grant in 1992 to look for genes that increase the risk for amyotrophic lateral sclerosis (ALS). This project led to the discovery of the gene SOD1, a familial form of ALS. About 5%-10% of ALS cases are linked to familial or hereditary forms, and SOD1 is the second most common form of genetically linked ALS, accounting for 10%-20% of those cases.
The discoveries from this project have led to other milestones in the field, such as the development of antisense oligonucleotide (ASO) therapeutics to target SOD1. Biogen's tofersen (Qalsody), an ASO, was recently granted accelerated approval by the US Food and Drug Administration (FDA) to treat ALS in patients with SOD1 mutations.
Stage 2: Identifying and testing drug targets
Once the cause of a disease is identified, researchers devise a strategy to address the cause using available technologies, such as drug screening or gene therapy. These strategies are tested in cells and animal models of the disease. MDA supports this stage with Research Grants and Infrastructure Grants, which support the tools, techniques, and resources needed for the research.
Starter Grant Success Story
In 1996, MDA provided a starter grant to Steve Wilton, PhD, BSc, a primary investigator at the University of Western Australia in Perth, for research into a process to address the effects of certain gene mutations. This led to the process of exon skipping, a therapeutic strategy that has been used to develop four FDA-approved disease-modifying drugs by Sarepta for Duchenne muscular dystrophy (DMD). (Read more about this story in Research Grants Create a Path to Progress.)
Since Dr. Wilton's discovery, MDA has funded the development of exon-skipping technology for many years, from a concept first demonstrated in experiments with cells, then in animal models, and finally in clinical trials with DMD patients.
Research Grant Success Story
In 2007, MDA provided Adrian Krainer, PhD, a Research Grant to develop and test an ASO approach to treat the underlying cause of motor neuron loss in spinal muscular atrophy (SMA). The most common form of SMA is caused by a mutated or missing gene known as the survival motor neuron gene 1 (SMN1). This gene produces the survival motor neuron (SMN) protein, which maintains the health and normal function of motor neurons. In this project, Dr. Krainer developed an ASO to enhance the amount of SMN protein in animals.
This therapeutic approach has since been translated into humans. The success of this project attracted Biogen and Ionis Pharmaceuticals to collaborate with Dr. Krainer to develop his approach into a drug named Spinraza, the first treatment for SMA approved by the FDA, in 2016.
Stage 3: Translational research
This is the early stage of drug development when processes typically transition out of the academic lab to a biotech or pharmaceutical company. During this stage, MDA grants help start-up companies seeking to translate promising technologies, discoveries, or drugs into clinical trials. The funds can also be used to create tools, techniques, or services to support translational research. MDA funds this stage with Research Infrastructure Grants and the MDA Venture Philanthropy (MVP) program.
"Right now, it's more important than ever to invest in early-stage biotech companies because it's hard for them to find funding in the current market. This funding makes MDA an important lifeline for actually getting new drugs into clinical testing," says Sharon Hesterlee, PhD, Executive Vice President and Chief Research Officer for MDA.
MVP Grant Success Story
Through the MVP program, MDA invested in ReveraGen from the early phase of preclinical development of its drug Vamorolone to its phase 1 clinical trial for individuals with DMD. Vamorolone is a steroid alternative that may have fewer side effects than the steroids commonly prescribed for DMD. In early 2023, the FDA accepted the new drug application for Vamorolone for the treatment of DMD. If the FDA approves Vamorolone, it will become available later this year and is anticipated to provide an alternative option to traditional steroids.
Infrastructure Grant Success Story
MDA awarded a three-year Research Infrastructure Grant to Michael Shy, MD, in 2002 to help fund the goals of the Inherited Neuropathy Consortium (INC), an integrated group of academic medical centers, patient support organizations, and clinical research resources dedicated to conducting clinical research on Charcot-Marie-Tooth disease (CMT) and improving care for patients.
Since its inception, the INC has developed CMT-specific clinical outcome assessments to measure the effects of CMT on adults and children; identified disease biomarkers; identified 23 novel genetic causes; initiated the Inherited Neuropathy Variant Browser, which promotes sharing genetic information on CMT for patients and their families, as well as researchers; and successfully trained 14 young investigators to carry on future CMT research.
Stage 4: Clinical trials
After receiving FDA approval to test drugs on people, companies work with clinicians to identify eligible individuals to participate in clinical trials. MDA supports this stage through Clinical Trial Grants, Clinical Research Network Grants, and Clinical Trial Travel Grants.
Clinical Trial Travel Grant Success Story
MDA is helping fund a project to ensure equitable access for individuals to participate in a study investigating the utility of the National Institutes of Health Toolbox Cognition Battery (NIHTB-CB) to measure mental skills in DMD clinical trials. MDA will support travel and travel-related costs, so families and research participants will have access to this study regardless of their socioeconomic status or geographic location.
Infrastructure Grant Success Story
This grant helped support David Lynch, MD, PhD, and other investigators collaborating on developing clinical measures to assess Friedreich ataxia (FRDA; often referred to as FA) in a natural history study known as the Clinical Research Network in Friedrich's Ataxia. The outcome helped guide patient selection and data analysis of the clinical trial for the recently approved drug SKYCLARYS, the first medication available to treat FRDA — a major milestone for the FRDA community.
Clinical Research Grant Success Story
Charcot-Marie-Tooth disease type 2C (CMT2C) is caused by mutations in the gene TRPV4, which regulates a channel allowing calcium to enter cells. By researching animal models, Brett McCray, MD, PhD, discovered that mutations in TRPV4 cause the channel to be overactive, and drugs that block TRPV4 are highly effective as treatments. In 2022, MDA awarded a grant to support Dr. McCray in exploring the use of available TRPV4-blocking drugs as a potential treatment for patients with CMT2C. Dr. McCray intends to lay the framework for clinical trials in CMT2C. If successful, this would be a groundbreaking accomplishment and pave the way for clinical trials for other forms of CMT.
Clinical Trial Network Grant Success Story
MDA awarded the Clinical Trial Network Grant to several clinical trial sites to consolidate their project management and oversight, creating a single Muscular Dystrophy Clinical Trial Research Network. Active clinical trials for facioscapulohumeral muscular dystrophy (FSHD), myotonic dystrophy (DM), and limb-girdle muscular dystrophy (LGMD) are currently underway at these sites. The network of 15 core United States centers sets the stage for common site training, patient engagement, and resources. This vital research network will serve as a portal for all key stakeholders in clinical trials, helping to accelerate the overall process of drug testing.
Maggie Callahan is a writer and editor for Quest Media
---
Funding the Next Generation of Scientists
Along with investing in the drug development process, MDA has two ways to support promising candidates interested in a career in the neuromuscular disease field: Development Grants and Clinical Fellowships.
Development Grant Success Story
In 1995, MDA awarded Rachelle H. Crosbie, PhD, the Robert G. Sampson Development Grant to support her postdoctoral training. She investigated autosomal recessive forms of LGMD and identified a small sarcoglycan-associated protein, sarcospan. Dr. Crosbie is now a professor and Chair of the Department of Integrative Biology and Physiology at UCLA. MDA contributed additional funding to her lab's work to verify that sarcospan improves skeletal and cardiac aspects of DMD and develop potential drugs to target sarcospan as a treatment for DMD.
Clinical Fellowship Success Story
MDA awarded Russell Butterfield, MD, PhD, a Clinical Fellowship in 2009 to complete his neuromuscular fellowship at the University of Utah. His funded project aimed to determine the clinical and molecular characterization of collagen VI-related muscular dystrophies. Dr. Butterfield currently leads a research program focusing on genetic therapies and understanding genetic modifiers of severity in various types of muscular dystrophy, including DMD, FSHD, and collagen VI-related muscular dystrophies. He also directs the MDA Care Center at the University of Utah and Primary Children's Hospital and leads their efforts to implement novel genetic therapies.
---
Next Steps and Useful Resources
Disclaimer: No content on this site should ever be used as a substitute for direct medical advice from your doctor or other qualified clinician.