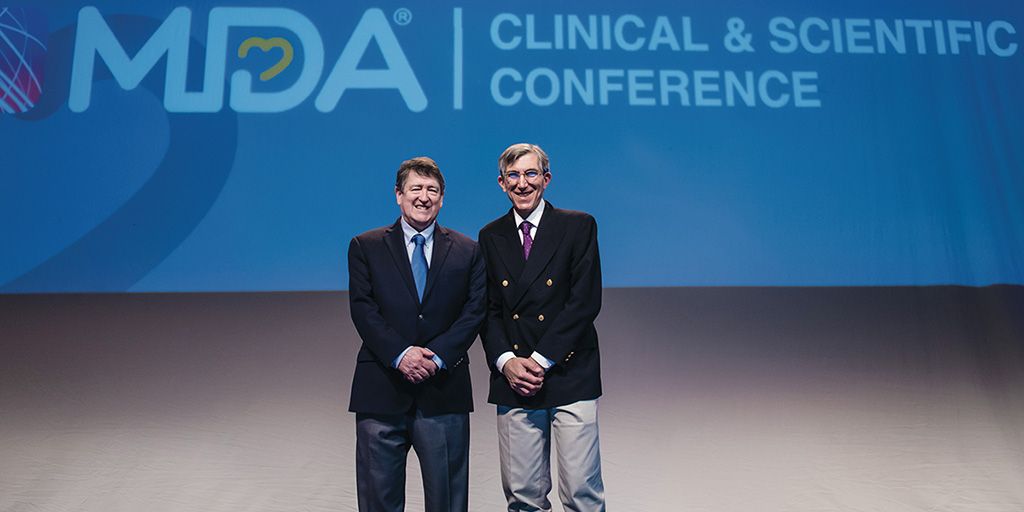 2023 MDA Clinical & Scientific Conference Makes an Impact
By MDA Staff | Thursday, May 18, 2023
In March, more than 2,000 people gathered in person and virtually for MDA's 2023 Clinical & Scientific Conference. Held at the Hilton Anatole in Dallas, the three-day event brought together healthcare providers, researchers, investors, pharmaceutical giants, advocacy teams, patients, and caregivers, with nearly 1,500 in-person and 555 virtual attendees.
This is the biggest, most comprehensive conference of its kind in the world, allowing professionals in the neuromuscular disease space to present their research, form collaborations, and learn about the latest developments and therapies, ultimately supporting the development of better care and treatments for our community.
This year's educational sessions were broken into tracks that offered in-depth education on the latest in ultra-rare diseases, technology, gene therapy, and care throughout the patient journey. Sessions also covered timely topics, such as building an infrastructure to safely and efficiently administer new gene therapies, and practical matters like digestive health.
A good start
To kick off the conference on March 20, Donald S. Wood, PhD, President and CEO of MDA, welcomed attendees and introduced keynote speaker Peter Marks, MD, PhD, Director of the Center for Biologics Evaluation and Research (CBER) at the US Food and Drug Administration (FDA).
Dr. Marks explained how the FDA is implementing several strategies to help researchers and pharmaceutical companies develop gene therapies for rare diseases and speed the review process. One example is a pilot project to apply methods used during Operation Warp Speed — the federal initiative that sped up the development of COVID-19 vaccines — to develop promising therapies.
"We're very committed to advancing the time and availability of gene therapies for all sorts of disorders," he told the audience.
Legacy Award
Stanley Appel, MD, Director of the Ann Kimball and John W. Johnson Center for Cellular Therapeutics at Houston Methodist, presented MDA's Legacy Award for Achievement in Clinical
Research. Dr. Appel, a world-renowned researcher and clinician in the amyotrophic lateral sclerosis (ALS) field, presented the award to Merit E. Cudkowicz, MD, MSc, to recognize her innovative work researching ALS treatments.
Dr. Cudkowicz started the Healey Center for ALS at Massachusetts General Hospital, where she and her team designed the first-of-its-kind Platform Trial for ALS. This clinical trial tests multiple drugs simultaneously on the same platform, reducing the number of trial participants taking a placebo and the time it takes to develop treatments.
"We are at a transformational time in ALS, as well as all the illnesses … in the neuromuscular world," Dr. Cudkowicz said after accepting the award. "It is so nice to be able to tell [our patients] that we do have options for them today that are on the market as well as many trial options for them."
Further highlighting this pivotal time for ALS research, Matthew Harms, MD, Associate Professor of Neurology at Columbia University, oversaw an ALS education track. Its topics ranged from describing major collaborative efforts to new information about cellular changes and gene therapy efforts in ALS.
MDA families
While the MDA Clinical & Scientific Conference is geared toward the scientific community, MDA knows individuals living with neuromuscular diseases and their families must stay informed on research and care. MDA welcomed members of the MDA community to participate in the virtual conference at no cost; some even made the trip to Dallas to attend in person.
In addition, MDA families were invited to speak in some sessions, helping the attending scientists understand the impact of their work.
For example, in a session on Practical Management of Gene Therapy, Kody and Sydney Graves, of Villa Ridge, Missouri, shared their daughter Kenzie's treatment journey.
Kenzie was diagnosed with spinal muscular atrophy (SMA) through newborn screening in 2019. She received Zolgensma, a one-dose gene replacement therapy, when she was 1 month old. At 2 months, she began physical and occupational therapy, and she started taking risdiplam (Evrysdi) at 1 year old. Kenzie, now 3, is able to walk and continues her therapy and Evrysdi regimen.
"At the end of the day, it was that newborn screening and [early] identification that triggered all the successes to come and the fact that she's walking, talking, and very active today," said Sydney, Kenzie's mom.
Next, Brent Furbee, of Columbia, Tennessee, spoke about his experience getting his son, Emerson, into a gene therapy clinical trial for Duchenne muscular dystrophy (DMD) in March 2021.
The process involved a series of steps, each of which "came with its own challenges and blessings," Brent explained. The most emotional and nerve-wracking phase was the two-hour testing and evaluation to determine if Emerson was accepted into the trial. When he and his wife, Sabina, learned their son was accepted, "it was like a weight was lifted off our shoulders," he said.
Then, there was another waiting period before Emerson received the infusion, during which he needed to stay healthy. "We had to make sure he didn't get COVID …, make sure he didn't fall down and break a leg or hurt himself," Brent said. "We felt like we needed to wrap him in bubble wrap, but we wanted him to live his life."
Since receiving the infusion, the family has traveled regularly to St. Louis for Emerson's post-therapy follow-ups.
Emerson, now an active 6-year-old, is able to walk and keep up with his peers. "When we first received this diagnosis, we expected for him to start declining by the time he was 6," Brent said. "We had a reasonable expectation that this [trial] was going to benefit him, and what we have seen is nothing short of remarkable."
Brent ended by thanking and encouraging the scientists in the room. "Continue to provide that hope that there is something in the pipeline," he said, emphasizing that the hope is vital to families like his.
---
Next Steps and Useful Resources
Disclaimer: No content on this site should ever be used as a substitute for direct medical advice from your doctor or other qualified clinician.