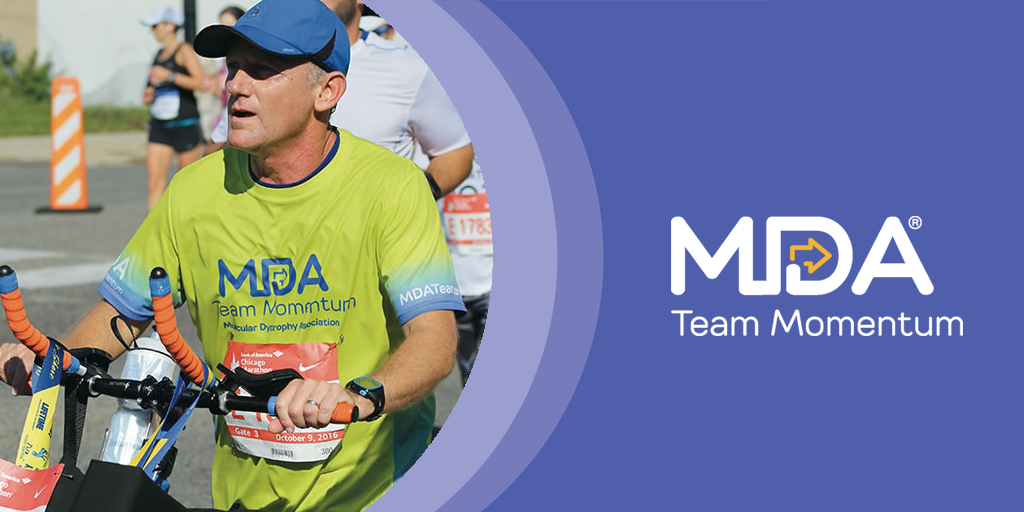 By MDA Staff | Friday, August 20, 2021
Chris Benyo planned to push his wife, Denise, who lived with amyotrophic lateral sclerosis (ALS), over the finish line in her racing wheelchair, or duo bike, in the Bank of America Chicago Marathon in 2016. When she passed away before the race, he pushed the bike filled with mementos of her instead. He crossed the finish line holding Denise's photo. After the race, he donated the bike to MDA's Team Momentum.
Next, former MDA resource coordinator Hugo Trevino, who lives with spinal muscular atrophy (SMA), used the bike to tackle many races with his family, friends, and co-workers.
After Hugo's accomplishments, Team Momentum passed the bike to Amy Shinneman, who lives with Bethlem myopathy. She joined her husband, Jamie, for the Chicago Marathon in 2019. She then passed the bike on with the hope that it empowers others who can't participate in athletics in traditional ways. The Shinnemans now have their own duo bike and will join Team Momentum in the TCS New York City Marathon.
The bike is now with Stephanie and Jon Betts. Their son Henry, 8, lives with congenital muscular dystrophy (CMD), and they are eager to push him in the 9th Annual Henry's Hustle 5K benefiting MDA, which takes place in person and virtually on Nov. 26, 2021.
Team Momentum is MDA's endurance training program that empowers individuals of all athletic abilities to train for a half or full marathon while supporting kids and adults with muscular dystrophy, ALS, and related life-threatening diseases. Find upcoming in-person and virtual events here.
Disclaimer: No content on this site should ever be used as a substitute for direct medical advice from your doctor or other qualified clinician.