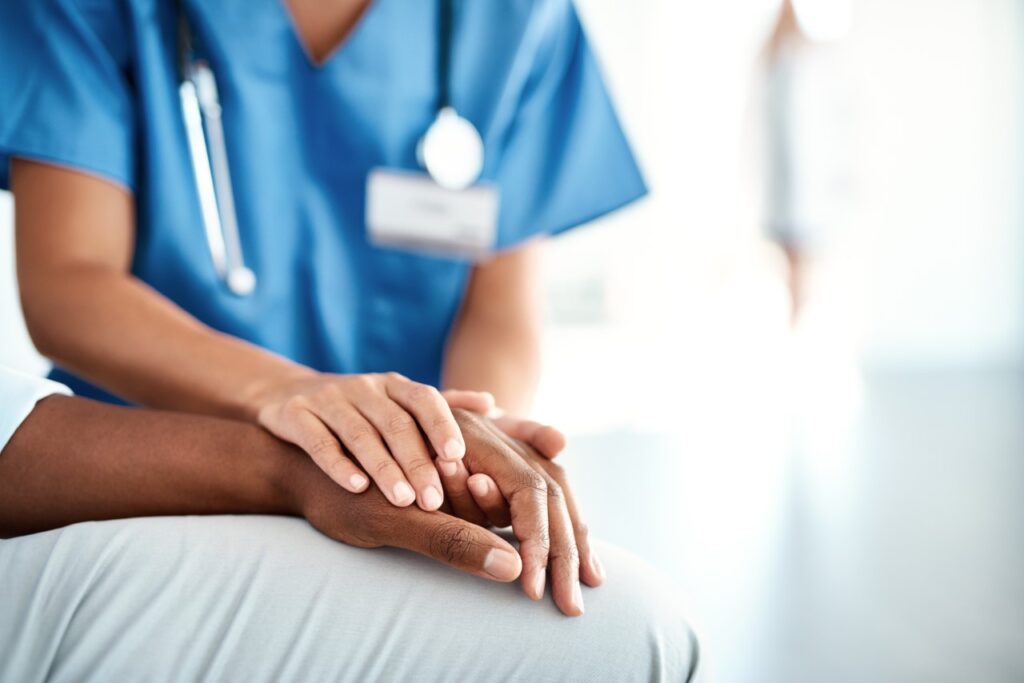 Preparing for Your MDA Care Center Visit
By MDA Specialist, Family & Community Support | Tuesday, May 31, 2022
The Muscular Dystrophy Association is dedicated to empowering and encouraging you to manage your diagnosis and care plan. Feeling prepared for your visit to an MDA Care Center and knowing what to expect can ensure that all of your questions regarding your or your loved one's care plan are answered. Throughout this article, you will find information and resources to help you plan for and maximize your upcoming visit.
Preparing for Your Visit
MDA Care Centers and Affiliates are located at more than 150 institutions across the country. To find your nearest Care Center, search the MDA Care Center Network. If you need assistance scheduling an appointment or getting in touch with a Care Center, contact our team of specialists at the MDA National Resource Center by calling 800-572-1717 or by emailing resourcecenter@mdausa.org.
Most MDA Care Centers offer multidisciplinary days in which multiple healthcare specialists will be on site to provide diagnostic and follow-up care for individuals diagnosed with neuromuscular diseases. If you are hoping to see the entire Care Center team at your next visit, contact your Care Center in advance to confirm that your appointment is scheduled for a multidisciplinary day and discuss which specialists you will be seeing.
Other details you may want to confirm prior to your appointment include:
What time you should arrive
Parking information
What documents you should bring with you
Whether the doctor speaks your language, and if you need to request an interpreter
Additionally, before your visit, our team recommends documenting any information regarding your or your loved one's health that you would like to discuss with the Care Center team. This information may include current or ongoing symptoms, side effects of specific medications, and medical appointments held outside of the MDA Care Center. You should also take note of any questions you have regarding your or your loved one's treatment plan.
The MDA Toolkit   provides fillable resources to document this information. The Toolkit allows you to organize and record details regarding past and upcoming medical visits, community resources, personal health information, medications, insurance information, and more. We suggest bringing this documentation with you to your Care Center Visit along with your updated health insurance information.
During Your Visit
Your Care Center Visit will vary depending on whether it is a diagnostic evaluation or a follow-up visit. You will meet with a dedicated team of expert health professionals skilled in the diagnosis and medical management of neuromuscular diseases, advocating for you/your loved one's quality of life and independence. You may see a variety of physicians and allied health specialists during your visit, including:
Cardiologists
Dietitians and nutritionists
Genetic counselors
Neurologists
Nurses
Orthopedists
Physiatrists (rehabilitation doctors)
Primary care physicians
Psychiatrists
Psychologists
Pulmonologists
Respiratory therapists
Social workers
Speech-language pathologists
Meet the Care Center Team to find more details regarding the types of health specialists you may encounter. To learn more about visiting an MDA Care Center, please view Visiting an MDA Care Center.
After Your Visit
After your visit, you may request that the Care Center sends a summary report to your personal physician. Additionally, your MDA Care Center physician may advise your primary care physician on problems related to your specific conditions. We recommend reviewing and recording any information received during your visit and from the MDA Care Center Team.
You can expect a phone call or email from one of MDA's Care Specialists following your visit. The Specialist will check to see how your appointment went and answer any additional questions or concerns you may have. They can also provide educational materials, coordinate additional services, and assist with community resource referrals.
If you have any needs or resource requests before your next Care Center Visit, please reach out to the MDA Resource Center by calling 800-572-1717 or by emailing resourcecenter@mdausa.org. The Resource Center is available Monday-Friday from 9am-5pm CST.
Disclaimer: No content on this site should ever be used as a substitute for direct medical advice from your doctor or other qualified clinician.