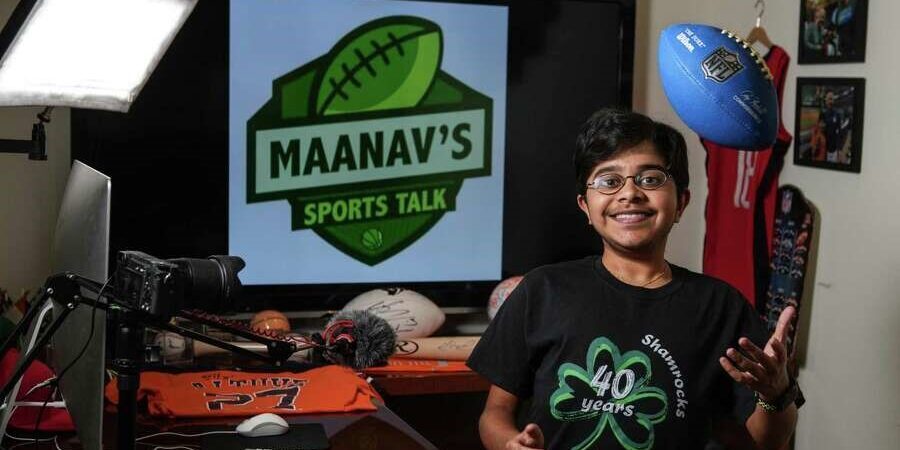 Quest for Success – College Edition: Maanav Gupta
By Rebecca Hume | Wednesday, September 7, 2022
5 Second Summary
Quest for Success explores the different paths that individuals with neuromuscular disease have taken to reach their potential and pursue dreams. This series spotlights individuals from our community and shares their journey to independence and accomplishment.
As the Muscular Dystrophy Association (MDA) continues our commitment to empowering people living with neuromuscular disease, we are excited to share our 2022 blog series: "Quest for Success". This month, we celebrate back-to-school with a special, college-edition installment. 
Success looks different to everyone and this monthly blog details the different paths that individuals with neuromuscular disease have taken to reach their potential and the steps they took to get where they are today. Each month we spotlight one individual from our community and share his or her journey to independence and accomplishment. We hope that these stories empower and inspire our readers to unlock the possibilities in their own lives…because the possibilities are limitless.
College Freshman and Aspiring Sportscaster Interviews NFL, NBA, and MLB Superstars
Maanav Gupta knows sports. With aspirations to become an NFL play-by-play broadcaster on a major television network, the 18-year-old college freshman has already interviewed some of the biggest players in the NFL, MLB, and NBA. Maanav hosts his own YouTube channel, Maanav's Sports Talk, where he shares his expert sports opinions, interviews professional athletes and national sportscasters, and discusses team and player predictions.
Maanav, who lives with Duchenne muscular dystrophy, has been an avid sports fan since he started watching football in 3rd grade. In high school, he realized that he didn't want to just be a spectator for the games that he loved, he wanted to be a sports broadcaster. With the dream of pursuing a career as a sportscaster, Maanav started a blog about the NFL and his predictions for the season. After writing for a few months, he decided he wanted to be in front of the camera and he started his own YouTube channel.
"For the first year and a half, I was basically doing commentary and talking about games and doing predictions with weekly videos on my channel," says Maanav. "There are lots of different channels and podcasts about sports, so if you can interview big names on your channel, it really helps you to gain a bigger audience." And that's exactly what he did.
Maanav's Sports Talk
Last September, Maanav reached out to Rich Eisen, a national broadcaster on the NFL Network, and requested an interview. Maanav sent Rich a video message on Twitter sharing his story, his experience living with a neuromuscular disease, and his aspirations to become a national sportscaster. Rich responded the next day and became the first of many professionals to join Maanav on his show and talk sports.
A Houston native, Maanav quickly began sending messages to his favorite teams and players. He has interviewed NFL players Justin Reid, Brandin Cooks, Nyheim Hines, JJ Watt, and many others. His interview with JJ Watt broke news to the public regarding JJ's recovery from an injury, an interview that garnished national attention in sports media and was even shared on the NFL official website, the Houston Chronicle, and CBS Sports. In addition to Rich Eisin, NFL broadcasters Kay Adams and James Palmer have joined Maanav on his YouTube channel. He has chatted with multiple NBA athletes and coaches, including Cullen Gillaspia, Eric Gordon, Alperen Sengun, Gerald Green, Ryan Hollins, and Mario Ellie.  Maanav shares that the opportunity to interview Ernie Johnson, Jr., a national broadcaster for the NBA who has an adopted son living with DMD, was a special opportunity.
Maanav has also developed a special relationship with his favorite MLB team, the Houston Astros. Maanav reached out to the Astros last year with a special request: he wanted to meet his favorite player, Astros second baseman José Altuve, for his 18th birthday. Third baseman Alex Bregman responded with a video of Jose wishing Maanav a happy birthday. When the rest of the team saw Alex and Jose's video, they created and sent a group clip to wish Maanav a happy birthday from the whole team. The team then made arrangements for Maanav to meet the players at the stadium a few days later. Maanav took the opportunity to interview the athletes during his meet and greet. He has since hosted multiple Astros on his podcast, including Alex, Jose, Jeremy Pena, Mauricio Dubon, and Lance McCullers, Jr. The Astros even invited Maanav to throw the first pitch of the season this year!
"It was a really great opportunity to show others that just because you have a neuromuscular condition, or any other condition, you can still live out your life and do great things," Maanav shares. "Even though I have this condition, I can go out there and show others that you can do whatever you want. That is what that first pitch symbolizes for me."
Living out your life
Due to his disease, Maanav is not able to walk long distances and uses an electric bike for mobility. He has difficulty navigating stairs and requires access to ramps and elevators. He shares that his school district has accommodated his needs throughout his education. His parents met with his teachers and faculty each year to discuss his needs and confirm emergency evacuation plans.  When he wasn't working on his podcast, Maanav participated in a number of extracurricular activities. He played the violin in the school orchestra, joined music and art programs, and used recreational swimming as a form of both exercise and physical therapy.
Maanav shares that his parents have always offered support and encouragement. Although they are not very interested in sports themselves, they recognized his interest and took him to many events and games. They are highly supportive of his choice to pursue a career in sports broadcasting. A career that Maanav hopes will follow in the footsteps of his role model, sportscaster Jim Nance.
College bound and goal focused
As his journey with sports broadcasting progressed via his YouTube channel and he gained national attention on social media, Maanav set his sights on pursuing a degree in journalism at the University of Houston. He will be living at home and commuting to main campus for classes. Maanav and his parents connected with the Accessibility Center at the university to discuss accommodations. The university provided Maanav with a chair and table specific to his needs in each classroom. They also provided flexibility in his schedule to allow time to travel between classes, flexibility in their attendance policy, and a wheelchair accessible parking space. He will be using his electric bike as a mobility device on campus.
Maanav currently has his driving permit and has connected with his local Office of Vocational Rehabilitation to pursue adaptive driving lessons. Every state offers occupational and educational rehabilitation services to assist people with disabilities in pursuing education and employment goals.
He has also connected with the Texas Workforce Commission, an agency that offers services to help individuals with disabilities live independently.  Maanav shares that his connection with MDA has provided valuable resources and opportunities to participate in community activities and raise money for the cause. He advises others to connect with organizations at college and in the community to access resources that can help them pursue goals and gain independence.
"It's hard in the beginning to realize that you can overcome your disability because it just seems like that is what your life is – but your disability doesn't define you at all," Maanav says. "Just go out there and pursue what you want. There are a lot of resources for anybody with a disability to be independent, you just have to be willing to make connections. You can have a great life. Think about what you want to do in life and go for it. Go out there and do it and make your own story. You can become an inspiration for other people."
And as Maanav prepares to embark on the next chapter in his quest for success, he hopes that he can inspire others.  He wants to motivate others living with a disability to recognize that their disability does not prevent them from chasing their dreams – and that they should do what makes them happy and never give up. He shared this message during a Ted Talk event that his high school hosted his senior year and was chosen as one of ten speakers. In his Ted Talk, Maanav talked about his journey into sports media, how to get in on your career goals early in life, and advice for pursuing those goals.
"The biggest thing when it comes to pursuing your goals is not to worry about your disability – whatever it is. Just focus on the positive things in your life and don't dwell on the negative," says Maanav. "Being optimistic will take you a long way. Be positive about what you can do in reality and act upon that."
Disclaimer: No content on this site should ever be used as a substitute for direct medical advice from your doctor or other qualified clinician.