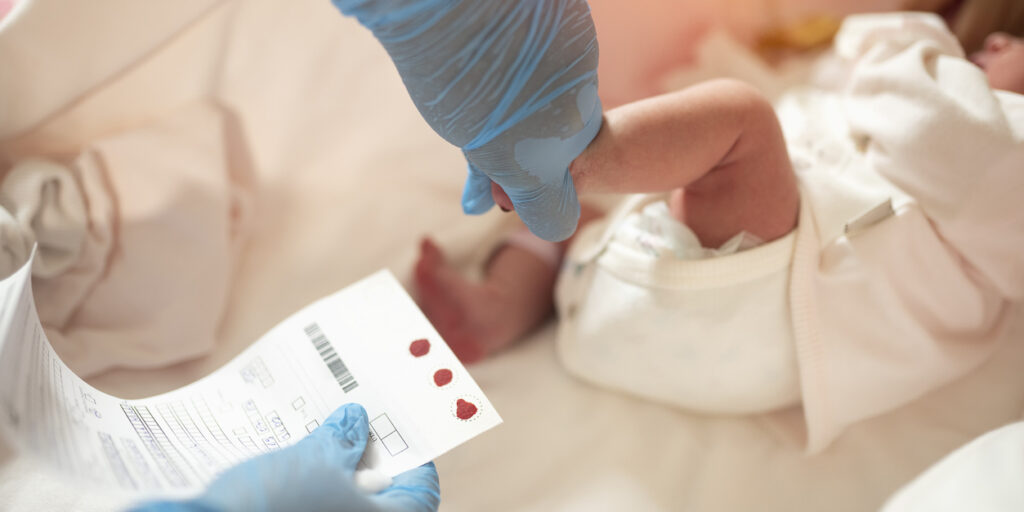 The Latest on Newborn Screening
By Mark Fisher | Tuesday, September 6, 2022
It's simple. The Newborn Screening Program saves lives. When babies are screened for certain neuromuscular conditions early, it leads to better outcomes. As we recognize both Newborn Screening Awareness Month and World Duchenne Awareness Day, Quest recently sat down with Paul Melmeyer, MDA's Vice President, Public Policy & Advocacy, to learn the latest on this lifesaving program.
Check out the interview below.
What's the latest on Congressional efforts to improve the newborn screening program?
Right now, MDA and its partner organizations are working hard to pass the Newborn Screening Saves Lives Reauthorization Act (NBSSLRA). This bill would not only reauthorize the Federal programs but also modernize and strengthen them. For example, the legislation would potentially lead to more funding, allow NBS programs to utilize new technology, and commission a key study to explore the next generation of newborn screening. The NBSSLRA passed the U.S. House in 2021, and now we are doing everything we can to ensure it gets through the U.S. Senate.
In addition, MDA is working to make sure the programs at the Centers for Disease Control and Prevention and at the Health Resources and Services Administration receive adequate funding.
How can people help out with this effort to pass the Newborn Screening Saves Lives Reauthorization Act?
We definitely need your help! Anyone who is interested can contact their U.S. Senators and urge them to pass this bill and send it to the President's desk. They can visit our advocacy website and easily send an email to their Senators. Every voice counts!
Let's move to the states. What is the update there?
Right now, there are at least 47 states that screen babies for Spinal Muscular Atrophy (SMA) and 31 states and Washington DC that screen for Pompe disease. We have seen remarkable progress over the past couple years and expect the entire country to screen for both of these conditions in the near future.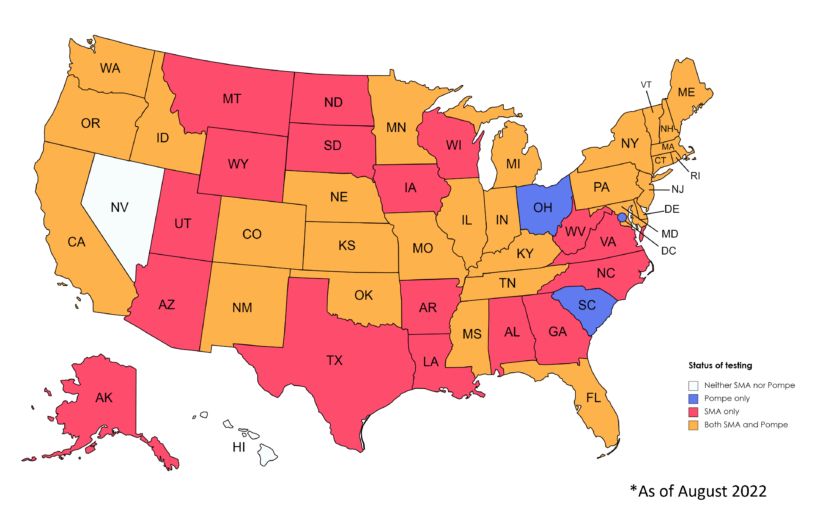 Are there efforts to add Duchenne Muscular Dystrophy to the Newborn Screening Program?
Yes. Recently, along with our partners at Parent Project Muscular Dystrophy, MDA co-sponsored a nomination to add Duchenne Muscular Dystrophy to the recommended NBS panel. Submitting this nomination was an important milestone and is the first step in achieving the Duchenne community's shared goal to have all newborns be screened for DMD shortly after birth.
What's next in the effort to add Duchenne Muscular Dystrophy to the Newborn Screening Program?
The nomination was sent to the Advisory Committee on Heritable Disorders in Newborns and Children (ACHDNC), which is the government body that will evaluate the application. We expect the Committee to take several months to evaluate the nomination. If DMD is officially recommended, the next step would be for individual states to add Duchenne to their newborn screening panels. The process for each state, then, to approve newborn screening varies by state.
Where can people go to learn more about MDA's efforts to improve newborn screening?
MDA recently did an MDA Advocacy Institute Webinar about the future of the Newborn Screening Program. I encourage people who are interest in this topic to check it out below.
Disclaimer: No content on this site should ever be used as a substitute for direct medical advice from your doctor or other qualified clinician.