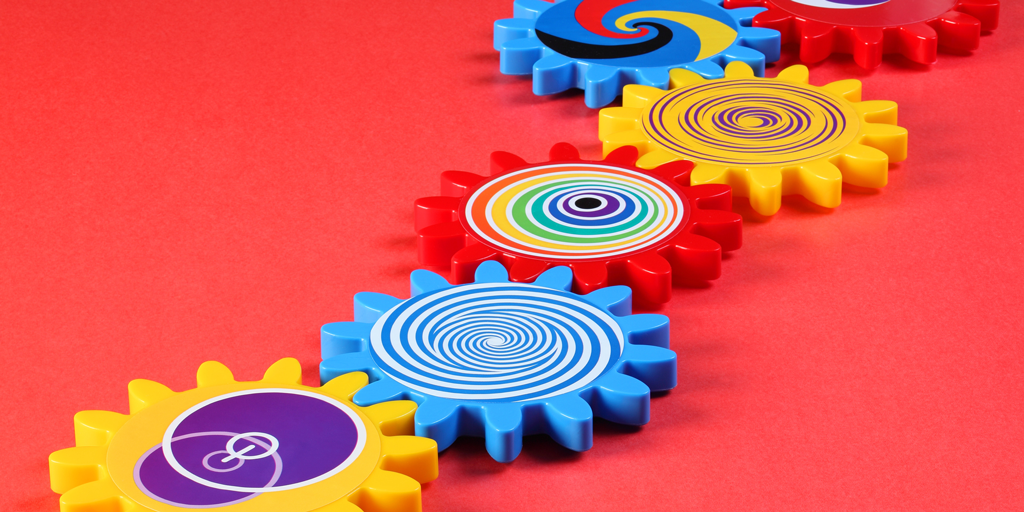 By Shaila Wunderlich | Friday, October 11, 2019
Barbies were a favorite toy of young Jessica Hetzel, despite the fact that the dolls looked nothing like her. It took until February 2019, when Jessica was 17, for Mattel to release a Barbie in a wheelchair. "I'm not playing with Barbies these days," says Hetzel, who has spinal muscular atrophy (SMA). "But I was excited to see they finally did it."
Adaptive toys have come a long way over the past decade — just not far enough. While technology has improved possibilities and performance, the selection is still slim and prices tend to be high. Even the gaming industry, whose technological potential is ripe for players with disabilities, has struggled to keep pace in this corner of the market.
What's the hold up? Adaptive toys require a high level of customization.
"Usually in this business we're doing everything by hand," says Denise Bandl, owner of Adaptive Tech Solutions, a company that makes adaptive toys and adapts standard toys. "There's a lot of labor involved." Bandl has observed some adaptive toy makers pulling out of the business over the past few years.
Adapting Standard Toys
In her work with children with neuromuscular diseases at the Children's Hospital of Michigan's MDA Care Center, clinical occupational therapist specialist (OT) Karen Glugla often chooses simple toys, like "rattles" made with Tic Tac boxes, balloons and pinwheels. "It has to be light enough for them to operate," she says. "Just a half-ounce can be the difference between a child being able to play or not."
Glugla's other go-to move is outfitting mainstream toys — and sometimes her patients' limbs — with Coflex bandages, foam-grip tubing or silicone adaptive aid to make toys easier to grip. "These are the same tools we'd use to assist in holding toothbrushes, forks, etc.," she says. "Our goal is for families to be able to take those materials with them when they leave and repeat the applications with toys in the home setting."
Adaptive Toys
There are some great adaptive toys on the market today. Generally, the lighter, brighter and more stable a toy is, the better.
Toys with cause-and-effect functionality are also important.
"Cause and effect is crucial for brain development," says Bandl, who, in addition to being a certified assistive technology practitioner for her company, also works as a speech therapist. "Pressing this button in order to get this sound translates later to, 'Saying this word alerts my caregiver that I need help.'"
Gaming remains a favorite activity for adolescents and teens with neuromuscular diseases. Gamer Erin Hawley reviews trends and products on her blog The Geeky Gimp. "Most kids and even a lot of adults love video games," she says. "These days, you can see disabled players streaming on platforms like Twitch, which has made it something that kids can participate in on more equal ground."
Hawley, who has congenital muscular dystrophy (CMD), was psyched for 2018's release of the first-ever adaptive controller from Xbox. But she also relies on her own DIY adaptations to achieve perfect player positioning. "I use pillows to prop myself up, and my dad made me a table that allows me to rest my hands while playing to avoid fatigue."
Hetzel, too, loves gaming, and has found the Nintendo Switch, which is smaller than most controllers, works for her hands and fingers.
In any case, toys and activities should be fun.
"Play is the precursor to all the learning that comes after it, and it has to be fun to motivate play," Bandl says. "We try really hard to work in the just plain fun stuff along with the developmental toys — things like fart machines and water guns that shoot 25 feet. What kid doesn't want to play with those?"
Out of the Box
These four adaptive toys recently hit shelves.
Barbie Fashionistas Doll, Wheelchair. Mattel's new Fashionista line includes dolls with disabilities, including this one in a wheelchair, complete with a ramp and extra joints for positioning in her chair.
$20, amazon.com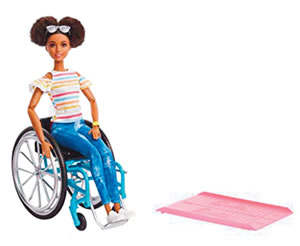 Fruit Friends 3-in-1 Toddler Toy. This ultra-light, extra-bright silicone ensemble was developed by Fat Brain Toys in coordination with occupational therapists at Children's Mercy in Kansas City, Mo. The watermelon, orange and pear pieces stack, pull apart and wobble at the softest of touches.
$30, fatbraintoys.com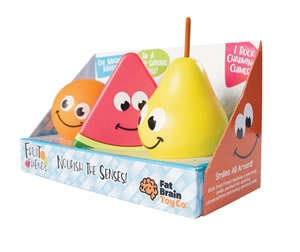 Gears! Gears! Gears! This 121-piece, snap-and-pull light-up toy is full of valuable cause-effect stimulation and comes with an adaptive switch to support play with siblings and peers of any ability.
$80, adaptivetechsolutions.com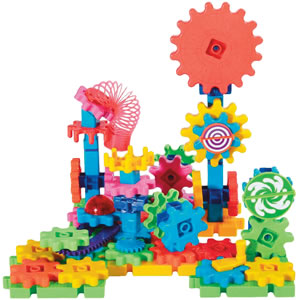 SpinAgain. This Fat Brain Toys bestseller is commonly used in clinical settings to test kids' reaching, sequencing, grasping and releasing abilities. The plastic base can be adjusted to wobble or stand immobile, depending on your child's needs.
$30, fatbraintoys.com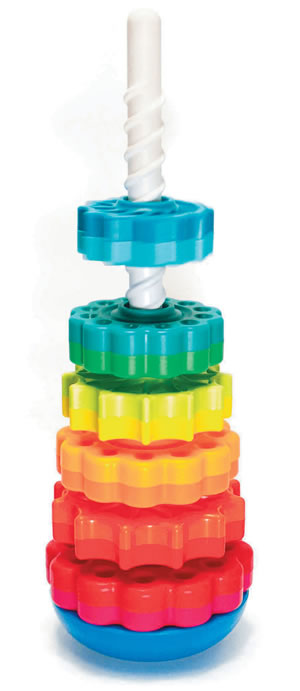 Xbox Adaptive Controller. Released in spring 2018, this customizable gaming controller can connect to a switch, button, mount or joystick device via USB and jack ports.
$100, xbox.com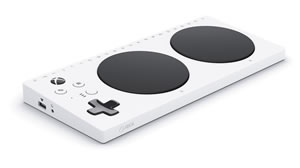 Shaila Wunderlich is a St. Louis-based writer with more than 20 years' experience in the publishing industry.
Disclaimer: No content on this site should ever be used as a substitute for direct medical advice from your doctor or other qualified clinician.