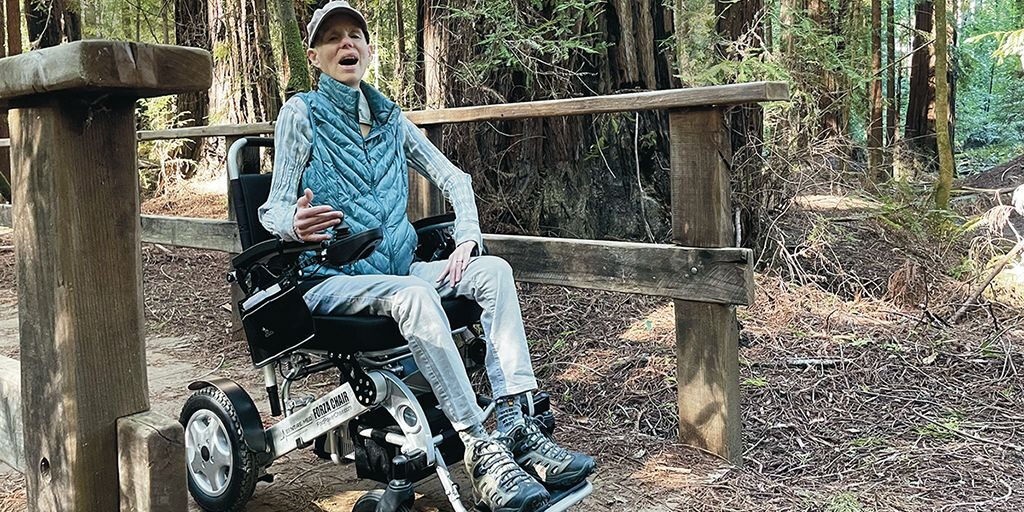 2023 Quest Media Photo Contest Winners
By MDA Staff | Monday, November 20, 2023
Thank you to everybody who entered the 2023 Quest Media Photo Contest. We received photos from neuromuscular disease community members all over the nation who proudly shared meaningful moments in their lives. Here are this year's winner and three runners-up.
Blazing Trails
Congratulations to photo contest winner Leslie Krongold, 61, of Mendocino, California, whose photo was featured on the Lasting Impression page in Quest Magazine.
In this photo, Leslie, who lives with myotonic dystrophy type 1 (DM1), enjoys the accessible trails in Hendy Woods State Park in Northern California.
"This is the first park I've been to since I've been using a wheelchair that has an extensive raised boardwalk that meanders around the park," she says. Leslie loves the park's thoughtful design, which includes wheelchair-friendly trails through old-growth redwood groves and accessible picnic and bathroom facilities.
"My smile and enthusiasm in the photo are authentic — no posing. I'm very sensitive to heat, but the forest shade was perfect, and I felt incredible joy and freedom zooming along in this park."
Since beginning to use a wheelchair two years ago, Leslie began working with local organizations to make trails more accessible. She urges others who use mobility devices to contact land and trail preservation organizations and share their points of view.
"Most people want to help and often don't realize how many things are inaccessible until a relative, friend, or they themselves become mobility-challenged," Leslie says. "I have learned so much more about accessibility in the last two years, even though I started facilitating support groups for adults with neuromuscular diseases 25 years ago. I just didn't 'get it' until I needed to."
She now organizes monthly walks to introduce these accessible trails to others.
"I want to meet people who both appreciate the raw beauty we have surrounding us and will benefit from a more accessible ground to walk or roll on," she says.
---
Antarctic Adventure
Congratulations to Kristin Secor of Owego, New York, a runner-up in the 2023 Quest Media Photo Contest. This photo captures Kristin, 42, during a trip to Antarctica.
"It was incredible to be in such a remote place surrounded by glaciers, massive mountains, and interesting wildlife," says Kristin, who lives with SEPN1-related myopathy, a type of congenital muscular dystrophy. 
In addition to Antarctica, she has visited South America and Europe and plans to visit all seven continents by 2027. While Kristin says she was apprehensive about traveling with a disability, she didn't let that fear hold her back from exploring.
"When my disease progressed to the point where I had to be on a ventilator full-time and rely more on a wheelchair to get around, I wondered what travel would look like or if it would even be possible," she says. "This moment represents that not only is accessible travel possible, but it's still possible to go to destinations I may have never dared dream of. It reminds me not to make assumptions about my abilities or what's possible and to shoot for the stars."
---
Off the Beaten Path
Congratulations to Andrew Shelley, of Claremont, California, a runner-up in the 2023 Quest Media Photo Contest.
This photo shows Andrew, 45, who lives with SEPN1-related myopathy, a type of congenital muscular dystrophy , in his all-terrain power wheelchair while exploring the hills above Claremont with his friends. The photo was taken by his brother, who also lives with SEPN1-related myopathy and uses an all-terrain power wheelchair.
"This moment was special to me because I was able to do something exciting with my friends and even lead the way up the trail on a 4-mile ride," Andrew says. "I have the Frontier V6, an all-terrain power wheelchair with fat knobby tires, which allows me and my brother to go off the beaten path and participate as equals."
---
Home Run All-Star
Congratulations to Tammy Stoneburner of Decaturville, Tennessee, a runner-up in the 2023 Quest Media Photo Contest.
This photo shows Tammy's son Bentlee, 8, who lives with spinal muscular atrophy (SMA), after hitting his first home run. The milestone was made possible with the help of his coaches, friends, and everyone on the baseball field.
"Somehow, the boys on the opposing team just kept overthrowing the ball, and they could not seem to catch it to tag him out," Tammy says. "It was one of the best nights to see his excitement and to know that we have a whole community behind Bentlee helping him feel like just a normal kid."
Bentlee was equally excited, saying: "I thought, 'Oh my gosh, I just got my first home run!' It was the best day ever!"
---
Next Steps and Useful Resources
Disclaimer: No content on this site should ever be used as a substitute for direct medical advice from your doctor or other qualified clinician.