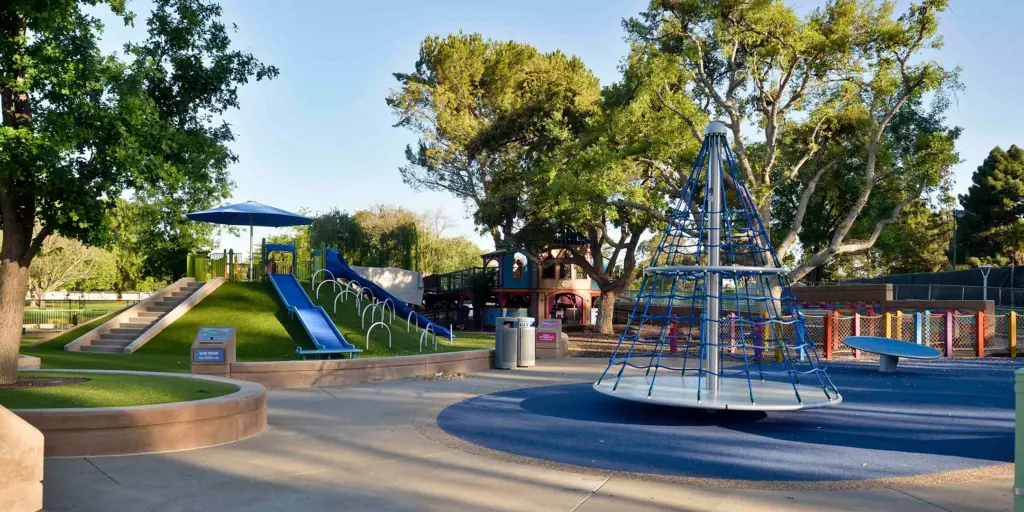 Accessible Playgrounds Give Everyone the Benefits of Play
By Annika Tourlas | Wednesday, August 23, 2023
A playground is the backdrop of childhood. It's where you meet new friends and explore new capabilities. Too often, traditional playground designs leave children with physical or developmental challenges feeling left out or excluded. But it doesn't have to be that way.
As research continues to demonstrate outdoor play's profound impact on physical health and social-emotional well-being, creating accessible and inclusive playgrounds is quickly becoming a top priority in community development plans across the country.
What is an accessible playground?
Accessible playgrounds are designed to ensure that children with and without disabilities can enter and navigate the recreation space. Generally, features and equipment are added to the traditional playground layout to give those with disabilities a chance to explore and have fun.
However, an accessible playground doesn't always mean everyone can play together equally. The Americans with Disabilities Act requires public spaces, like parks and playgrounds, to comply with its standards for accessibility. Yet, these standards are quite minimal and do not consider a wide array of disabilities.
Features at accessible playgrounds may include:
Ramps
Flat surfaces
Specialized equipment for those relying on assistive devices
While a swing that accommodates a wheelchair is a great feature at a local playground, more can be done to develop a space where everyone can enjoy all the park's features.
What is an inclusive playground?
An inclusive playground is a space where everyone, regardless of their abilities, can enjoy the space in its entirety.
Nonprofits like The Magical Bridge Foundation work to add inclusive playgrounds in communities throughout the country. These playgrounds are designed to meet the needs of all ages and abilities.
"Inclusive isn't just an accessible feature or a piece of equipment that might be friendly to somebody in a wheelchair," says Olenka Villarreal, founder of The Magical Bridge Foundation. "One of the things that we do very passionately is create playgrounds that are mindful of the whole family and the whole community."
Features at inclusive playgrounds may include:
Smooth paths
Ramps and bridges
Accessible playhouses and stages
Braille descriptions
Sensory music
Interactive art
Retreat spaces
Distinct play zones
Bucket swings
Wheelchair-accessible slides
Equipment that promotes fine and gross motor skills
The large variety of features at inclusive playgrounds offers more than just moments of fun — they deliver vital lessons, stimulation, and movement that can ease symptoms. Studies have found that movements like swinging help with memory loss and physical activity can improve balance and spatial awareness. These features can benefit adults as well as children.
"We are passionate about removing the many physical barriers found in today's typical public playgrounds." Olenka says. "With physical barriers removed, we introduce and manage ongoing thoughtful programs to all abilities and ages both on and off the playground. That is the real magic of a Magical Bridge, where here, inclusion means everyone."
How to find an accessible playground
Ask your local park district or look through an online directory to find an accessible or inclusive playground near you.
One online resource is Let Kids Play, which has a large directory of accessible and inclusive playgrounds around the country. Individual nonprofits like The Magical Bridge Foundation also have directories of their playgrounds. You'll find photos, descriptions, addresses and maps to spaces meant for everyone.
How to advocate for an accessible playground
Unfortunately, not every community has an accessible playground. However, that doesn't mean you're out of options.
Stephanie Erbacher, a Gene Therapy Support Specialist at MDA, successfully advocated for an accessible swing at her local playground by contacting her parks department in Cedar Rapids, Iowa. She did research and provided the department with details on types of accessible swings her daughter, who has spinal muscular atrophy (SMA), could use.
"It took some back and forth with different people," Stephanie says. "When I approached them, I said, 'It would be really great if we could have a swing. How can I help?' I think if you go into the conversation wanting to be a part of the solution versus demanding something, you're going to see better results."
Her efforts for a single swing grew into a city-wide effort. The parks department began prioritizing accessible playground equipment throughout the community. One conversation can lead to a larger movement that makes communities more inclusive for everyone.
"I have so many memories of playing at parks and on playgrounds as a child," Stephanie says. "Up until that point, my daughter didn't have the same opportunity because between inaccessible playgrounds at school and in the community, there wasn't anything for her. The smile on her face on that swing was just priceless."
You don't have to go through this process alone. The resources below provide more information on accessible and inclusive playground design, as well as finding funding and building community partnerships.
"Communities that want to go above and beyond the ADA requirements for parks and playgrounds can find guidance from places like The Magical Bridge. We can help reimagine what's possible," Olenka says.
---
Next Steps and Useful Resources
Disclaimer: No content on this site should ever be used as a substitute for direct medical advice from your doctor or other qualified clinician.