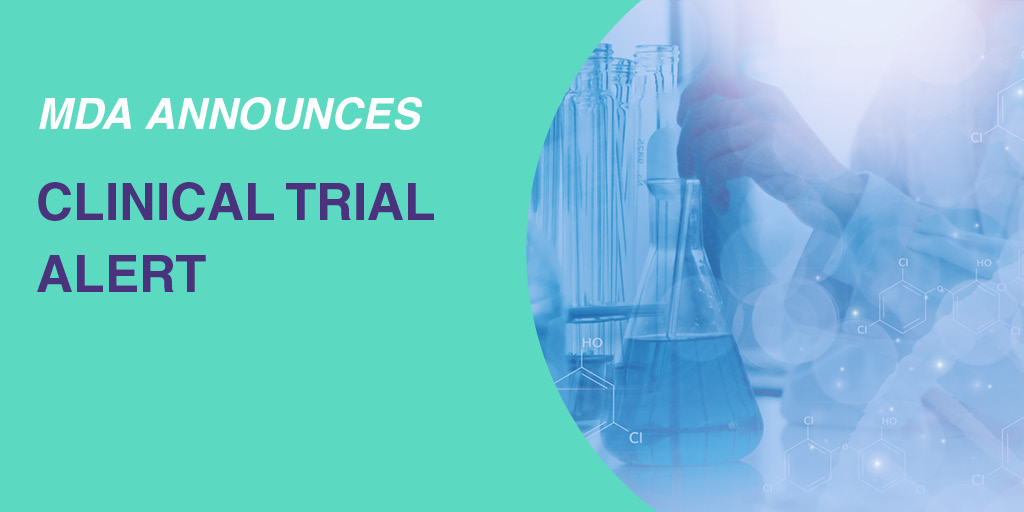 Clinical Trial Alert: Orphazyme Seeks Participants for a Phase 3 ALS Study
By MDA Staff | Friday, January 11, 2019
Researchers at Orphazyme are looking for participants with amyotrophic lateral sclerosis (ALS) to participate in the ORARIALS-01 Phase 3 study. The study is designed to help researchers evaluate the effects of arimoclomol on disease progression in patients with ALS.
In ALS, motor neurons degenerate or die and stop sending messages to the muscles, which gradually weaken and waste away. One potential contributor to the disease process of ALS is cell stress due to protein misfolding and aggregation in the motor neurons. Arimoclomol is thought to work by activating the heat shock response to improve the folding of critical proteins, enabling them to rapidly clear aggregated protein and restore balance to affected cells.
Participants will be randomized to receive either arimoclomol or placebo to determine whether treatment with arimoclomol is associated with slowing the rate of functional and respiratory decline and extending survival as measured by Combined Assessment of Function and Survival (CAFS).
Total study duration for each patient will be up to 82 weeks, with a clinic visit approximately every two months. Drug efficacy will be evaluated by assessing patient function using the ALS-specific assessment scales. Throughout the study, participants will continue to see their regular doctor for routine care.
In order to be eligible to participate, adults (≥18 years of age) must:
Be diagnosed with clinically possible, clinically probable, laboratory-supported probable or clinically definite ALS according to EL Escorial revised criteria
Have a disease duration from symptom onset of 18 months or fewer
Have a revised ALS Functional Rating Scale (ALSFRS-R) ≥35 and erect Slow Vital Capacity (SVC) percent predicted ≥ 70 percent at screening
If taking riluzole, have a stable dose or have not taken riluzole for 14 days prior to first visit
Meet additional study criteria
To find out more information about the study, you may visit https://clinicaltrials.gov/ct2/show/NCT03491462 or the Orphazyme website at https://orphazyme.longboat.com/.
Disclaimer: No content on this site should ever be used as a substitute for direct medical advice from your doctor or other qualified clinician.