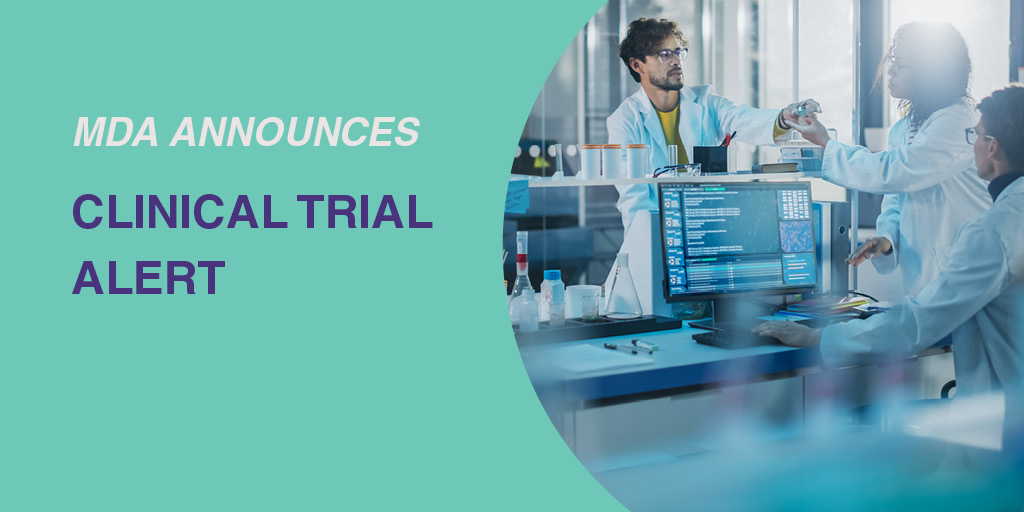 Clinical Trial Alert: Phase 3 Study of investigational drug in Adults Living with ALS
By Sujatha Gurunathan | Tuesday, May 17, 2022
Researchers at Cytokinetics, Inc. are seeking adults living with amyotrophic lateral sclerosis (ALS) to participate in the phase 3 COURAGE-ALS clinical trial to evaluate the safety and effectiveness of the investigational drug. In ALS, motor neurons (nerve cells that control muscle cells) are gradually lost, causing the skeletal muscles they control to become weak and nonfunctional. The study drug is thought to sensitize skeletal muscles to calcium, leading to an increase in skeletal muscle force in response to neuronal input. To date, the investigational drug is not approved for any indication by the FDA or other regulatory authority.
COURAGE-ALS is a phase 3, double-blind, randomized, placebo-controlled study with an open-label extension, which means that participants will be randomly assigned to receive the drug or an inactive placebo control for the first 24 weeks of the study and then all participants will receive the drug in the second 24 weeks of the study. Participation will require 17 total visits, nine of which will be remote visits, over the course of the study. The majority of visits will be four weeks apart. The total duration for participants will be up to 55 weeks.
The study drug will be administered as an oral tablet. Participants will be evaluated using a combination of health- and function-related questionnaires, physical assessments, and laboratory testing. Key tests and outcome measures will include: ALS Functional Rating Scale-Revised (ALSFRS-R) questionnaire, Forced Vital Capacity (FVC), ALS Assessment Questionnaire-40 (ALSAQ-40), grip strength and the EuroQol-5D-5L (EQ-5D-5L)/EQ-Visual Analog Scale (EQ-VAS)
questionnaires.
To be eligible, individuals must meet the following inclusion criteria:
Males or Females between the ages of 18 and 80 years of age
Diagnosis of familial or sporadic ALS
First symptom of ALS ≤ 24 months prior to screening
ALSFRS-R total score ≤ 44 at screening
Upright FVC ≥ 65.0% of predicted for age, height, sex and ethnicity at screening according to Global Lung Initiative equation
Must be either on riluzole for ≥ 30 days prior to screening or have not taken it for at least 30 days prior to screening
Must have completed at least 2 cycles of edaravone at the time of screening or have not received it for at least 30 days prior to screening
Able to swallow whole tablets
Individuals may not be eligible to participate in the following cases:
eGFRCysC < 45.0 mL/min/1.73 m2 at screening
Urine protein/creatinine ratio > 1 mg/mg (113 mg/mmol) at screening
Alanine aminotransferase (ALT) or aspartate aminotransferase (AST) ≥ 3-times the upper limit of normal (ULN)
Total bilirubin (TBL) – direct or indirect bilirubin above the ULN
Cognitive impairment, related to ALS or otherwise that impairs the patient's ability to understand and/or comply with study procedures and provide informed consent
Other medically significant neurological conditions that could interfere with the assessment of ALS symptoms, signs, or progression
Has a tracheostomy
Please visit this link https://clinicaltrials.gov/ct2/show/NCT04944784 for the full listing of inclusion and exclusion criteria.
Travel support may be available for study participants.
To learn more about the study or site locations, visit https://clinicaltrials.gov/ct2/show/NCT04944784 or contact Cytokinetics Medical Affairs at medicalaffairs@cytokinetics.com.
Disclaimer: No content on this site should ever be used as a substitute for direct medical advice from your doctor or other qualified clinician.