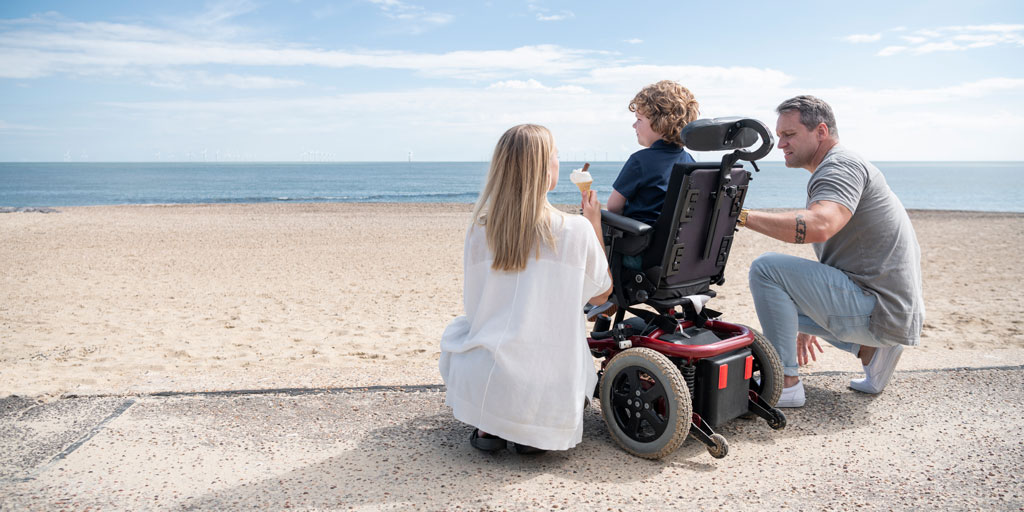 Early Warning Signs Help Spot Neuromuscular Disease in Children
By Shaila Wunderlich | Friday, April 2, 2021
Every year, Deborah and Jeff Corbett went to their son Josh's annual checkup with a set of questions. They checked on Josh's chronic ear troubles and surgeries, inquired about his lagging motor skills, and at his 4-year visit, they asked about his peculiar running gait. When he was 5, they mentioned Josh had difficulty getting into the car. "He'd lean way back, kind of leading with his stomach first," Jeff says. "He seemed to have trouble lifting his feet."
Repeatedly, the Corbetts' pediatrician reassured them. "The doctor said, 'It's just his development; he's a little slower to develop,'" Jeff says. 
Only in 2016, when they took Josh to the emergency room because of an unexplained swollen lymph node, did he happen to receive a blood test that ultimately led to his diagnosis: Duchenne muscular dystrophy (DMD). "I do wonder how things might have been different had we known earlier," Deborah says. 
The truth is, most developmental quirks are, in fact, just quirks. Neuromuscular disease is rare, and its symptoms often aren't easy to recognize. Most pediatricians don't see more than a handful of patients with neuromuscular disease over the course of their careers. "Our pediatrician is very good; we still see him, as a matter of fact," Jeff says. "You just never see this coming." 
Often, it's not until children are referred to a neuromuscular disease specialist — whether by an emergency room physician, pediatrician, or podiatrist — that they receive an accurate diagnosis. That's why parents' perspectives and intuition can be crucial. 
It's worth asking
The signs of neuromuscular disease often fall into one of two categories below. If you notice any of these signs in your child, it's worth seeking a professional opinion, even if it means looking for a pediatrician or specialist with neuromuscular disease expertise.
1. Missed motor milestones. Pediatricians monitor a baby's wellness and development in part by tracking against a list of developmental benchmarks known as gross motor milestones. The checklist spans birth to age 5, but it is most relevant to neuromuscular diseases diagnosed in the first 15 months of life, such as Pompe disease and spinal muscular atrophy (SMA).
At different points between birth and age 15 months, a baby will hold its head up, roll over, sit, stand, and walk. Significant delays or gaps in any of these milestones — particularly sitting — are common reasons for further investigation. (The American Academy of Pediatrics' Physical Developmental Delay tool can help you spot missed milestones.) 
Many parents question missed milestones when their child doesn't reach one by the same age a sibling did. "They might remember an older child was rolling over at 4 months; meanwhile, this kid is barely moving," says Joaquin Wong, MD, pediatric neurologist at Children's Hospital New Orleans. "Siblings work as a general comparison, although you can't go by how early or late a sibling or parent reached a milestone. Nor do the milestones apply to children born prematurely. Premature babies will not hit all their milestone markers." 
For children who miss a motor milestone by several months or more, Dr. Wong suggests return visits to their pediatrician or specialist. "I like to see them again in about two months," he says. 
2. Physical and motor irregularities. Beyond age 15 months, neuromuscular disease indicators become less about a checklist and more about external observations and peer-to-peer comparisons. Most neuromuscular diseases, including DMD and Charcot-Marie-Tooth disease (CMT), are generally diagnosed during early childhood. 
Savannah Harper, 8, was diagnosed with CMT in the first grade, after family members noticed her runningon the beach with her foot turned inward. "Her right foot was completely bent over. She was almost stepping on it," says Marlene Harper, Savannah's grandmother and guardian. 
Marlene recalled Savannah's kindergarten teacher saying the youngster also had been tripping and falling a lot at school. "I made a video of Savannah running and made an appointment right away," she says.   
Looking back, Marlene now associates other signs with her granddaughter's diagnosis. "When she was little, she'd often wake up very stiff and sort of tippy-toe into the bathroom," she says. 
Indeed, stiffened limbs and "toe-walking" are typical symptoms associated with CMT.
Trouble climbing — including walking upstairs — is another red flag. "The houses around Louisiana all have stairs leading up to the front porch, so we get a lot of parents bringing in their children when they notice them struggling to climb them," Dr. Wong says. 
During the early childhood years, the observations of children's teachers, coaches, relatives, and peers become valuable, especially when they confirm something parents have already noticed. Dr. Wong mentions difficulty getting up from the floor as a warning sign often spotted by teachers. "Preschool teachers notice it during daily naptimes," he says. "They'll say the child is consistently the last to stand when it's time to get up." 
Comparisons to peers are applicable with signs such as extremely slow running or trouble lifting bulky items, like backpacks. Deborah remembers Josh struggling to run when he played soccer at age 6. "He'd always be a good 10 to 20 feet behind his teammates, trying his best to keep up with them," she says. 
Spot physical and motor irregularities
Tell your pediatrician if you notice any of the common neuromuscular disease symptoms in this list, which can arise as early as the toddler years, continuing through early childhood.   
Slowness in getting up from the floor
Abnormally large calves with thin upper body 
Excessive falling and injuries
Leg cramps
Stiff limbs
Toe-walking  
Trouble walking upstairs 
Trouble getting into a car 
Pronounced foot arches or foot drop
Chronic fatigue with physical exertion 
Splayed legs/stance 
Abnormally slow or awkward running style  
Droopy eyes or face
Parents know 
Ultimately, you know when something is off with your child and should always feel empowered to investigate. Videos, photos, notes, and observations from teachers and relatives can be helpful when consulting with a pediatrician about your concerns. 
If your questions aren't answered, it's reasonable to persist until they are. 
Related article: Spotting Neuromuscular Disease in Adults
For help finding a neuromuscular disease specialist or MDA Care Center, contact MDA's National Resource Center. 
Disclaimer: No content on this site should ever be used as a substitute for direct medical advice from your doctor or other qualified clinician.