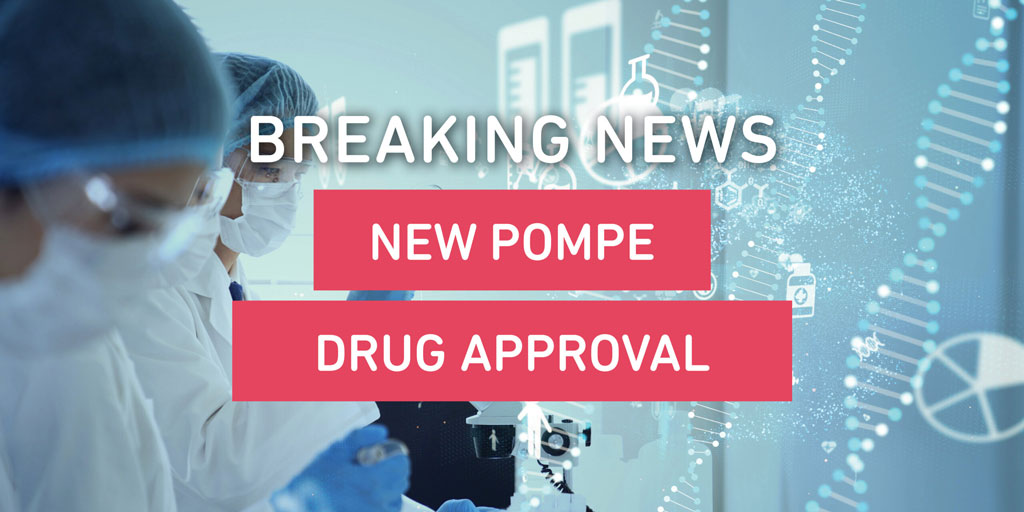 FDA Approves Sanofi Genzyme's Nexviazyme for Treatment of Pompe Disease
By MDA Staff | Friday, August 6, 2021
On Aug. 6, the US Food and Drug Administration (FDA) granted accelerated marketing approval to avalglucosidase alfa (Nexviazyme) for the treatment of people 1 year of age and older living with late-onset Pompe disease. It is the second approved drug to treat Pompe disease. Nexviazyme will be made available in the US and marketed by Sanofi Genzyme.
Myozyme (alglucosidase alfa), also developed by Sanofi Genzyme, was approved by the FDA in 2006 for individuals with infantile-onset Pompe disease, and was later marketed as Lumizyme (alglucosidase alfa) for individuals with late-onset Pompe disease. In November 2020, avalglucosidase alfa received FDA Breakthrough Therapy, Priority Review, and Fast Track designations based on positive data from two trials in patients with late-onset and infantile-onset Pompe disease, respectively.
"The approval of Nexviazyme provides another option for patients with Pompe disease," says MDA's Executive Vice President and Chief Research Officer Sharon Hesterlee, PhD. "MDA funded the foundational work at Duke University that contributed to the development of the first drug approved for Pompe, Myozyme, and it's gratifying to see the evolution of new therapies for this disease.  There is always more work to be done to better understand the disease burden for the community and to develop additional therapies and MDA will continue to stand by the Pompe community in support these efforts."  
Pompe disease is a rare degenerative muscle disorder that affects approximately 3,500 people in the US. Pompe disease results from mutations in the gene encoding the acid alpha-glucosidase (GAA) enzyme, which plays a role in the body's ability to break down the complex sugar glycogen. With insufficient GAA, glycogen builds up and damages muscle cells, particularly in the heart and skeletal muscles. This can lead to muscle weakness and premature death from respiratory or heart failure. Enzyme replacement therapy, such as Lumizyme or Myozyme, is the only effective treatment available for Pompe disease. ERT delivers a man-made version of the GAA enzyme into the body via injection. Nexviazyme is a second-generation ERT designed to improve GAA uptake by specific tissues in the body and more effectively achieve clearance of glycogen.
Clinical trials support approval of Nexviazyme
The FDA based its decision to grant accelerated marketing approval to Nexviazyme on positive results from the phase 3 COMET and the phase 2 mini-COMET studies. 
The ongoing COMET trial is comparing avalglucosidase alfa to Lumizyme in 100 previously untreated patients with late-onset Pompe disease, ages 3 and older. Participants were randomly assigned to receive either avalglucosidase alfa or Lumizyme every other week at a dose of 20 mg/kg for 49 weeks. Following this initial treatment period, participants were invited to join the study's open-label extension, during which all participants will receive avalglucosidase alfa for more than 4.5 years (240 weeks). This trial is expected to conclude by September 2024. 
COMET data showed meaningful improvements through week 49 in respiratory muscle function and mobility in patients treated with avalglucosidase alfa, demonstrating comparable efficacy to Lumizyme treatment. Safety profile, improvements in lower extremity muscle strength, and quality of life were also similar between the therapies. Data from patients who switched from Lumizyme to avalglucosidase alfa in the open-label part of the trial also showed better lung function and mobility at week 97.
The three-year Mini-COMET study is evaluating the safety and effectiveness of avalglucosidase alfa in 22 children and adolescents with infantile-onset Pompe disease, all of whom previously failed to respond to Lumizyme treatment. Children were randomly assigned to one of two doses (20 or 40 mg/kg) of avalglucosidase alfa, given every other week, or to their current dose of Lumizyme. Preliminary data at six months found that both doses of avalglucosidase alfa were well-tolerated, with no severe side effects. Children treated with avalglucosidase alfa also displayed lower or stable levels of the disease biomarkers creatine kinase and hexose (or glucose) tetrasaccharide. This trial is expected to end in December 2024.
The most common side effects experienced by trial participants taking avalglucosidase alfa included headache, fatigue, diarrhea, nausea, joint pain, dizziness, muscle pain, itching, vomiting, difficulty breathing, skin redness, feeling of "pins and needles" and skin welts. Serious reactions included hypersensitivity reactions like anaphylaxis and infusion-associated reactions, including respiratory distress, chills and raised body temperature. 
To learn more about the approval of Nexviazyme read MDA's press release. For more information about the Comet and mini-COMET trials, visit ClinicalTrials.gov and enter "NCT02782741" or "NCT03019406" into the search box, respectively.
MDA resources
Since its inception, MDA has invested more than $5 million in Pompe disease research and more than $1 billion across the spectrum of neuromuscular diseases.
MDA's Resource Center provides support, guidance, and resources for patients and families, including information about the approval of Nexviazyme, open clinical trials, and other services. Contact the MDA Resource Center at 1-833-ASK-MDA1 or ResourceCenter@mdausa.org.
Disclaimer: No content on this site should ever be used as a substitute for direct medical advice from your doctor or other qualified clinician.