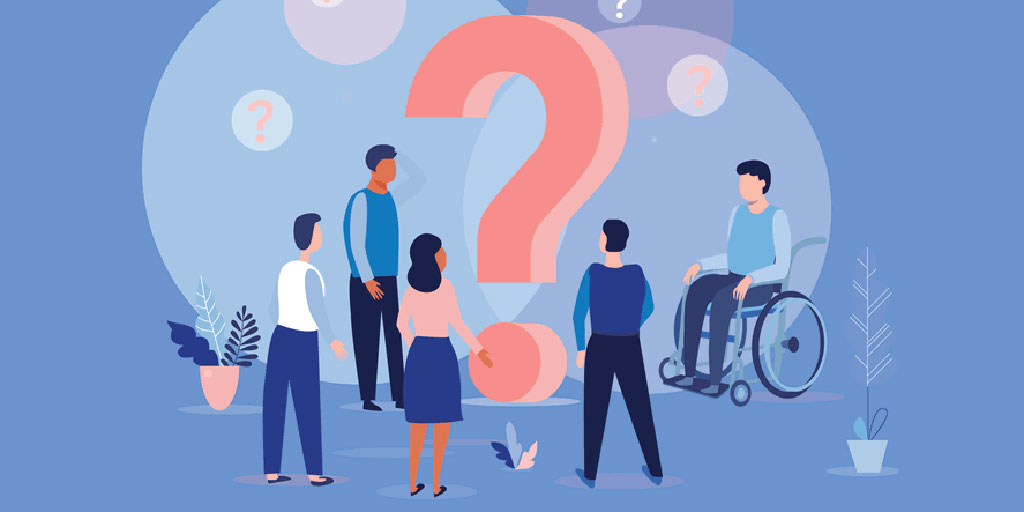 By MDA Staff | Friday, May 14, 2021
You don't have to navigate your neuromuscular disease journey alone. The MDA Resource Center is available to provide one-on-one support. Here, Resource Center specialists answer Quest readers' top questions.
Q: I have oculopharyngeal muscular dystrophy (OPMD). Is COVID-19 vaccination safe for people with neuromuscular disease? Are there any side effects?
—Gretchen Sombar, Colorado
There are no specific concerns regarding the safety of COVID-19 vaccination for individuals with neuromuscular disease. In fact, many individuals with neuromuscular disease are considered at high risk for developing serious complications from COVID-19. MDA advocated for priority COVID-19 vaccine access for people living with muscular dystrophy, amyotrophic lateral sclerosis (ALS), and other neuromuscular diseases.
The known sides effects of COVID-19 vaccines are similar to those of the annual flu vaccine: muscle soreness at the injection site, fever, tiredness, body aches, and headache. Researchers don't expect COVID-19 vaccines to have different or more serious side effects for individuals with neuromuscular disease.
We recommend that you contact your healthcare provider for a consultation if you have any questions or concerns about getting vaccinated.
Helpful resource: Find up-to-date information about COIVD-19 and neuromuscular disease. Read more: "Are Vaccines Safe?"
Q: The clinical trials I see for Duchenne muscular dystrophy (DMD) therapies deal with exon skipping. How can I find out if any of them apply to my son, who is 31 and has DMD?
—Kathryn Gentry, Pennsylvania
Genetic testing can pinpoint the exact nature and location of a gene mutation in DMD and other neuromuscular diseases. This information will help determine whether any current therapies, such as an exon-skipping drug, would be helpful for a specific diagnosis.
Detect Muscular Dystrophy, offered in partnership with INVITAE, is a no-charge genetic testing and counseling program for individuals who meet certain criteria and are suspected of having a muscular dystrophy. A physician must order the testing kit. If you feel genetic testing would be right for your son, contact the Resource Center for information to share with his healthcare team to get started.
Helpful resource: Learn more about the no-charge genetic testing program. Read more: "Expanding Access to Genetic Testing"
Q: Has research on the therapeutic value of physical activity for people with myotonic dystrophy (DM) shown any exercises to be effective in mitigating the effects of the disease?
—Dianne Snyder, Virginia
Exercise in neuromuscular disease is an area that is being actively studied. For DM type 1, there is evidence from some small studies that physical exercise therapy is beneficial. There also is growing evidence that an active lifestyle and low-to-moderate-intensity aerobic activity is good for neuromuscular diseases in general, but more study is needed on exercise with specific conditions.
Your MDA Care Center healthcare team can provide individualized exercise recommendations. It's also important to consult with your cardiologist before beginning an exercise program, especially if you have cardiac symptoms due to DM.
Helpful resource: Find an MDA Care Center and learn about Care Center teams.
Q: What types of resources can the MDA Resource Center connect me to?
—Stephanie Erbacher, Iowa
The staff of the MDA Resource Center will actively listen to your situation and provide information or resources in your community to assist with your needs. Some of the most requested resources that we connect individuals with are:
General disease education
Connecting to others living with neuromuscular disease
Information on individualized education programs (IEPs) and education advocacy
Caregiver resources
Clinical trials finder
Information on getting genetic testing
End-of-life care resources
Financial assistance resources
Information on obtaining residential and vehicle modifications
Information on where to donate gently used durable medical equipment
Connecting with loan equipment resources in your community
Finding an MDA Care Center
Connecting to your local Center for Independent Living or vocational rehabilitation office
Read more: "Support for Your Journey"
Disclaimer: No content on this site should ever be used as a substitute for direct medical advice from your doctor or other qualified clinician.