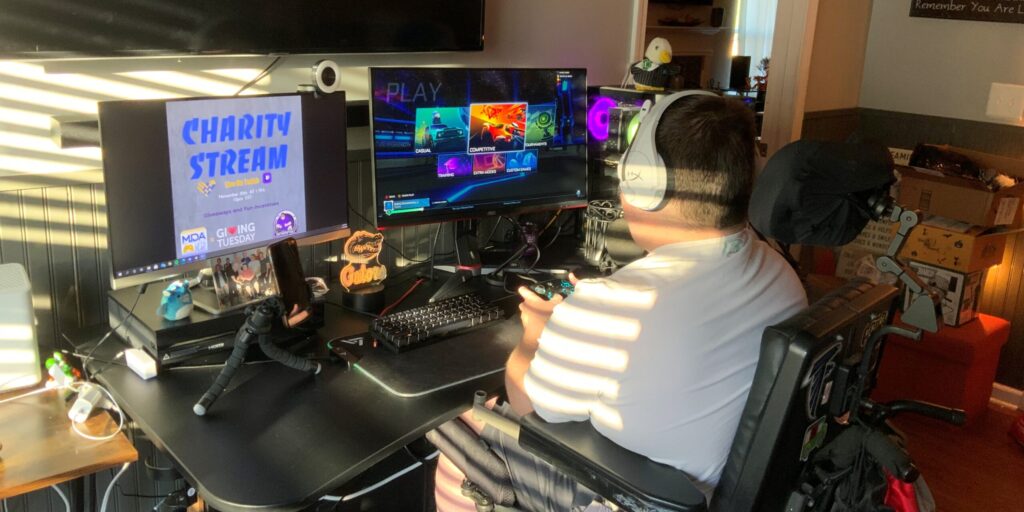 More Than Just Fun & Games – Charlie Mabry is Streaming for a Cause
By Rebecca Hume | Tuesday, August 30, 2022
Charlie Mabry, a video game streamer known as CharlieHarley_1 to his growing base of followers on  TikTok and Twitch, is using his passion for video games to build a community and raise funds for critical neuromuscular disease research. The MDA Let's Play host and online streamer loves making connections and making a difference in his community.
Diagnosed with Duchenne muscular dystrophy when he was 18 months old, Charlie first became involved with MDA as a patient at his local MDA Care Center. He attends Nationwide Children's Hospital MDA Care Center in Columbus, Ohio, where he is supported by a multidisciplinary team of neuromuscular experts in innovative care. Charlie recognizes first-hand the incredible importance of MDA funded research for treatments and cures for muscular dystrophy. The development of recent treatments for Duchenne have brought an unprecedented hope to our community, making the funding and acceleration of research for innovations in care more pertinent than ever.
As a former MDA Camper and a fifth year MDA Ambassador, Charlie has participated in multiple MDA events, fundraisers, and activities to support MDA's cause. He loves being able to connect with his community, share his story, and show people firsthand the powerful impact that their donations have made in his life and the lives of others.
Charlie paired with MDA Let's Play to spread awareness among his gaming community and share the love of the game, while raising money for MDA. Created in 2019, MDA Let's Play community comes together every week all year round for fun and exciting Game Nights that feature a wide variety of video games and live stream events. MDA Let's Play also hosts various fundraising events that allow users to create a campaign and include gaming incentives for other players and viewers to donate to MDA.
In honor of Duchenne World Awareness Day, Charlie will be hosting an MDA fundraiser on his Twitch channel on September 7, 2022. Charlie will be livestreaming from 11:00 AM – 7:30 PM EST (Eastern Standard Time). You can join the fun and donate at Charlie's Campaign Page.
Treatment advances motivate Charlie to raise funds for MDA, while technological advances make it possible for him to use gaming as an opportunity to do so. Not too long ago, video games were played on a living room console, alone or with in-person playmates only. The internet and development of online gaming forums and cross-platform connections have changed the entire gaming arena. Current platforms like Discord, where MDA Let's Play hosts interactive game nights, allow for players to connect with people from all over the world.
Charlie shares that what he loves most about playing and streaming video games is connecting with others and building a sense of community.
Charlie has built a following on his streaming channels and TikTok for the last two years, with a fan base that keeps growing. While he enjoys a variety of games, his favorite game to play and stream is Rocket League. Charlie tells us that Rocket League is like playing soccer with cars and was first introduced to him by his MDA Camp Counselor. When Charlie joined MDA Let's Play and realized that his favorite game was not on the roster or being hosted at that time, he reached out to MDA and asked if it could be added.
The Let's Play Team invited Charlie to host Rocket League games and he obliged, a decision that he claims was one of the best choices he has ever made. His role as a Let's Play host has created a multitude of new opportunities to connect with others in the neuromuscular community.
"MDA Let's Play has allowed me to connect with people with the same diagnosis and other neuromuscular diseases and we now connect outside of Let's Play as well," Charlies says. "I love the connection to people who have the same experiences and outlook as I do. We can play video games and be ourselves, and not be judged by our disability."
For those not familiar with MDA Let's Play on Discord, the platform operates similarly to Microsoft Teams. Members are able to join others online in various free, live, interactive games and can also access chatrooms and messaging functions. If you aren't interested in playing but want to join the fun, you can watch the live games and join chats as a spectator. Gaming platforms in general also offer free channels of streaming video games, where individuals can watch influencers play their favorite games and communicate in chats and private messages. This Discord Join Guide can walk you through how to become a member of the platform.
MDA Let's Play has something to offer for everyone. "Join it and see what happens and it could be something that you really enjoy doing. Playing allows you to build friendship and meet people," Charlie says. Even if you aren't into video games, you can benefit from the social aspect and other activities offered on the platform. MDA Let's Play also hosts weekly Movie Nights and Tabletop Game Nights.  "On the MDA community platform there are so many channels to just talk to people. You don't have to play the video games – you can post your favorite recipe or talk about your hobbies. Join for the social aspect!"
Join MDA Let's Play today!
Learn how to join the Discord community with this Discord Join Guide.
Disclaimer: No content on this site should ever be used as a substitute for direct medical advice from your doctor or other qualified clinician.