By Ori Rokach | Monday, July 15, 2019
During the second day of the 2019 MDA Clinical & Scientific Conference, 14 scientists and clinicians shared exciting updates from the pipeline of clinical trials. Below are highlights from the session.
Zolgensma for Patients With SMA
At the time of the conference, Zolgensma (onasemnogene abeparvovec-xioi, or AVXS-101) was under review by the U.S. Food and Drug Administration (FDA). In May, the FDA approved the drug as a therapy for the treatment of children younger than age 2 with spinal muscular atrophy (SMA).
At the conference, Brian Kaspar, Ph.D., chief scientific officer of AveXis, presented clinical trial results of Zolgensma, a single-administration gene-replacement therapy. The treatment delivers the SMN gene to targeted motor neurons and other tissues using a viral vector called adeno-associated virus 9 (AAV9) for patients with SMA. This is a severe neuromuscular disorder caused by a genetic defect in the SMN1 gene. Individuals with SMA experience loss of motor neurons and progressive muscle weakness, leading to paralysis. Analysis showed that Zolgensma successfully crosses the blood-brain barrier to target the central nervous system in humans. The first-in-human analysis of the tissues from a patient treated with Zolgensma showed expression of the missing SMN in motor neurons, muscle tissue and peripheral organs.
Dr. Kaspar also provided an update on an ongoing phase 3 trial in which Zolgensma is being tested in patients with SMA type 1. Zolgensma treatment was associated with prolonged survival, an increase in motor function and achievement of motor milestones inconsistent with the normal course of SMA type 1 disease progression. Zolgensma is currently being tested in phase 3 trials for SMA type 1 and pre-symptomatic SMA and is in phase 1 for SMA type 2.
ACE-083 for Patients With FSHD
Jeffrey Statland, M.D., of the University of Kansas Medical Center, presented Acceleron Pharma's results on its phase 2 trial of ACE-083 in both healthy individuals and people living with facioscapulohumeral muscular dystrophy (FSHD). The FDA has granted ACE-083 Fast Track and Orphan Drug designations for FSHD and Charcot-Marie-Tooth disease (CMT). FSHD is a genetic muscle disorder in which the muscles of the face, shoulder blades, upper arms and lower legs are among the most affected. ACE-083 is designed to increase the strength and the function of the muscles most affected in patients with FSHD by inhibiting selected proteins in the TGFβ superfamily that are responsible for reducing muscle growth, such as myostatin and activins.
ACE-083 was found to be well tolerated after local injection in the tibialis anterior (TA) or biceps brachii (BB) muscles, and over a period of three months in patients diagnosed with FSHD. A dose-dependent increase in the total muscle volume was observed: a greater than 15% increase in the total muscle volume was measured in patients treated with 200 mg or 240 mg, and fat fraction decreased in the TA, which suggests improved muscle quality. Currently, the placebo-controlled part 2 of this phase 2 study is ongoing.
Suvodirsen for Patients With DMD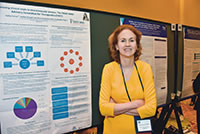 Kathryn Wagner, M.D., Ph.D., director of the Center for Genetic Muscle Disorders at the Kennedy Krieger Institute, presented Wave Life Sciences' results of a successful first-in-human trial that supports the initiation of a phase 2/3 efficacy and safety trial (DYSTANCE 51) of suvodirsen (WVE-210201) in patients with Duchenne muscular dystrophy (DMD) amenable to exon 51 skipping. DMD is a genetic disorder characterized by progressive muscle degeneration and weakness due to loss of dystrophin, a protein that helps keep muscle cells intact. Suvodirsen is an antisense molecule that allows the cellular machinery to "ignore" the mutation and continue to produce full-length dystrophin. Suvodirsen was generally safe and tolerable up to a dose of 5mg/kg.
ATB200/AT2221 for Patients With Pompe Disease
Tahseen Mozaffar, M.D., director of the MDA ALS Neuromuscular Center at the University of California, Irvine, presented clinical trial results of Amicus Therapeutics's ATB200/AT2221 in adults with Pompe disease. Pompe patients have a deficiency in active acid alpha-glucosidase (GAA) enzyme, and as a result, glycogen accumulates in their skeletal and heart muscle tissue. ATB200 is a recombinant human GAA enzyme that was developed to replace the faulty GAA enzyme. This is called enzyme-replacement therapy (ERT).
In this trial, ATB200 was paired with AT2221, a pharmacological chaperone that protects ATB200 while it is in the bloodstream so more active enzymes can be delivered to the muscle tissue. Data from this interim analysis showed functional benefits of ATB200/AT2221; trial participants' six-minute test results, muscle strength and daily living activities were improved. Pulmonary function was improved in patients who were never introduced to ERT before, and creatine kinase (CK) was reduced. ATB200/AT2221 was tolerated over more than 30 months of treatment.
Deoxynucleoside Therapy for Patients With TK2-Related Mitochondrial DNA Depletion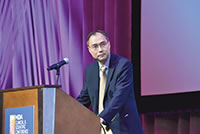 Michio Hirano, M.D., of the Columbia University Medical Center, presented clinical trial results of Modis Therapeutics' promising therapy for patients diagnosed with TK2-related mitochondrial DNA depletion syndrome. Thymidine kinase 2 (TK2) is required for the synthesis of mitochondrial DNA, and individuals deficient in TK2 have reduced mitochondrial DNA and a resulting myopathy. Dr. Hirano developed a treatment strategy by which the building blocks of mitochondrial DNA are given in an attempt to overcome the deficit.
Results from an expanded-access, compassionate-use program led by Dr. Hirano showed that six-minute walk tests improved in 8 out of 9 patients (89%), including one patient who regained independent ambulation. Four out of 5 patients were able to discontinue with their feeding tubes. Two out of 10 patients who required mechanical ventilation were able to breathe independently. Moreover, five patients who were diagnosed with early onset and severe disease improved their survival and motor functions significantly compared to historically untreated patients.
Trial Terminology
Blood-brain barrier: The highly selective border that tightly regulates the passage of molecules from blood circulating through the body into the central nervous system.
Central nervous system: The part of the nervous system that consists of the brain and the spinal cord.
Mitochondria: This powerhouse of the cell is responsible for energy production, permitting metabolism and routine cellular function.
Pharmacological chaperone: A small molecule that properly folds and stabilizes a protein.
Ori Rokach, Ph.D., is a biomedical writer for MDA.
Disclaimer: No content on this site should ever be used as a substitute for direct medical advice from your doctor or other qualified clinician.