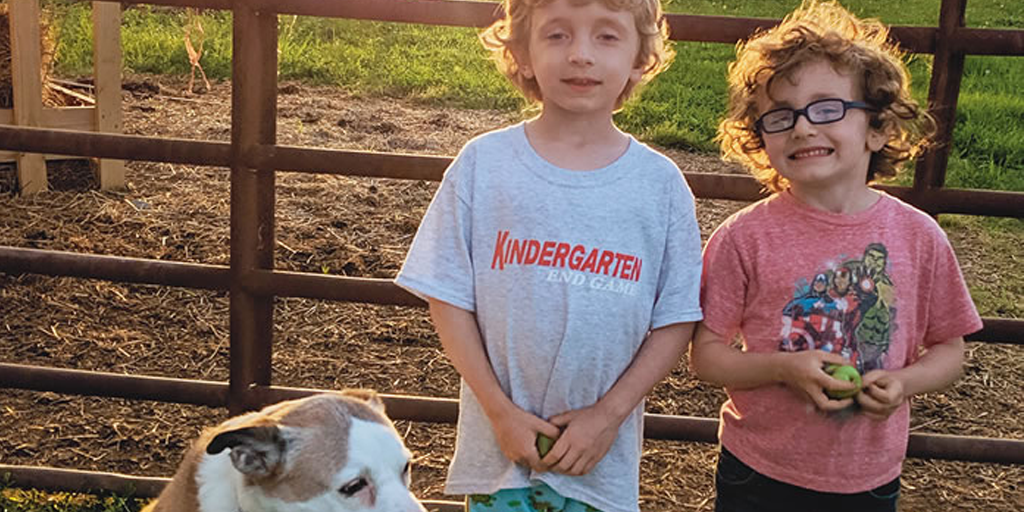 By Cheryl Alkon | Wednesday, January 15, 2020
Michael Lo Sapio, father of Mikey, 7, and Reid, 5, proudly admits that he's pushy. Both his boys live with Duchenne muscular dystrophy (DMD), which causes progressive muscle degeneration and weakness beginning in early childhood. People with DMD typically live to their late teens or early 20s.
These facts are grim, but being pushy means not accepting the statistics without a fight. For Michael — and many people living with neuromuscular diseases — one way to push back on the numbers is by participating in research.
Biomedical researchers are constantly seeking information about neuromuscular diseases, testing therapies that could pave the way for potential cures and improve quality of life for people living with these diseases. There are many ways that individuals with neuromuscular disease can be involved in research, whether enrolling in a clinical trial or natural history study, electing to participate in a disease registry, or giving to a tissue bank. All have the potential to advance treatments for neuromuscular diseases.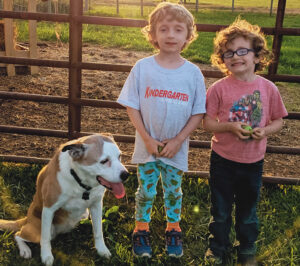 That's why Michael got pushy when he learned Mikey qualified for a clinical trial of a gene-targeted therapy that has the potential to slow the progression of DMD.
"I called every hospital listed in the trial and pestered them until I finally got answers on when it was starting and made sure Mikey was on the list," he says.
While Mikey has been in the trial for two years, his younger brother did not make the age cutoff to enroll. Michael continues to push to see if Reid could qualify for compassionate use of the medication Mikey is taking. "As a parent, you have to really take control and advocate for your kid," he says.
Why participate in research?
Getting access to the newest medications available is one potential benefit of participating in clinical trials. But being involved in research has other far-reaching effects.
"Many patients tell me that their participation helps define the future research opportunities in clinical care when there are no approved therapies," says Barry Byrne, MD, PhD, a professor of Pediatrics and director of the Child Health Research Institute at the University of Florida in Gainesville. "It helps advance the science and improve outcomes in the long-term."
In other words, you don't have to have an MD or PhD to make a difference in the neuromuscular disease community.
"For most patients, on a basic level, participating is a way to give back to the community," says Nicholas Maragakis, MD, a professor of Neurology at Johns Hopkins Medicine, specializing in amyotrophic lateral sclerosis (ALS). "A lot of people with ALS say, 'This may not help me, but it may help others who come after me.'"
Getting involved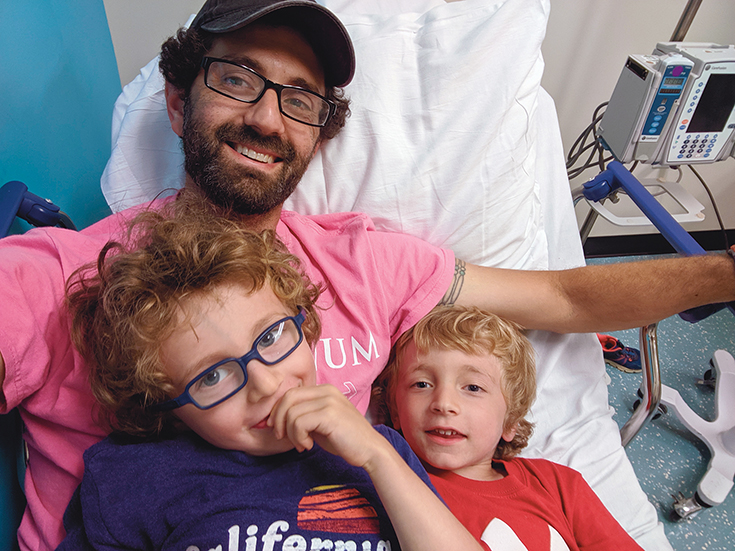 There are many ways that people with neuromuscular diseases can get involved with research. Finding the right way for you depends on many factors, including your diagnosis, your location, and your available time.
Clinical trials: Clinical trials are experiments done in humans to see if a potential treatment is safe and effective. Clinical trials are run at institutions and hospitals by research teams that often include doctors, nurses, study coordinators, social workers, and other healthcare professionals. But trials are very different from routine medical care, because researchers don't know exactly how the drug or device being tested will affect people.
Each trial has its own inclusion and exclusion criteria to determine who can participate. Many clinical trials require genetic confirmation of a disease so researchers know that they are testing their treatment on the intended target. Genetic testing can pinpoint an individual's disease-causing mutation and help individuals qualify for clinical trials (see "The Importance of Genetic Testing").
Research studies: Some clinical studies are not used to test a treatment or device but instead follow patients over time in order to better understand how a disease develops or how to treat it. These observational or natural history studies are especially important for rare diseases, which tend to be poorly understood.
The knowledge gained through observational studies may be used to determine how to detect or diagnose a disease, or to optimize testing procedures for future trials.
Research studies also have specific criteria for enrollment, based on the condition they are studying.
Disease registries: Disease registries collect health information from people with certain diseases. Registries make that information (without names or other personal details) available to researchers who can look at it to see how a disease affects various populations or how people are responding to certain treatments. The more people involved in a disease registry and the more data available, the more useful it is to researchers.
Registry data can also help improve future clinical trial design and help identify potential participants for upcoming studies.
Different types of registries collect different information, but most focus on one or a few diseases.
Tissue banks: A number of tissue banks store samples of blood, muscle, skin, spinal fluid, and other clinical specimens from people with neuromuscular diseases. These samples can be collected with consent during scheduled office visits or surgeries, or after death with the family's consent. Donated tissue samples can be used by qualified scientists for research purposes.
Tissue banks can be extremely valuable to researchers when it is difficult to procure samples from a large number of patients, such as in the case of rare diseases.
For example, the Stanford Neuromuscular Biobank "has supported many different neuromuscular research programs around the world, helping scientists better understand the biology behind these conditions in order to improve the lives of patients," says Katharine A. Hagerman, PhD, a research scientist who manages the bank along with neuroscientist John W. Day, MD, PhD.
What to expect
Clinical trials and research studies generally are the most involved forms of research, often requiring office visits, medical tests, or extensive surveys.
Participating in disease registries might involve providing health information on a regular basis. Or, as in the case of MDA's MOVR Data Hub, you may simply opt in to have information from your clinical visits combined, in a safe and confidential way, with data from others living with the same disease.
Your care team might ask if you're interested in donating samples to a tissue bank during a regular office visit or before a procedure. If they don't, you can ask your doctor about sharing samples with a tissue bank. Some tissue banks ask you to contact them and fill out a questionnaire, as they are looking for specific types of samples. They may then contact you with instructions for collecting and donating your sample.
A rewarding experience
Chris Anselmo, a 33-year-old Westbrook, Conn., resident, lives with limb-girdle muscular dystrophy (LGMD) type 2B, also called Miyoshi myopathy or dysferlinopathy. From 2013 to 2016, he took part in a natural history study called the Clinical Outcome Study for Dysferlinopathy, sponsored by the Jain Foundation. Researchers tracked his disease progression over time.
Participating was intense. Over three years, Chris made a series of clinical visits where he underwent physical tests, such as bloodwork, a skin biopsy, two MRIs, and several strength tests, and answered questions about his disease progression, such as whether he had fallen since his last visit.
"It was very taxing, and I was exhausted by the end," he says. "It was also difficult because I could see myself getting weaker from visit to visit, but they needed to track this to see how my disease progressed year to year."
The goal of collecting this information from Chris and others with the same condition was to determine the best biomarkers and strength tests to use for potential future clinical trials. "This way, they know what to test and how to measure if a therapy is working," he says.
Despite the hardships, Chris says the experience was rewarding. "There aren't many of us with this disease, so I knew my efforts were needed," he says. "Without this data, it is much harder for a company to find a therapy for my condition. It felt good to contribute in some positive way toward research that may one day lead to a therapy."
Cheryl Alkon is a freelance writer based in Massachusetts.
Research Resources
Figuring out how you can be involved in research takes some, well, research. Here are resources to get you started.
Clinical trials and research studies
MDA Clinical Trials Finder Tool
US National Library of Medicine database of clinical studies around the world
Tissue banks
Congenital Muscle Disease Tissue Repository at the Medical College of Wisconsin
Stanford Neuromuscular Biobank or call 650-497-9807
Disease registries
While it's important to do your own research, the amount of information available on the internet can be overwhelming. Working through your MDA Care Center and care providers often is the best way to learn about the opportunities to participate in research that are available to you.
The MDA Resource Center can also answer questions and guide you to resources. Contact us at 833-ASK-MDA1.
MDA's MOVR Data Hub
Currently, people who see their physicians through MDA Care Centers may be able to elect to have their clinical information shared in a safe and confidential way through the MOVR (neuroMuscular ObserVational Research) Data Hub for future research opportunities.
The MOVR Data Hub collects information from people with amyotrophic lateral sclerosis (ALS), some forms of muscular dystrophy, and other neuromuscular diseases to help scientists better understand how the conditions affect people and what treatments are effective. MOVR also helps researchers identify individuals who may qualify for clinical trials.
MDA plans to expand MOVR to include more neuromuscular diseases and increase the number of locations that compile this information. Stay tuned for updates on this ambitious project at mda.org/movr.
Disclaimer: No content on this site should ever be used as a substitute for direct medical advice from your doctor or other qualified clinician.