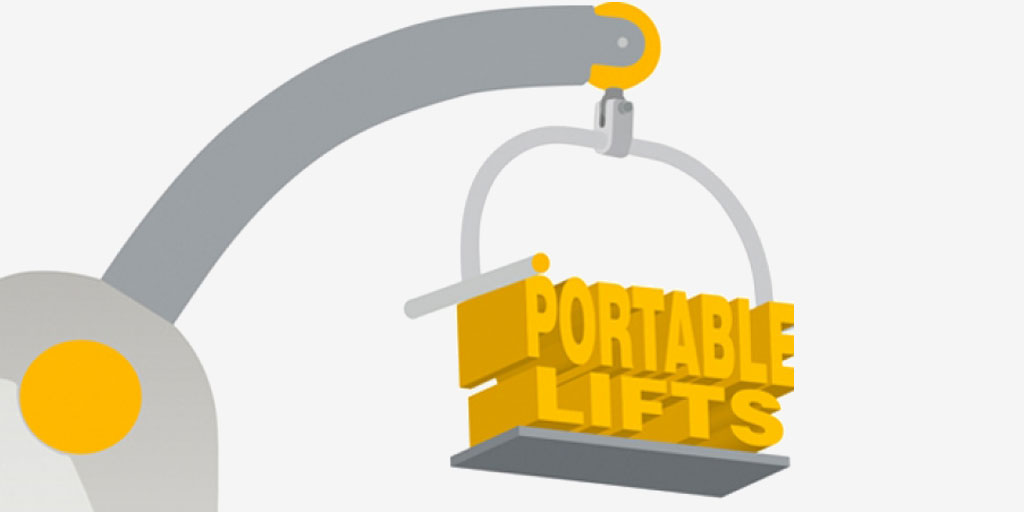 Portable Lifts A Real Pick Me Up for Caregivers
By MDA Staff | Sunday, September 30, 2012
Getting from here to there is often a challenge for people with muscle weakness due to neuromuscular diseases — and for their caregivers.
Caregivers can develop back pain, hernias and other injuries from lifting a loved one who is unable to self-transfer. And the person being lifted risks injury from being dropped or dragged.
Deciding how much mechanical aid is needed for a safe and secure transfer depends on the unique needs of the person with neuromuscular disease and his or her caregiver. But for times away from home, and for using a lift in different locations within the home, the portability of the system also must be considered.
Which type of lift is best?
Three areas should be explored before a lift system is chosen: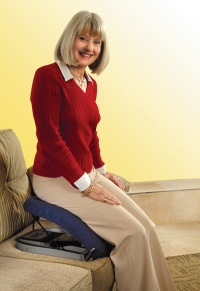 1. Talk to a physical therapist (PT). Jason M. Kelecic, a PT and program manager of the neuromuscular clinic at Gillette Children's Specialty Healthcare in St. Paul, Minn., says a physical therapist will evaluate the lift user by asking: "What do you want this piece of equipment to be able to do?" For example, the device might be needed to lift a person back on his feet if he falls and to get him out of bed in the morning.
Next question: "In what environment do you want this piece of equipment to operate?" Is the lift needed at home, at work, at school — or all three?
The choice of lift also depends on such factors as whether it will be used every day, and whether it's needed for getting in and out of a vehicle. Also to be considered is whether the lift is comfortable, provides dignity and gives support to the person being moved.
It's also important to know whether the caregiver can operate the lift. Does she have enough upper-body strength for a manual lift? Can he get a sling around someone who's fallen on the floor? If the caregiver has weak knees, bad shoulders, arthritis or other limitations in the joints or general strength, a power lift may be needed.
If a family is considering a portable lift to take a child from one parent's home to the other's on a regular basis, it might be better to have standard lifts in each house, Kelecic says. "Anything that's going to be considered portable or collapsible is probably less stable. More weight in a lift means more stability."
Once a lift has been chosen — but before making a purchase — caregivers should try it in the environment for which it's intended, to see how it works out. When a purchase has been made, be sure a representative from the dealer or a physical therapist provides thorough operating instructions.
2. Check your insurance. Each state program and private insurance company is different, so it's essential to get information for the individual policy. Remember that insurance may have different guidelines for children and adults.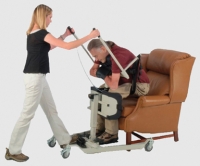 Sometimes a state or private insurance program groups together pieces of equipment that don't seem related, Kelecic says. Getting coverage for a portable lift may mean there's no coverage for another item, such as a stander.
Insurers may not pay for both a portable and a standard lift system. They may be more likely to reimburse for a hydraulic (manual) lift than one with power, although it's sometimes possible to convince insurers that a caregiver can't operate the nonpowered lift and get coverage.
3. Research dealers, prices and sales. If the lift is for short-term use such as a summer vacation, it may be better to rent than to buy one. It also may be possible to borrow a device for short-term use from the local MDA equipment loan program. Local DME dealers can inform customers about rentals and sales.
Looking for a used lift is "not a terrible idea," Kelecic says, but he advises, "Put a lot of thought into it first. It may not be in good shape or condition or suitable for the individual." Again, try before you buy.
If a lift is needed at work, it may be considered a "reasonable accommodation" under the Americans with Disabilities Act, and the employer may be required, or at least willing, to pay for it. (If the employer won't come through, the price may be tax deductible under "unreimbursed business expenses" related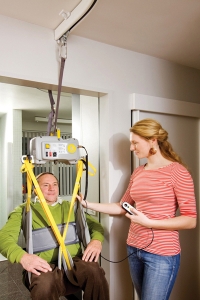 to a disability.)
Up you go
The simplest lifting device available is a seat that can be placed in any chair or sofa, and rises to help the person stand. For example, Uplift Technologies' UPEASY lifting seat cushion is for those who can walk but need help rising from a chair. The user leans forward and the seat's springs push them upward.
UPEASY cushions are available with a hydropneumatic spring at drugstores and similar retail outlets for as low as $85. The version with an electric power cord runs about $120.
Rolling lifts — in-home portability
Perhaps the most popular device for making lifting easier on the caregiver is a battery-operated power lift that rolls on wheels throughout the house. These aren't meant to be folded or packed up for carrying outside the house — they're portable only in the sense that they can be rolled from one room to another.
Rolling lifts can weigh more than 100 pounds, but the four wheels, adjustable legs and broad base make them easy for most caregivers to handle. A long arm that holds the sling can be moved by remote control or an easily managed handlebar. Rolling lifts can be hydraulic, manual or battery-powered; power lifts may be best for caregivers with limited strength.
The rolling lift's disadvantage is its size, which can make it difficult to use in tight spaces such as small bathrooms or narrow hallways.
The term "Hoyer lift" often is used generically for this type of device, but Hoyer is a particular brand. Its manual lifts, such as the HML400, sell for less than $1,000, and its battery-powered lifts go for more than $2,000.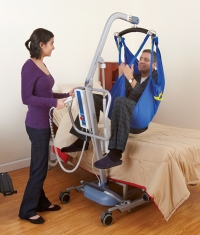 Kelecic says, "We have Hoyer lifts around the hospital that are probably older than I am, and they're still in perfect working order. They're well-manufactured and there are not many moving parts, and so as long as you keep the hydraulics in shape they'll last."
Besides Hoyer, other rolling lifters include SureHands' 1600 and 2600 series;Guldmann's mobile lifters, which also can be used to help with walking; and Prism's F550 lifter. These are priced around $4,000.
Rand-Scot makes a very different kind of lift, the EasyPivot (base price $1,850), which lifts the person forward and up, placing them in a standing position before moving them. This type of lift works best for those who have some trunk control and can stand with minimal support. Although it has some limitations (it can't lift a person who has fallen on the floor, for example), one advantage is that, when reseating, it places the base of the person's spine all the way back in the chair, allowing proper positioning and enhancing comfort. Unlike other lifts, the EasyPivot also offers an easy stretch of the Achilles tendons, calves, hamstrings and back. This pivoting maneuver can be made part of a planned exercise and stretching program.
Permanent yet portable
For portability within the house, another option is to use one lift motor and multiple mounts placed in different rooms. The Port-A-Lift from Ability Access can transfer someone from the wheelchair to the bed, bathtub, car and more. It folds against a wall mount to take up minimum space, and the motor unit can be transferred from one compatible mount to another.
Weighing about 18 pounds, the Port-A-Lift extends 6.5 feet. Cost: about $4,200 for the basic model, not including mounts, slings or other accessories.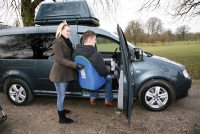 Another way to move a lift system from room to room is the SureHands Track-to-Track Portable Motor System, which allows detaching the lift and motor from one piece of ceiling track and attaching them in another room. With the "Tarzan" version, a caregiver can loop a strap under a doorway while moving the lifting mechanism, enabling a ceiling track system to go from room to room without structural alterations.
Prism Medical's portable ceiling lifts also are designed to be moved from room to room and to different tracks, even of different types. The unit acts as both motor and carry bar, from which the sling is suspended for compact transporting. The P-300 lift itself weighs less than 7 pounds. Other models are designed for heavier people. Prism's new 300 complete system with lift motor and frame is $5,315.
Getting into the car
If the person can do a pivot transfer, one option for moving from a wheelchair into the car is a turning seat — a car seat that extends and lowers from the vehicle, then lifts the person inside. Manufacturers include Access Unlimited, BraunAbility, Bruno andFreedom Lift, with prices running from about $2,000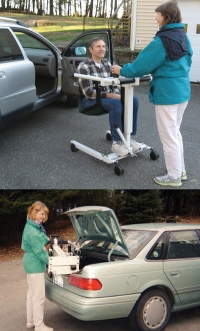 to more than $7,000, depending on the model and options.
If the person can't stand to transfer, another approach is a lift that's installed in the vehicle.
For example, the Milford Person Lift, made by Autochair USA, attaches permanently in the car and is powered by the vehicle's battery. It works with a remote control to lift and slide the person into the car. The device, which is priced at about $4,500, also can be used in the home.
Taking it with you
For true portability, some lifts are specifically designed to be folded and transported during travel.
Sometimes these smaller units are easier to maneuver in small spaces than a standard rolling lift. However, Kelecic warns that this type of lift may not last as long with sustained daily use and may be "more tippy" than standard rolling lifts.
The Hoyer Advance lift goes for as little as $1,400. It can be folded without using tools, or separated into parts for transportation in a car trunk.
Rifton's TRAM (Transfer and Mobility device) also folds up without the use of tools. Priced at $3,250, it is designed to support people as they stand or walk, but also can lift and transfer without requiring the person to stand.
Molift's battery-operated stand-up portable lifts in the Smart or Quick Raiser series start at $3,450. Molift also offers a fiberglass carrying case for convenience in transporting their lift on an airplane; it's priced at $400.
The Portable Transfer Aid (PTA) from Take-Along Lifts weighs only 46 pounds. While relatively low-priced (basic price is $1,900) and lightweight, it's not for everyone. The manufacturer notes, "When transferring from/to surfaces without a back support, individuals should have sufficient upper body balance to support themselves in a sitting position prior to and after transferring. The lift will not raise someone from a lying down position into a sitting position."
For a wall-mounted lift that can become a travel lift by adding a base, see Access Unlimited's Multi-Lift. The motor, lifting arm and sling can be transferred between wall mounts throughout the house and in the car, or can be attached to the Easy Base mobile frame and rolled from place to place. The frame folds and fits in most car trunks; when folded it can be transported by rolling it like a suitcase. The Multi-Lift also can be used to hoist a scooter or wheelchair into the car.
Some airlines allow wheelchairs and other assistive devices, including portable lifts, to be checked as luggage free of charge. It's wise to call the airline long before traveling to discuss its guidelines and be sure the personnel are aware of the traveler's needs.
The right movable lift is out there. By following the advice of physical therapists, insurers and dealers, and doing careful research, caregivers and people with neuromuscular diseases will be able to get where they want to go without unnecessary strain and pain.
Portable Lift Resources
Companies
Ability Access
(888) 538-9514
BraunAbility
1-800-THE-LIFT
Bruno Independent Living Aids
(262) 567-4990
Guldmann
(800) 664-8834
Invacare
(800) 333-6900
LiftTran Mobility
(877) 844-7260
Liko
(888) 545-6671
Molift
(877) 665-4387
Rand-Scot
(800) 467-7967
SMT Health Systems
(800) 725-7761
SureHands
(800) 724-5305
Sunrise Medical
(800) 333-4000
Used equipment
Bay
Craigslist 
1800Wheelchair.com
Disabled Dealer
Also check MDA's equipment loan program and local hospitals.
Air travel information
To learn about flying with a portable lift, contact:
Transportation Security Administration
(866) 289-9673
Quest articles
Turning Seats Can Enhance Mobility, July-August 2008
Give Me a Lift: The Right Tools for the Transfer,  March-April 2006
Caregiver Exercises: Simple Ways to Resist Injury, April-June 2002
Save Your Back! A Guide to Lifting and Transferring at Home, February 1999
Disclaimer: No content on this site should ever be used as a substitute for direct medical advice from your doctor or other qualified clinician.