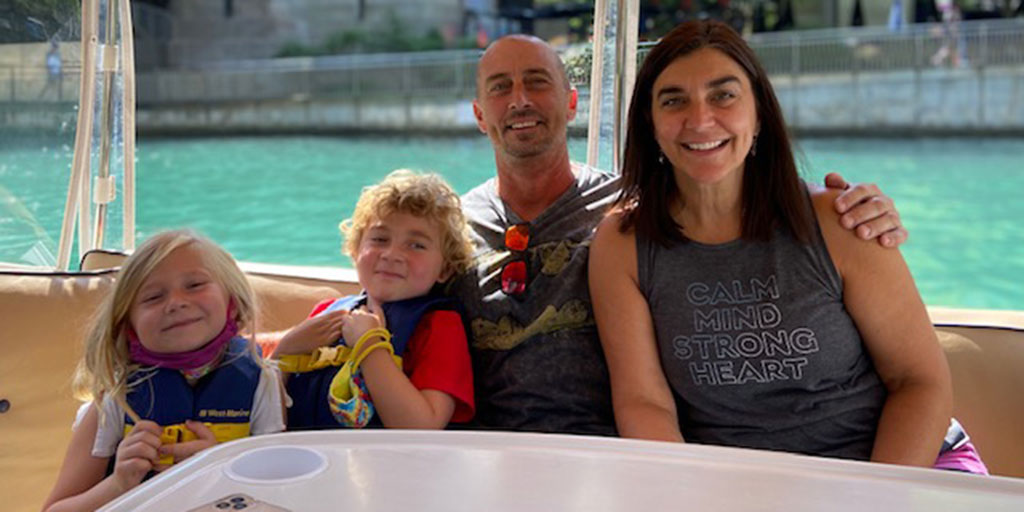 Talking About Your Child's Diagnosis Helps Build Your Support System
By Claire Sykes | Thursday, October 14, 2021
When Stephanie and Wayne Donato received the diagnosis of Duchenne muscular dystrophy (DMD) for their son Maximus, who was 4 at the time, in 2017, "we were completely blindsided," Stephanie says. The couple quickly realized there were a lot of people they needed to tell, and they started with their own family.
The Donatos also wanted members of their extended family to know Maximus's diagnosis. His preschool teachers had to know right away, too. Next, they told their coworkers, "because we were going through a major transition, emotionally," she says. Later, they started to inform caregivers and parents of their children's friends.
It was hard, at first, to talk about Maximus's diagnosis. "It felt very raw then," Stephanie says. "By retelling our story, we own our reality, which can be difficult — but also liberating."
Stephanie and Wayne realized there were important reasons to talk about Maximus living with DMD. Educating people who were in regular contact with him and their family would help ensure his safety and health, and give them the support they needed.
Prepare to share
Julie FitzGerald Schell, PhD, a licensed psychologist and leader of a Pennsylvania branch of the Charcot-Marie-Tooth Association, advises telling others about a child's diagnosis on an as-needed basis. "This means considering what each person should know and when, depending on their role and responsibilities, and level and frequency of contact with your child," she says.
To ready yourself for conversations with others, Dr. Schell suggests making a list of particulars about your child's diagnosis, such as the following:
Basics about the condition
Your child's specific symptoms
Your child's personality, interests, and talents
Your child's physical abilities and limitations
Tasks your child needs help with
Assistive devices your child uses
Tips for working with your child and supporting their independence
Keep your list current and handy. It can help during emotional conversations, when it's hard to find the right words.
"Before you talk to others, try to process your own emotions," Dr. Schell advises. "Notice and name them, without judging, and be patient and forgiving with yourself and others." These conversations may never be easy, but with a little practice, you'll feel easier having them.
How much, how soon?
Stephanie and her family don't let DMD define them. So, when she first talks about Maximus to someone, she doesn't lead with DMD. "It could skew people's perceptions of him, which isn't fair to him," she says. "We let him stand on his own merit. He's creative, smart, and unique in so many ways."
Stephanie also knows that most people aren't aware of the challenges families like hers face. "I can get a feeling if someone sincerely wants to learn and understand, and that's who I'll tell more to," she says.
With teachers and school counselors, it's important to keep them informed of current issues or concerns that may arise. Open communication can help them address or offer support if your child encounters social issues. In addition, learning delays and disabilities are more likely for kids with certain neuromuscular diseases, including DMD.
"If your child isn't picking up on the needed skills early enough, the brain may not be as receptive to learning them," Dr. Schell says. Prevention and intervention can help kids continue to make progress.
Opening up
As your child gets older, what you tell people will change. How you feel will, too.
Stephanie admits that, in the beginning, she cried whenever she talked about Maximus's diagnosis. Occasionally, she still does.
"Over time, it does get easier to open up about it," she says. And she's discovered that being open has its rewards. "Everyone's got a challenge to deal with. Showing your true self, your true situation, and allowing yourself to be vulnerable helps guide you to where you can invest in others and receive and give compassion. That helps you feel you have that village, that community," Stephanie says.
MDA Care Center healthcare teams are dedicated to guiding individuals and families through the neuromuscular disease journey. For help finding an MDA Care Center or neuromuscular disease specialist, contact the MDA Resource Center at  833-ASK-MDA1 (1-833-275-6321) or ResourceCenter@mdausa.org.
Disclaimer: No content on this site should ever be used as a substitute for direct medical advice from your doctor or other qualified clinician.