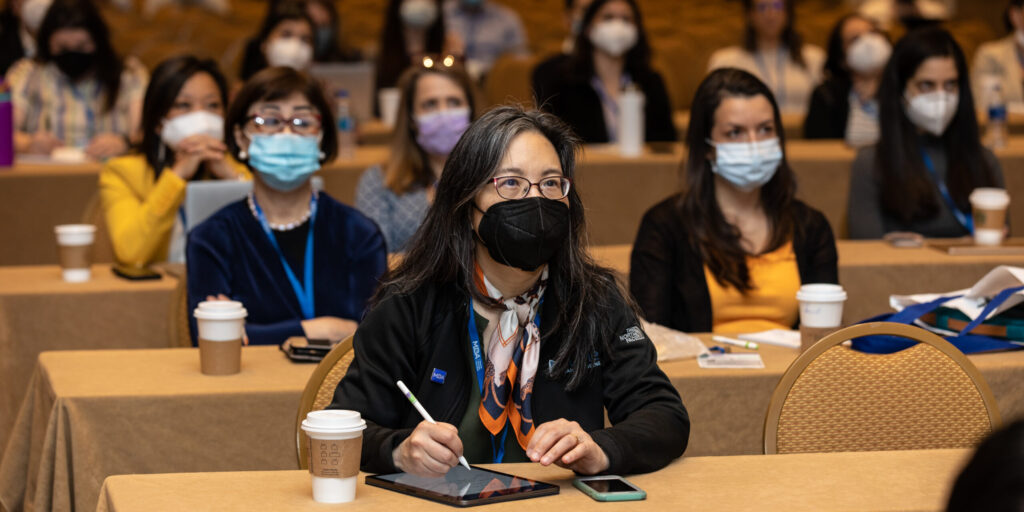 2022 Clinical & Scientific Conference March 15 Highlights
By Sujatha Gurunathan | Tuesday, March 15, 2022
Today was the second full day of sessions of 2022 MDA's Clinical & Scientific Conference. The three major themes of today's sessions were (1) therapeutic strategies to treat NMDs, (2) clinical trial design and implementation, and (3) optimizing patient care.
Highlights
Mitochondrial interventions: small molecule and gene therapy
Carlos Moraes, PhD, from the University of Miami Health System chaired this session and provided an overview of the mitochondrial defects that cause mitochondrial diseases, as well as the strategies under investigation to treat these diseases, including small molecule therapeutics and gene therapy strategies. In most cases, mitochondrial diseases are caused by inherited mutations affecting the function of mitochondria, the energy-producing structures in our cells. These mutations can occur in either mitochondrial (mt) DNA or nuclear DNA. Therapeutic efforts are focused on eliminating or overcoming the effects of these mutations.
Later in the session, Dr. Moraes spoke about his own research. The Moraes laboratory, in collaboration with Precision BioSciences, is working on a gene therapy strategy (AAV-microARCUS) to specifically target and eliminate mutated mtDNA that contributes to mitochondrial disease. This strategy is showing promise in preclinical animal models.
Michio Hirano, MD, of the Columbia University Irving Medical Center, presented his work on a small molecule (deoxynucleoside) therapy (MT-1621) to overcome a mutation in the TK2 gene that causes loss of mtDNA in muscle tissues. People with TK2 deficiency experience muscle weakness, and sometimes liver failure and/or brain abnormalities, and may exhibit symptoms such as "floppiness," eating difficulties, and developmental delays. Dr. Hirano's research team tested the investigational drug MT-1621 in a preclinical animal model and in early-stage clinical trials. In the phase 1 clinical trial, MT-1621 treatment stabilized disease and resulted in some functional improvements in people with TK2 deficiency. The drug is currently in a phase 2 clinical trial, and the research team intends to apply for drug approval in both the US and the EU. They are also testing effectiveness of a combination therapy, comprised of the deoxynucleoside small molecule and a gene therapy (AAV9-TK2), in a preclinical animal model.
Finally, Qinglan Ling, PhD, a postdoctoral researcher at the University of Texas Southwestern Medical Center, discussed her preclinical studies of a gene therapy to treat the mitochondrial disorder, Leigh syndrome, which affects about 1 in 40,000 newborns in the US. In addition to typical NMD symptoms such as muscle weakness and poor muscle tone, Leigh syndrome causes brain abnormalities that can result in impaired coordination (ataxia), involuntary muscle contractions leading to repetitive or twisting movements (dystonia), paralysis of the eye muscles, and seizures, among others. Leigh syndrome is caused by a mutation in the SURF1 gene that abolishes its function. Dr. Ling presented a gene therapy approach to deliver a normal copy of SURF1 gene into an animal model that lacks this gene and exhibits some symptoms of Leigh syndrome. She reported that the therapy appeared safe (no liver/kidney toxicity, did not affect weight or behavior, etc.), and that it partially reversed symptoms. Dr. Ling's team is working on making the therapy more effective.
Small molecule approaches to overcoming muscle wasting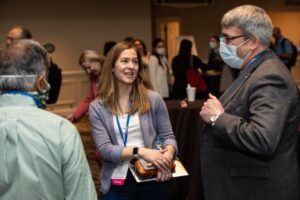 The speakers in this session discussed small molecule drugs that counter muscle loss and show promise for treating Duchenne muscular dystrophy (DMD) and Becker muscular dystrophy (BMD). DMD and BMD are caused by the loss of the dystrophin protein, which plays multiple roles in the structure and function of muscles. The therapeutic efforts discussed during this session focused on restoring muscle function in the absence of dystrophin.
Ryan Mitchell, PhD, from Satellos Bioscience spoke about work from the laboratory of Dr. Michael Rudnicki, OC, PhD, FRS, FRSC, co-founder and chief scientific officer of Satellos, to use small molecule drugs to restore the regenerative capacity of muscles. The team identified a number of candidate molecules in a screen and showed that one such compound restored the ability of stem cells to produce muscle progenitor cells, enhanced muscle size and performance, and improved outcomes, in an MDX mouse model, which lacks dystrophin and mimics the progression of DMD. Dr. Rudnicki and colleagues plan to evaluate additional compounds from the screen in preparation for submission of an Investigational New Drug (IND) application to the US Food and Drug Administration (FDA).
Next, Tejvir Khurana, PhD, from the University of Pennsylvania spoke about taking a new approach to a previously failed therapeutic strategy. Other groups have tried, unsuccessfully, to increase the levels utrophin, a natural protein similar enough to dystrophin to potentially replace it, in DMD models. Dr. Khurana presented his team's efforts to release intrinsic repression of utrophin production, rather than trying to directly increase its levels.  His group identified 15 small molecule drugs through two different screening strategies, and demonstrated that at least one of these drugs was able to improve disease symptoms in the MDX mouse model of DMD by releasing utrophin repression.
Alan Russell, PhD, from Edgewise Therapeutics closed out this session by presenting his group's study of the investigational compound EDG-5506. Boys with DMD appear to have a defect in fast-twitch skeletal muscles, which are used for rapid movements. EDG-5506 inhibits a protein (myosin) that associates with the fast-twitch skeletal muscle. In a mouse model of DMD, EDG-5506 protected muscles against contraction-related injury, decreased fibrosis, and improved muscle size and strength.
Treatment decisions for disorders with multiple therapies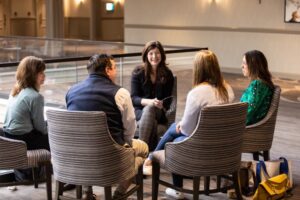 The presenters in this session spoke about the factors clinicians must take into account when working with patients/families to make treatment decisions for neuromuscular disease. The overarching considerations included:
Patient or family considerations such as: scientific data, values, emotional response, social media, family dynamics, delivery method, safety, efficacy
Provider considerations such as: scientific data, efficacy, safety, delivery, medical status, access to care and follow up, patient/parent choice
Third party payer considerations such as: cost, value, policy/coverage, outcomes, available data
Jinsy Andrews reviewed the therapies for ALS and considerations for their use, Gil Wolfe, MD of the University of Buffalo, reviewed the therapies for myasthenia gravis (MG), Katherine Mathews, MD, of the University of Iowa reviewed therapies for DMD, and Julie Parsons, MD, of the Children's Hospital of Colorado, reviewed the options for spinal muscular atrophy (SMA).
Dr. Andrews closed the session with a useful model for clinicians to follow to set the stage for shared decision-making in treatment decisions:
Diagnosis and referral to disease specialist
Comparison of approved therapies
Discussion of therapies on the horizon
Referral to multidisciplinary care for symptom management
Review of clinical trial eligibility
Review of expanded access programs
Additional sessions from today included: 
Promoting diversity in research
Telehealth learnings in clinical care and research: learnings from the pandemic
When gut feelings aren't helping, revisited: navigating complicated ethics in neuromuscular care in 2022
More data, lower burden – digital outcome measures in neuromuscular disease therapy development
Natural history and trial readiness for children with Charcot Marie Tooth disease
Facilitating multi-practice collaboration to optimize patient care
Building MD team in NMD
Personalized medicine/regulatory approaches for rare disease
Progress in brain interface technology
The resilient practitioner
CRISPR – the next generation
Clinical trial design for rare neuromuscular disorders – Where are we headed?
Impact of gene transfer therapy on long-term multidisciplinary care
Business operations for NMD clinics
Disclaimer: No content on this site should ever be used as a substitute for direct medical advice from your doctor or other qualified clinician.